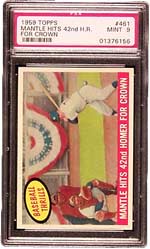 Let's talk Triple Crowns!
No, not the Triple Crowns that were won by Secretariat, Seattle Slew and Affirmed, but the ones that Frank Robinson, Mickey Mantle, Ted Williams and Paul Hines took home.
Paul Hines? What is he doing on this list? Actually, Paul Hines was the first winner of the Triple Crown, way back in 1878 when no one had ever heard of night games, television, cross-country flights or $6 hot dogs. Hines was indeed a star, but it wasn't until 1968 that it was learned that he won the Triple Crown.
For 90 years the batting title of 1878 -- one third of the Triple Crown to go with the most home runs and runs batted in -- was thought to belong to Abner Dalrymple, but a dedicated research team uncovered the true winner in Hines when some previously-undisclosed statistics came to light. What did it take to win the home run title in 1878? Hines walloped four! Hines also became the first player to ever win back-to-back batting titles when he led the National League in 1879.
Hugh Duffy garnered the second Triple Crown in 1894. The feat was not regarded with awe as it is today; instead, it was just a statistical oddity (if that) to the fans of 19th century baseball. Duffy's batting average for that year was highly celebrated, though, as it was -- and still is -- the highest in baseball history. Duffy hit a whopping .440 for the season!
The first Triple Crown of the 20th century was also the first for the newly-formed American League. The winner was the great Napoleon Lajoie, as he batted .426, drove in 145 runs and cracked 14 round-trippers.
Ty Cobb nearly won three Triple Crowns, but had to settle for "just" one when he led the league in all three categories in 1909. Cobb had the highest lifetime batting average in the history of the game, of course, with an almost unapproachable .366 (or .367, depending on which reference book you check). He copped ten batting titles and four RBI leaderships, but usually fell short in the home run chase.
You remember Heinie Zimmerman, don't you? Back in the year that the Titanic went down Zimmerman rose to the top of the National League, leading in hits, doubles, home runs, batting average, and slugging percentage. What about RBI, an integral jewel of the Triple Crown? Well, sometimes he leads with 103, then Honus Wagner takes over the lead with his 102 from that year while Zimmerman is reduced to 99, then Heinie is restored to glory by another researcher. Did Heinie Zimmerman really win the Triple Crown? They're still arguing about it 90 years later!
The "Rajah" wins it twice.
If Paul Hines and Heinie Zimmerman are a little fuzzy in your memory bank you still won't have any trouble recalling the next Triple Crown winner: Rogers Hornsby. The "Rajah" wore the Triple Crown twice, once in 1922 and again in 1925. In 1922 he hit .401 with 42 home runs and 152 RBI. In 1925 he led the universe in hitting with a .403 average, 39 blasts and 143 RBI. Sandwiched in between was his 1924 season when he hit an amazing .424.
There were two Triple Crown winners in 1933. Jimmie Foxx won it in the American League while Chuck Klein was the best in all categories in the National. The wily Foxx narrowly missed the Triple Crown in 1932 but put all the numbers together the following year with a .356 average, 48 dingers and 163 RBI. Did they call them "dingers" in 1933? Probably not. Meanwhile, Charles Herbert Klein wore the Crown with a .368 average, 28 homers and 120 RBI.
Lou Gehrig garnered the hardware in 1934 when he hit .363, smashed 49 homers and knocked in 165 runs. Joe Medwick is still the last man to win the Triple Crown in the National League. In 1937 "Ducky" averaged .374 with 31 round-trippers and 154 RBI.
Where have you gone, Joe DiMaggio?
When it comes to the Triple Crown list, the great DiMaggio never made it, but his contemporary Ted Williams accomplished it twice. Teddy Ballgame won it in 1942 before heading off to war with a .356 average, 36 homers and 137 RBI. In 1947 a second Crown was his with a .343 average, 32 homers and 114 RBI. His Triple Crown-winning batting average of 1947 was actually less than his lifetime average of .344!
The Mick turned the trick in 1956. Mickey Mantle hit .353 that year, with 52 homers and 130 RBI. Frank Robinson was an "old 30," or so the Cincinnati Reds said when they dealt him away to Baltimore in 1966. Robinson responded by winning the Triple Crown in his first year in the American League, with a .316 average, 49 homers and 122 RBI.
The last man to win the Triple Crown in either league? Yaz! Carl Yastrzemski turned the "Summer of Love" into his personal stage as he posted the best numbers of 1967 with a .326 average, 44 homers and 121 RBI. Since then, numerous players have come close to the coveted Triple Crown, but it remains the property of a quite exclusive club with only 14 memorable members.