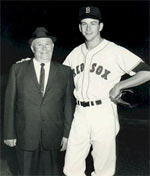 Ask any die-hard baseball fan to put together a list of the greatest years in baseball history and 1961 is guaranteed to be near the top. Yes, 1927 will always be there, too, as will 1941, 1949, 1998 and (if you're a Cubs fan) 1908. But 1961 is ultra-special, as it's the year of Mantle and Maris chasing the Babe's single-season home run record, the famed asterisk, Whitey Ford's record-breaking shutout streak in the World Series, the Yankees' 109-win regular season and obliteration of Cincinnati in the Series and much more.
It was definitely the Yankees' year, but it was also the year of a fire-balling rookie for the Boston Red Sox out of Ypsilanti, Michigan, by way of Oklahoma University, the Alpine Cowboys, the Minneapolis Millers and Triple-A Seattle. His name? Don Schwall -- and he posted a 15-7 record for a Boston team that finished 33 games out of first place and ten games under .500. He won his first six decisions, extended the dazzling first-year stats to 13-2 and won Rookie of the Year honors. As a bonus, he pitched three innings in the All-Star game and was involved in one of the most controversial plays in All-Star history. As they used to say in the '60s, "How's that for starters?"
Triple threat? You bet!
Schwall was a highly-touted football star in high school, but was even more highly regarded in basketball and baseball, where he earned All-State honors. His basketball skills earned him a scholarship to Oklahoma University, but he played baseball as well and joined future major-leaguers Lindy McDaniel and Eddie Fisher on the Sooners' nearly unhittable pitching staff.
It was Schwall's accomplishments on the hardwood that are still remembered in Soonerland. He set a sophomore scoring record in 1956-57, out-pointed Wilt Chamberlain in a head-to-head battle, and stole the ball in the closing seconds against Oklahoma State and scored the winning lay-up in a two-point win. Why would Sooners fans still remember an obscure basketball game from nearly a half-century ago? Because there's nothing "obscure" about any win in the famed Bedlam Series, and every win is savored forever just as every loss is eternal agony.
Sign here, kid!
After two years of college and just one year of varsity competition Schwall inked a professional contract with the Boston Red Sox. He stayed in school but his days of collegiate sports were done. His first pro stop came two years later with Alpine, Texas, where he burned up the league with a 26-6 mark. The Red Sox promoted him to the Minneapolis Millers, where he was 17-8 the following year. When he started 3-1 with Triple-A Seattle in 1961 he was called up to majors.
How did a rookie pitcher manage to handle the pressure-cooker that was Fenway Park in the 1960s? "They made it easy for me," Schwall recalls. "I already knew the players because we had been together in spring training. I was rooming with fellow rookie Carl Yastrzemski and his great attitude took a lot of pressure off. Besides that, the fans were wonderful. I was winning at a time when the Red Sox were struggling and they gave me lots of encouragement."
If a tie is like kissing your sister, then pucker up.
There were two All-Star games in 1961, a format that began in 1960 and ended in 1962. The white-hot Schwall was tabbed to pitch the middle innings for the Americans. In front of the hometown Fenway crowd Stan Musial greeted Schwall in his first inning of work. Schwall struck him out. Did it really mean anything? Obviously, it did. "I still have a photo of the moment that hangs in my office today," Schwall said.
Schwall shut down the Nationals in the fourth and fifth innings as the American League clung to a 1-0 lead. Sandy Koufax was now the opposing pitcher so the chances of the Americans scoring again were minimal. Then came the controversial play. With two on and two out in the sixth inning Schwall induced the National League hitter into a routine high-hopper to short. Instead of charging the ball, Luis Aparicio stood there like he was waiting for a bus. What should've been an inning-ending ground-out became a game-tying infield hit. Aparicio redeemed himself on the next play with a sparkling stop behind second to preserve the tie.
When Schwall tells the story today he is in no way putting down the great Luis Aparicio. It's told with a smile and laughter in his voice. "If Aparicio charges the ball I'm out of the inning and we go on to win 1-0. Instead, I'm the guy who gave up the run in what was until this year the only tie game in All-Star history."
Would you like the TV or the couch?
Don Schwall's first baseball card appeared as part of the 1962 Topps set. Card #35 is considered a "common" in average condition but it's a rarity in Mint-9 or better grade with just two examples certified by Professional Sports Authenticator (PSA). In fact, there are just nine examples certified in all grades combined. On the PSA Set Registry the top five sets are all missing Mint examples and two of the five sets are without a Schwall card in any grade whatsoever.
"It's about a $200 card in Mint condition," says Clay Hill of Sportscards Plus in Laguna Niguel, California. "I know that it only catalogs at about $90 in Mint-9, but it's rare and it's a Rookie of the Year card, too."
Why the rarity in Mint condition? "There are two major problems with the 1962 Topps cards," says PSA grading expert Greg Reynolds. "One is PD [print defects] and the other is corner wear. The cards have those dark borders and even the barest touch really shows up."
Schwall remembers signing up for the 1962 Topps set. "They gave me a check for $150 and sent me a catalog of gifts. Included in the choices were a TV and a couch among many other items."
Traded for Dr. Strangeglove.
In 1963 Schwall was traded to the Pittsburgh Pirates for slugger Dick Stuart. In three of the next four years Schwall posted winning records, and his ERA was under 3.00 in both 1965 and 1966. In 1966 his earned run average was a minuscule 2.16 for the Pirates -- and they traded him! To put that in perspective, Pedro Martinez has an ERA of 2.50 in 2002 and he is considered by many to be the best pitcher in the game.
"It was a different era," Schwall explains. "The pitching was so good that you almost had to pitch a shutout to win in the 1960s. Every team had tremendous pitching."
Today the numbers that Schwall posted would get him $3.8 million a year, a $1 million signing bonus, a no-trade contract and the key to the city. Hey, Don, do you ever feel that you were born 35 years too soon? "I think about it every once in a while," Schwall answered, then added with a laugh, "and my wife thinks about it even more!"
The best player I ever faced was...
Every major league pitcher hears this question hundreds of times over the years and that's the reason it was asked this time. Fans want to know the answer. Who are the five greatest hitters that you ever faced?
"Willie Mays," Schwall answered, as though that one name filled all five slots. "He was an incredible player and he was definitely the best in the clutch. I played on the same team as Hank Aaron at the end of my career and he was magnificent, too, but the best was Mays."
Who else? "The 1961 Yankees. Think about that team. Clete Boyer at third, Kubek at short, Bobby Richardson at second, Moose Skowron at first, Elston Howard behind the plate, Yogi in left, Mantle in center and Maris in right. That's the best team that I ever saw and maybe the best to ever play the game. What a lot of people don't realize is how great the defense was on that team. They were almost impossible to beat."
The 1960s versus today.
The HBO network has been showing When It Was A Game III recently, a look back at baseball in the 1960s. Was the game really that different from today?
"It definitely was more of a game in the 1960s," Schwall answered. "I don't blame the players for taking the big money that's offered to them today, but it's not just the money that's different. The players don't seem to love the game the way they did 30 or 40 years ago.
"I still live in the Pittsburgh area and a lot of the players from that Pirates team of the '60s still get together. There's tremendous camaraderie that I don't see among today's teams."
Is that the main reason for all of the nostalgia for the game of the past? "I don't know," Schwall answered. "Fans just seem to love the players from the '50s and the '60s."
Indeed, they do. Indeed, they do.
Photos used in this article appear courtesy of www.DonSchwall.com.