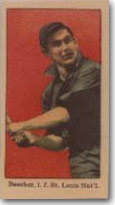 Way down yonder in New Orleans a 20-piece baseball card set was born in 1916. Somehow, someone forgot to tell anyone else about it, and it wasn't until 1991 that the set was "discovered" to exist. A hoard of 770 cards (or so) came to light about the same time that Whitney Houston was belting out "The Star-Spangled Banner" in Super Bowl XXV. In the eleven years since then the 1916 Tango Eggs baseball card set has definitely come into its own.
"I bought a couple of Tango Eggs cards from a dealer about ten years ago," says New Orleans collector Scott Whittenburg, who currently holds the #1 position on the PSA Set Registry for this set. "I didn't think much of them at the time, but they've become more popular and much more expensive. Since I live in New Orleans the cards are especially interesting for me."
The 1-7/16" by 2¾" cards are quite similar to the 1915 E106 American Caramel set. You'll find some familiar portraits here, nicely embellished with riotous colors on glossy stock. The reverse carries an advertisement for "TANGO BRAND EGGS" of "FINEST QUALITY."
Since an egg company sponsored the cards it is irresistible to note that four of them are scrambled. The Happy Felsch card doesn't picture Mr. Felsch; instead, there's a portrait of Ray Demmitt. Buck Weaver's card actually pictures Joe Tinker of the Hall of Fame trio of Tinker-to-Evers-to-Chance. Ray Morgan has a card, but it's Mike Doolan who's pictured. Billy Meyer's card features a picture of none other than Fred Jacklitsch.
Most of the known examples of this series are either Hughie Jennings or Bob Bescher cards. The PSA Vintage Population Report shows that the Buck Weaver/Joe Tinker card is submitted for grading even more often than the Bescher, but expert Brian Daniels states that this is a statistical aberration as there are roughly five times as many Bescher cards as those of Weaver/Tinker.
"I bought the whole Tango Eggs deal after it had passed through three dealers' hands," Daniels stated. "The Buck Weaver cards had been pulled from it by then because a Chicago dealer wanted them. A few other cards were pulled along the way as well, including the two Cobb specimens."
Two Cobb specimens? Don't the catalogs state that there's only one Cobb "Egg" in existence? "There are two," Daniels said, "and they're in different poses. I have only seen one of them, but the other was handled by a totally reliable source at Mastro so I know that it exists."
Much of the hoard survived in excellent condition and PSA has certified more than 40 examples in NM-MT 8 (some with qualifiers) but no Mint 9 or better specimens. "Most of the cards in the hoard were off-center," Daniels said. "That's just the way they came."
Are there any new discoveries being made in the series? "A few of them have trickled in. I bought one of the rarities from a dealer who was saving it for his kid's college education," Daniels explained. "I offered him so much for it that he just pulled it out his secret hiding place and sold it to me."
The 1916 Tango Eggs set is filled with major rarities, but more and more collectors are taking up the challenge as the interest in vintage cards escalates.