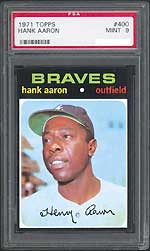 During the 1980s, when I was watching Jack Tripper chase "Greedy" Gretchen on the set of Three's Company and listening to the sounds of Frankie Goes to Hollywood, set collecting was huge. Almost everyone I knew was working on a set or two. In fact, when we would attend baseball card shows or go down to the local shop, filling our sets was almost always a priority.
As time went on and cards began to really surge in price, it simply became too expensive for us to collect sets (at least anything pre-1980). Then, with all the manufacturers battling for market share in the early 1990s and all the subsets entering into the mix, collectors became somewhat frustrated with the whole thing. I know I was. You couldn't even keep track of all these cards anymore.
The focus became the star cards and the star cards only. No one was interested in completing a full set of 1972 Topps anymore; they just wanted to complete their run of Willie Mays cards. It was just like Frankie's song went, "Relax, don't do it." The message was clear - don't collect sets - although I think the song was talking about something else like don't eat red meat or wear dirty underwear in public or something.
Today, set collecting is making a bit of a comeback for a number of reasons.
Here are the top five reasons why set collecting is on the rise:
An Uncertain Economy Looms - With collectors seemingly afraid to buy one big card right now, sets offer a more affordable alternative. As sets were perceived as the expensive option years ago, now collectors view sets as a bargain. In other words, you could own an entire set of NM-MT cards in most cases for the same price as a key card in PSA 9 or 10 depending on the issue.
Sets Offer a Challenge - Collectors are always looking for a challenge and what better challenge than attempting to complete a set. Finding some of the commons and semi-stars is often far more difficult than finding the stars because most people protected the stars and held on to them over the years. You know where to go for a high-grade Aaron but what about a Luzinski?
Satisfaction - The great aspect to collecting sets is that a set builder will get just as much joy in finding a tough common as he or she will finding a star card, sometimes the collector will experience an even heightened sense of satisfaction. When times are tough and you don't have that $500 to buy a star card in NM-MT 8, you can still work towards your goal and participate at shows without severely denting your wallet.
The PSA Set Registry/Competition - Pride of ownership is always a factor when you are talking about any high quality collectible. Now that PSA has started a set registry system on their Internet site, it seems to have fueled some competition amongst hobbyists. Each card in each set is weighed, along with the grade of each card, in order to come up with a final ranking amongst the hobby's best. Are you up for the challenge?
Recapturing a Lost Art - There is just something wonderful about taking the time and energy to work towards a complete set and seeing that time and energy pay off. A set is a microcosm or summary of the season; a wonderful way to revisit memories or history of the game you follow or appreciate. It's a lesson in history that can be a lot more fun than just simply picking up a book and reading a recap of the year. With set collecting, you can learn a little bit about each and every player and what they accomplished that year, not just the superstars.
It's clear that set collecting is starting to take off once again and these five reasons mentioned above merely represent some of the drive behind the changing market. Whatever the reason, set collecting is making a comeback. Where will this niche of the market be in 5-10 years? Who knows, but one thing is certain. I sure do miss fine programming like Three's Company.
First Gwynn and Ripken, Now Big Mac
I guess I can't say that I was totally stunned when Mark McGwire announced his retirement from baseball, but it still feels strange to me. I guess I am simply getting older. McGwire, like Tony Gwynn and Cal Ripken, are some of the players I grew up watching as a youngster. I tried in vain to emulate their swings when my friends and I would hit baseballs at the local park. Now, they are no more.
With the three of them, it just might be the most interesting Hall of Fame class in recent memory. If Rickey Henderson retires, you would certainly have one of the best ever. All of them should be, without question, 1st ballot selections, but I am sure the voters will find a way to delay at least one of their admissions. Logic and fairness are two words that some of the voters seem to lack in their vocabulary.
Back to Big Mac. How will history treat McGwire?
Pros:
He is simply the greatest pure home run hitter in baseball history.
He was an excellent defensive first baseman - though many fans fail to realize this.
He won the ROY in 1987 when he set the rookie record for homers with 49.
He was part of a great team in the Oakland A's who won division titles in 1988, 1989, 1990, and 1992 with one World Series title in 1989. He was also part of the 2001 St. Louis Cardinals who went to the postseason.
He did hit 70 homers in 1998 and broke the long-standing record held by Roger Maris.
Cons:
While he was not one-dimensional by any means, some will argue that his batting average was less than extraordinary and he lacked speed.
He never won the MVP Award.
His record of 70 homers only lasted 3 years, Bonds is the man right now.
He was often overshadowed by other stars when the Oakland A's were a force.
The way his career ended will hurt his legacy, hitting under .200 in his final campaign.
I will surely miss Mark McGwire and his titanic blasts that sailed into the far reaches of the atmosphere, I am sure many fans feel the same way. The market for his cards and memorabilia has softened a bit in recent times. Many collectors felt that McGwire was going to make a real run at Hank Aaron's all-time record of 755 and at least reach 600-plus before it was over, but Big Mac was just burned out.
The bottom line is that McGwire entertained us all and his 1998 performance, regardless of Mr. Bonds in 2001, will forever be remembered as one of baseball's most memorable summers. So long Big Mac; see you in Cooperstown in 5 years.