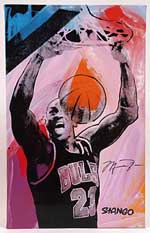 Before card companies inserted autographed cards in their increasingly expensive packs, no product captured the image and autograph of football's greatest players. Sure, the football Hall of Fame sporadically produced cards that collectors might get signed, but they never fired up any engines to mass-produce them regularly. The Goal Line series of art cards was ripe for signing, but they never cultivated the following of similar products in other sports.
Not like the Perez-Steele baseball card series that recently enjoyed its 20th anniversary.
That all changed in 1999, when Ron Mix, a Hall of Famer, San Diego Chargers tackle, and now an attorney, created a set of high gloss 4-inch-by-6-inch signed cards. The main objective of the set was to create revenue for Hall of Famers who could seriously use a stream of income.
A total of 116 Hall of Famers signed onto the project. Sports artists Jim Auckland, Mike Gardner, Chris Hopkins, Gary Kelly, and Chris Paluso were commissioned to bring the images to life. The series would be numbered from 1 to 2,500. Sets of the 116 cards, with editions numbered over 100, retailed for $1,650, set number one carried a premium price of $6,000, sets numbered 2-10 sold for $3,000 each, sets 11-25 for $2,500 each, sets 26-50 sold for $2,250, and sets 51-100 sold for $2,000 a piece.
The project took an unfortunate turn after the first 1,550 sets were signed. Five of the participants passed away - Tom Landry, Weeb Ewbank, Doak Walker, Tom Fears, and Marion Motley. Walter Payton also died, but he had chosen not to participate in the project along with another 10 or so players. The surviving 111 players continued to sign. Collectors have come to call this set of 116 cards the 111 Series.
"I'm not criticizing anyone for not participating," said Ron Mix. "I don't really know why they didn't participate. Some of them wanted to be paid up front. Some of them didn't call back, and some people called us after we had gone to print. The cost of producing this series was really high and our purpose was really a noble one - to help about 40 or so guys who really needed the income. The higher profile guys who participated, like Joe Namath, Mike Ditka, Gale Sayers, Franco Harris, and Don Shula did it to help the rest of the guys."
Jim Brown, too, was ostensibly missing from the list. He was one of the players who called late. He and others, including inductees from the past two Hall of Fame classes, will likely be part of a supplemental set, according to Mix. Perhaps this year or next.
"The quarterbacks are well represented among the nonparticipants," Mix lamented. Johnny Unitas and Terry Bradshaw were two players whose absence from the list was most conspicuous. The series did have a number of quarterbacking legends, however, namely Sammy Baugh, the late Otto Graham, Joe Namath, Roger Staubach, Sonny Jurgensen, and Bob Griese, to give the set plenty to promote.
By all accounts, the set stands to gain in value. Simple math shows the average cost per card is about $15. Some dealers have taken sets and divided them into teams or sold cards separately. A Namath card, for example, has sold in the $90 range. Few, if any, cards sell for less than $20. The highest priced team sets are the Bears, Dolphins, and Cowboys. They are in the $225 range.
"One collector bought 20 sets," Mix said. "He opened one to display and the others are sealed for future appreciation. This series is going to appreciate in value. People are generally buying them and holding them. Nobody is widely selling them to create a secondary market."
Football memorabilia collecting seemed to gain serious steam several years ago when the unified pro league geared up for its 75th Anniversary. At that moment, fans recognized the game for its history. They paid attention as collectors and the entire enterprise that is called the hobby responded.
Show promoters showcased Hall of Famers and unsung heroes. They organized team reunion shows and theme shows, such as Heisman Trophy winners or Super Bowl MVPs. Of course, Upper Deck Authenticated made Joe Montana the sport's messiah, just as it has done for Michael Jordan in basketball. Too bad Montana's signature looks like an amoeba.
In terms of price, deals like Montana and Jordan's mainly separate the player from the rest of the pack and a skewed market. In order to pay the players, promote the products and realize a tidy profit, the manufacturer has to charge a princely sum. Consumers experienced this phenomenon with Joe DiMaggio's limited edition (1,941) bats, and it's happened to a lesser extent with Joe Montana and Michael Jordan items.
The exclusive deals just cause other players or their agents to start the compensation comparison game. You know, "If A-Rod gets this, I oughta get this." This phenomenon becomes evident following the annual draft hype in all sports. Collectors invest in the futures of many top draft picks, just like the teams that select them. They end up paying up front for the appreciation in their investment.
Now look at Ryan Leaf, Tim Couch, Ricky Williams, and Ron Dayne. Now Michael Vick. Collectors pay ridiculous amounts for signed items from these franchise saviors before they take one snap or handoff. Well, at least fans have a reason to collect football.
In addition to the sport's history, what has really advanced football collecting in recent years is the minihelmet. The price for this product is fairly reasonable, it's far smaller than a full-sized helmet or football, and it's aesthetically appealing. In other words, it's cool.
Todd Caple, of Great Moments Authentic in the Baltimore area, regularly welcomes a number of football guests. In addition to Baltimore players, the store has played host to such Hall of Famers as Paul Hornung and Eric Dickerson. Collectors love the team minihelmets or those bearing the NFL or Hall of Fame logos.
Basketball collecting presents a far different story. The sport suffers from many image problems that filter down to the fan level. With few exceptions, the NBA players and fans have ignored, maybe neglected, the people who gave the game its history, unsung heroes, even its living Hall of Famers. The league has opted to promote itself, if not the entire game, on the names of a few marquee players.
Darrell Gonzales, general manager of Athlon Sports in Tennessee, a major seller of memorabilia and unsigned product, says basketball collectors are so enamored with the stars and salaries that they are drawn to those folks, notably, if not exclusively, Shaquille O'Neal, Kobe Bryant and Allen Iverson. This trio replaced Michael Jordan, who played with and after the era led by Larry Bird and Magic Johnson.
Oh yeah, there's Vince Carter, whose stardom is slightly diminished because he spends half a season playing in Canada. "Sports marketing companies and card companies paid these athletes tremendous amounts of money, which forced the creation of products at very high prices," Gonzales said. "But the sales and growth (in interest) haven't been there."
"The main problem with basketball is the players and their attitudes. The fans can't relate to them, with their salaries and lavish lifestyles. There's also no loyalty by players to their teams. Thus, it's hard for fans and collectors to be loyal to the players. There are plenty of players who are community-minded but, let's face it, basketball doesn't have a top tier player who's like Cal Ripken, Jr."
Gonzales said the fans who normally spend the money on autographed items can't connect with the players through memorabilia "because they're doing all they can to scrape together enough money just to get a seat in the rafters and they want to watch the people who are supposed to be their heroes."
Other image issues - perceptions of widespread use of drugs, nightclub incidents, and paternity suits - are also major negatives for collectors. Besides, the demographic of the collecting fan probably is less than keen about tattoos, which are hardly concealed by basketball gear. These aspects do little, of course, to keep the game from being popular; they just seem to discourage collecting.
Basketball collecting also lacks a product suitable for holding autographs. Jerseys, basketballs and shoes consume more space than Bob Lanier or Shaq in the paint. Miniature basketballs haven't caught on like the minihelmets. Besides, autographs on a dimpled surface seem to lack something. The best sellers are simple, flat items such as 8x10 photographs, according to Gonzales.
Another inhibitor seems to be the fact that today's superstars need to write legibly. There are countless examples of hurried signatures or simply bad penmanship. Have you seen Jerry Stackhouse's signature? My word. What is that?
The place to start with basketball collecting is with its past. With a little guidance, there could be more collectors. A recent visit to the basketball Hall of Fame revealed very little in the way of collectibles. There are no postcards of Hall of Fame plaques, no first-day covers.
The league is just too focused on logos, high-priced apparel and, well, name brand items that you can find everywhere from sporting goods stores to Wal-Mart. If the leaders of the new Hall of Fame building in Springfield, Massachusetts are looking for a sure-fire way to fund the museum, they should transfer its passion for history to fans' passions for collectibles.
Old timers, many of them Hall of Famers, are still alive. So are their fans who have countless memories of yesterday's heroes. These are folks who gave the pro game its start, its history. Harry Gallatin, Clyde Lovellette, Andy Phillip, Robert Wanzer, and Slater Martin are right up there as living Hall of Famers with better known players such as Kareen Abdul-Jabbar, Bob Cousy, Jerry West, Elgin Baylor, Bill Russell, and numerous others. Most of you have heard of the latter group, maybe not the former.
No doubt many collectors who appreciate basketball's history and players who created memories are connecting through the mail. Reunion shows for American Basketball Association players have been generally successful. Many, if not most, of these players would be delighted to receive some attention. The sport could use a card set much like the one Ron Mix created for football.
When the NBA turned 50 in 1996, a large piece with mugs and signatures of the league's 50 all-time greatest players was created. Of course, the piece was produced after the death of Pete Maravich, so the collectible is missing his signature. The very limited edition of the print made the initial price at $25,000, hardly within reach of many collectors.
An effort should be made to notice lesser-known HOFers, and hundreds of others, before their names are noticed in an obituary column. Or maybe, at 50, the league is simply too young for collectors to take stock of its history. Its time will come.