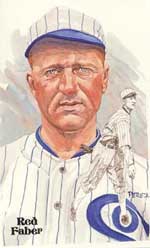 Urban Clarence "Red" Faber was born in Cascade, Iowa on September 6, 1988. The son of immigrant farmers from Luxembourg, Faber stood 6 feet tall and weighed 180 pounds in his prime. He threw right-handed, batted from both sides of the plate, and wrote with his right hand.
The professional career of Faber began as a pitcher for the Dubuque (IA) Club in 1909. While still in the Minor Leagues during 1913, he was asked to replace Christy Mathewson on the World Tour Team and became an instant success by winning four games against his future White Sox teammates while on loan with the New York Giants squad. He went on to play 20 consecutive years with Chicago as a spitball pitcher. Though the pitch was outlawed in 1920, he, along with a handful of other major leaguers, took advantage of the "grandfather clause" allowing him to use the illegal pitch until his career ended in 1933.
Faber's obvious nickname was a result of his auburn hair. He briefly attended St. Joseph's College in Dubuque, Iowa. Faber and his wife later settled in Twin Lakes, Wisconsin and bought another home in Fox Lake, Illinois. His election to the Hall of Fame in 1964 allowed him several years of recognition and he was a cordial signer through the mail and in person. He regularly attended Old-Timer's Games, annual Hall of Fame ceremonies, and occasional testimonial banquets.
Faber's Major League career stats (1914-33) included winning 254 games, posting a 3.15 ERA and collecting 30 shutouts. He was considered a solid hitter as well as a good base stealer. Despite winning three World Series games for the 1917 World Champions, the 1919 "Black Sox" club suffered from Faber's recurring arm trouble, which benched him during the Fall Classic.
Faber's final three seasons (1931-33) were spent primarily in relief and he came back to the Chicago club to coach from 1946 to 1948. He then worked as a surveyor for Chicago's Cook County Highway Department well into his 80's. The final few years of his life were plagued with health problems, which relegated the autograph signing duties to his wife, Frances, whom he had married in 1947.
The signature of Faber is not as common as most collectors would assume. Most post-1970 collections that I authenticate invariably contain the "ghost-signed" version of his wife. Her style is characterized by a smaller, more upright slant. She omitted the periods after the initials "A" & "C "and enjoyed connecting the "F" with the "A." Her letters were more rounded and always formed the final "R" without his typical, fully-formed writing style like his lowercase letter "r." The majority of the Gold Hall of Fame Plaque postcards were signed by his wife like many of the 3x5 index cards in our hobby. This resulted primarily due to the fact that the collectors boom came around 1969 or 1970, following Baseball's Centennial Celebration.
Signed index cards are undervalued at $75 and valid plaques should sell for a $150 minimum. Single signed baseballs in any condition should start at $1500. His posthumous death precludes him from signing any type of Perez-Steele card and many of the other "manufactured memorabilia" which has flooded the market. A signed bat, uniform or even a cancelled check has never surfaced. Government postcards are around from the 1940's and 50's and sell for about $100. Occasionally offered, a document or questionnaire in any form carries a $500 value or better. Postcard size photographs, Rowe or Burke printed, are $200 bare minimum. I have yet to see a typed or handwritten letter.
For a Hall of Famer who only died in 1976 at the age of 88, Faber's signature is more challenging than would be expected.