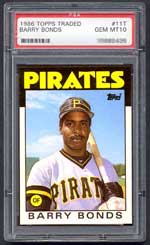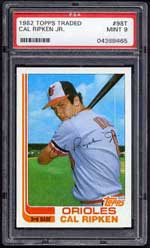 While the summer months are hot, the weather relatively the same, the market climate continues to change. At times, the modern market acts like a fierce hurricane as collectors blow through conventions and auctions, swiping up everything in their path. Other times, the modern market resembles a slow moving mudslide as items become buried beneath spending hesitation and reluctance to sell.
In the summer of 2001, we find ourselves in a modern market that falls somewhere in between. The modern market is strong in some areas, slow in others, and unpredictable at times. It's almost like a tornado that occasionally touches the earth and then disappears back into the sky as a harmless funnel cloud.
Let's take a brief look at the major sports and how their markets are shaping up.
Baseball:
For the diehard fan, this has been a great season. We have seen a host of surprises including strong performances from teams that were supposed to be pummeled on a daily basis. Unfortunately, that is also part of the reason why modern baseball cards are somewhat slow right now. For example, try naming more than 3 or 4 guys in Minnesota's starting lineup. Even Seattle, the team with best record in baseball, is lacking in major star power. Of course there is Ichiro Suzuki, but the team lacks the kind of star power that makes collectors buy.
Here's a quick breakdown:
Positives:
Ichiro takes MLB by storm
Bonds and Gonzo hit homers at a record clip
Clemens, Maddux, and the Big Unit prove that they are still a force
Manny, Juan, A-Rod, and a host of others having strong seasons
The Cubs are actually playing well, Sammy still going strong
Ripken goes deep in All-Star Game
Negatives:
McGwire, Griffey, Nomar, Big Frank, Mo, Pedro, and a host of others are either struggling with injuries, at the plate or on the hill. These are some of the guys that drive this hobby and they are simply having tough years for a number of reasons
No one wants to root for Bonds and, for Gonzo, it's too little too late for collectors
There's a lot of quality baseball being played this summer, but squeeze plays, hit and runs, and solid defense just don't excite collectors
Philadelphia, Minnesota, and Seattle just don't have the overall star power collectors like to see
Ripken and Gwynn say goodbye
Basketball:
The Lakers won but, the way fans are today, they come to expect nothing less. With such high expectations, winning becomes less exciting to some and excitement is what causes collectors to reach into their wallets. Despite an unreal postseason run by the Lakers, the celebration was short-lived.
Here's a quick breakdown:
Positives:
Kobe and Shaq are young, charismatic, and champions
The league is blessed with several young, talented, and athletic players
There's a rumor about Michael Jordan's return that won't go away
Allen Iverson can take over a game like few in the game's history could
Negatives:
Expectations are way too high for the younger players
Vince Carter needs to win to gain more respect from collectors and fans
Iverson is a great player but too controversial for some collectors
What happens if MJ doesn't come back?
Some of the game's best players are fading and on the verge of retirement
Hockey:
The comeback of Mario Lemieux was a great story, along with a few others, and it helped make for an interesting season on the ice. While hockey has never enjoyed widespread acceptance by collectors, diehard hockey fans are starting to collect more and more.
Here's a quick breakdown:
Positives:
Mario's great return
Ray Bourque rises to the top
Hockey fans showed a lot of support this year
PSA O-Pee-Chee cards, in high-grade, on fire
Negatives:
Wayne is still gone
How long will Mario stay?
Jagr leaves Pittsburgh (might be a positive depending how you look at it)
The league is trying, but it needs more crossover star appeal
Football:
The fall is only a couple of months away and, for the football fan, the summer is like the home stretch. Camps are in full force around the country as the gridiron warriors get into shape for the 16 games of pounding and bone-crunching ferocity. Before you know it, Sundays will be reserved for one thing and one thing only…football games (accompanied by large quantities of beer guzzling, chip munching, and pizza swallowing).
Here's a quick breakdown:
Positives:
The Ravens are the champs
Ray Lewis is a dominant defensive force
Culpepper should continue to improve and Moss should catch many of his passes
Manning, Couch, and some of the other young QB's show promise and poise
Negatives:
The Ravens are the champs
Ray Lewis is disliked and is a defensive player which doesn't excite collectors
With Marino, Montana, and Elway leaving the game over the last few years, a void has been left at the quarterback position
Overall, a lack of superstar power (the game is in a transition stage)
Golf:
Golf cards are amongst the hottest on the modern market as the game continues to surge in popularity and collectors recognize these guys as true athletes (the jury is still out on that one if you ask me). The British Open just ended with David Duval emerging victorious and the sport always seems to be in the news.
Here's a quick breakdown:
Positives:
Tiger is the most recognizable face in sports
The sport is still growing with no end in sight
The PGA will continue to find younger, stronger, and athletic golfers as time goes on
Golf cards have been a saving grace in the hobby this summer
Negatives:
Tiger is struggling a little
When Tiger doesn't play, ratings and overall interest goes way down
The sport needs a little spark, more charismatic golfers (Happy Gilmore anyone?)
There you have it. The modern market is always somewhat volatile and this year is no exception. What will these sports have in store for us in the coming months? Will Barry get to 70? Will Tiger find his way out of his mini-slump? Will Kobe and Shaq continue to dominate in LA? As fans and collectors, we can only wait and see but every day, something new can happen.