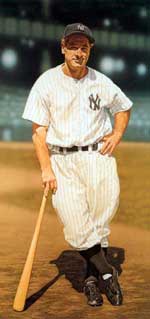 The 20 Most Desirable Bats in the Hobby
In part three of a four part series, we take a look at 5 of the 15 most desirable vintage game-used bats.
Vintage Era - The Top 15 of All-Time
Pete Rose - Forget about the gambling and the ban from baseball, people love this guy. Rose wasn't blessed with a powerful arm, blazing speed or tremendous power, but he was one of the most intense competitors this game has ever seen. Those headfirst dives and determination made "Charlie Hustle" a hero for the average guy. As the all-time leader in hits, Rose is an automatic choice for collectors. Rose is also the all-time leader in at bats and games played as well as ranking high on the all-time list for runs scored, doubles and total bases. Rose used a variety of bats throughout his career including many orders of H&B bats and some Adirondack specimens. Later in his career, Rose would use Mizuno bats for the most part. The Mizuno Company would eventually print bats with the number 4192 on the barrel (the number needed to break Cobb's record for career hits - though Cobb's hit total has now been reduced to 4,189). Early Rose bats sell for a major premium, but they are very tough to obtain. His 1980's bats are much easier to acquire in comparison to bats from earlier decades. Like Aaron before him, everyone knew it was a matter of time before Rose broke the career hit mark, so bat requests were coming in at an unbelievable rate by the early 1980s. With 4,256 hits under his belt, a mark that almost seems unreachable, it's easy to see why Rose bats make this exclusive list. If you entered the major leagues at the age of 20, you would need to bang out 200 hits per year for 20 straight seasons and then add another 256 just to reach Rose. Good luck!
Stan Musial - You say you want a consistent hitter, how about 1,815 hits on the road and 1,815 at home for a total of 3,630 career hits and a .331 batting average? If Ted Williams is the greatest hitter who ever lived then Stan "The Man" is certainly a close second. Playing in St. Louis didn't help his popularity (although it is climbing), but this guy would be a god if he played in New York. He is generally regarded as not only one of the best all-around hitters in baseball history but also a great human being.
Musial didn't just hit for average either. He clubbed 475 career homers and drilled 725 doubles as well. Musial was also a fine run producer. With over 1900 runs scored and runs batted in, Musial ranks as one of the best in history. Throw in a .559 slugging average (better than Mays or Mantle) and you have one of the most complete hitters ever.
Musial bats, as you might expect, are a very hot commodity in the game-used bat market. Musial was primarily a H&B user with a few Adirondacks used in his career. One interesting thing about Musial bats is the fact that Musial actually had a signature model bat produced at the beginning of his career but, for the most part, his bats are labeled in block letters "Musial Model." Musial has also been known to occasionally score or groove the handles for extra grip.
Mickey Mantle - Mantle is quite simply the most beloved player in baseball history. Like Williams, Mantle lost time over the course of his career. Although in Mantle's case, it was due to injury and not military duty. Virtually every young boy in America wanted to be Mickey Mantle during the 1950s and 1960s. Who wouldn't want to be the starting centerfielder for the New York Yankees?
Mantle was the most powerful hitter of his day. He could hit shots into the far reaches of stadiums across the country, areas that no one else could reach. Mantle is credited with the longest home run in baseball history, a 565ft shot that might still be traveling. Mantle tape measure drives left fans and teammates in awe; he just had an explosive bat. Mantle came very close to hitting the only ball out of Yankee Stadium. His blast was still climbing when it struck the façade at the top of the stadium in deep right field.
Mantle's power is very evident on his well-used bats. I have handled many bats over the years from Ruth to McGwire but of all the bats I've seen, the Mantle gamers exhibit the most deeply embedded ball and stitch marks. It really helps the collector appreciate the power that Mantle had; it truly is a sight to see. Like Mays and Aaron, Mantle seemed to alternate with his use of Adirondacks and H&B's. According to most experts and photo studies, Mantle seemed to use Adirondacks for a fair amount of time in the late-1950s and early 1960s, but he primarily used H&B's throughout his great career.
Mantle would also alter his use of pine tar. Mantle seemed to use very little tar, if at all, during the 1950s but then, sometime in the early 1960s, he started to show a pattern of pine tar use. Many authentic gamers have "caked" tar about 8-12 inches up from the knob in a concentrated area. This is certainly not true of all Mantle gamers, but the pattern does exist. In addition, like Williams, autographed Mantle gamers are especially prized.
Another interesting aspect to Mantle gamers is the fact that most authentic examples don't show his number 7 on the knob. Other players were religious about this, but not Mantle. Some have a number 7 and some don't; there's no need for concern either way. Last but not least, because Mantle was a switch hitter, most of the use should be located on the left-handed hitting surface (there are many more right-handed pitchers in the league than lefties).
Yogi Berra - With three MVP's under his belt and a vault filled with championships, Yogi Berra remains a top 20 selection. Mantle may have been the marquee star for the New York Yankees, but Berra was the team leader. He handled a pitching staff that routinely placed them in World Series contention and was a serious threat at the plate with 358 career homers. When you add his unmistakable charm to his baseball accomplishments, you have a real fan favorite.

If you look throughout baseball history, very few catchers have been able to excel offensively. The wear and tear on the body is nothing to underestimate. Berra, on the other hand, was an exception and catchers who can hit really stand out in the history books. They also gain a great deal of respect from bat collectors. Berra, as a member of the Yankees, made it to the World Series 14 times and won the title in 10 of those appearances. It's no wonder that Berra is the all-time leader in Series hits and games. Berra's combination of popularity, offensive prowess, World Series records, leadership and position make him an easy choice.
When it comes to his bats, there are some interesting aspects to note. Some of Berra's bats were purposely made with reverse grain on the barrel, an oddity among professional bats. Remember that this is only true for some and not all of his gamers. Berra bats from the 1950's and earlier are valued higher than bats from his last few years in the 1960s. Berra won all three of his MVP's during the 1950s decade making gamers from that decade very popular.
Lou Gehrig - The "Iron Horse" was overshadowed by Ruth and even overshadowed by his own consecutive game streak, but he was an awesome hitter. He could hit with major power and for average. Unfortunately, his career was cut short by a disease that now bears his name. Otherwise, his career numbers might rival the best in almost every major category.
A .340 career batting average, 475 home runs, a slugging average of .632, 1995 RBI's, and the highest RBI per game average in baseball history has Gehrig at the top of the hitting legends. Fans forget these numbers because they focus on Gehrig's streak so intently but, regardless of the streak, he was one of the best all-around hitters ever.
Gehrig game-used bats are one of the true rarities in the bat hobby. Less than 20 examples are known to exist for his entire career, a number that may shrink if they keep cutting old bats into pieces for modern cards. Some Gehrig gamers have been found with a unique taping method along the handle, the tape is bunched and then spread apart so some areas of the hand touch wood and some touch tape when the grip is in place. Not all Gehrig gamers have this taping method. Most Gehrig bats, in fact, do not.
In addition, due to his declining strength, Gehrig's bats were gradually made lighter so a weakening Lou could handle the weight. With so few authentic examples in existence combined with his undeniable legend, Gehrig bats are extremely desirable.
This is part three in a four part series that focuses on the top 20 game-used bats in the hobby. Part 4 will appear in the next eCollector.