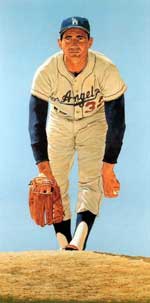 Anytime you make a list of all-time picks, there's bound to be controversy. It's very hard to compare athletes from different generations; the conditions change over time. Below is a list of the pitchers that I personally like collecting the most. Some of the pitchers made the list because of their personal accomplishments and others because of the rookie card alone. Regardless, all of these guys are good. The list is not necessarily the 10 best pitchers of all-time, but most of the hurlers would certainly get consideration on a list of that nature no matter who was compiling it. Take your time and compare how your personal picks would match up against the arms on this list.
Steve Carlton
Master of a hard and biting slider, Carlton was a focused competitor. Carlton, in his rookie year of 1967, while playing for the St.Louis Cardinals, had a 14-9 record for the World Champions.

Carlton had his first breakthrough season in 1969 as he went 17-11 with a 2.17 earned run average for the Cardinals. But after a 20-9 record, the Cards shipped Carlton to Philadelphia. With the Phillies, Carlton continued to amaze as the lefty had an astounding 27 wins in 1972 along with 310 strikeouts and 1.97 ERA for the last place Phillies. Carlton eventually led the Phillies to their first World Series in 30 years during the 1980 season, a season in which Carlton won his third Cy Young Award. Carlton's storied career ended in 1988 and his achievements to the game are plenty: Carlton won 329 games (second only to Warren Spahn among lefties) and his 4,136 strikeouts are only exceeded by the great Nolan Ryan. Carlton also had six-20 win seasons and he is one of three pitchers to win four Cy Young Awards (Greg Maddux and Roger Clemens have also turned the trick).

Carlton was elected into the Hall of Fame in 1994.

Rookie Card-1965 Topps #477
Carlton's rookie card is not considered a real condition rarity, but it certainly is a popular example. In fact, over the past year, this card seems to be picking up steam and the overall set is one of the most attractive issues from the 1960's. The problem for Carlton was that he had a disappointing fall from grace at the end of his career. It made people forget how dominating he was. Now, people are forgetting his fall and remembering his slider.

Roger Clemens

Baseball's finest pitcher in the late 1980s and early 1990s, Clemens is the epitome of a true power pitcher right along the lines of Nolan Ryan. Clemens earned his claim to fame in 1986 when he helped the Boston Red Sox reach its first World Series in a decade. He had a 24-4 record with 10 complete games, 238 strikeouts and a league-best 2.48 earned run average. He also set a single-game major league record by striking out 20 against the Seattle Mariners on April 29 at Fenway Park. He also won the Cy Young and American League MVP that same season.

Since the domination began, Clemens has won four Cy Young Awards, had five 20-win seasons, 10 seasons of 200 strikeouts or more and he has also won two World Series Championships with the New York Yankees, a long-time Red Sox nemesis. Clemens' astounding numbers and domination on the mound still continues today and his entry into the Hall of Fame is just a matter of time.

Rookie Card-1984 Fleer Update #27, 1985 Donruss #273, 1985 Fleer #155 and 1985 Topps #181
As you can see, Clemens has his share of rookie cards, but the 1984 Fleer Update card is the one that is in the highest demand. By modern card standards, this set was actually somewhat limited causing a surge in demand for the issue. The 1985 Donruss Clemens is somewhat difficult considering that the card is surrounded by black borders. Beware of chipping! The Fleer Clemens is a very deceptive one. The inconsistency in production of this set was horrible so finding centered examples with print-free surfaces are fairy tough. Finally, the 1985 Topps Clemens is another card that suffers from varying quality in production. You can find this card sharp, but it is often found with poor centering and very poor eye appeal.

Whitey Ford

Labeled the "Chairman of the Board," Ford was the ace of the Yankee pitching staff during the 1950's. His .690 winning percentage is the best of any modern 200-game winner. Ford's teams won 11 pennants and seven World Series championships, helped mainly by the pitcher's streak of 33 scoreless World Series innings.

The southpaw ended his career with a 236-106 record and a .690 winning percentage, the best of any 20th century pitcher. Besides his scoreless 33-inning record, Ford also boasts World Series records of most wins (10) and most strikeouts (94).

Ford was elected into the Hall of Fame in 1974; another famed Yankee, Mickey Mantle, joined him.

Rookie Card-1951 Bowman #1
This is one of the best cards on the list. As a true condition rarity and the first card in an overwhelmingly popular set, the Ford rookie has major potential. By the way, the existence of the Mickey Mantle and Willie Mays rookie cards in the set don't seem to hurt this card's popularity either. Look out for toning and centering problems with this one; the borders are so narrow that a slight move to the left or right will cause the card to be designated OC.

Sandy Koufax

One of the most dominating pitchers of all-time, Koufax in a six-year span (1961-66) not only compiled an astounding 129-47 record, but he also led the National League in earned run average for five of the six seasons. He was the strikeout king four times, the Cy Young winner on three occasions and the National League MVP in 1963.

Twice Koufax had 18 K's in a game and his 382 strikeouts are still a modern National League record. Koufax helped his hometown Dodgers to NL crowns in 1963, 1965 and 1966. One of the game's best pitchers at his peak, Koufax was forced to retire at age 30 due to arthritis. He was elected into the Hall of Fame in 1972.

Rookie Card-1955 Topps #123
This guy is simply one of the most popular figures in sports history, Koufax has a very loyal fan base. The card may not be considered one of the toughest examples in the set, but it is certainly one of the more attractive ones. The set is filled with key cards like rookie cards of Roberto Clemente and Harmon Killebrew. No wonder it is so popular. Centering and print defects in the bright yellow background are condition obstacles for which to look.

Phil Niekro

In 24 major league seasons with the Braves, Yankees, Indians, and Blue Jays, Niekro puzzled major league hitters with a wavy knuckleball. Niekro's career record of 318-274 shows just the type of workhorse pitcher Niekro was. During his long career, Niekro led the National League in innings pitched and complete games on four occasions and in wins twice. A five-time All-Star, Niekro helped the Braves to a National League West title in 1969 as he recorded 23 wins, 21 complete games and a 2.56 ERA. Niekro had one no-hitter in 1973 against San Diego.

He was elected into the Hall of Fame in 1997.

Rookie Card-1964 Topps #541
The man with the tantalizing knuckleball is featured in a set that is void of major rookie cards so this card gets a lot of attention. The reverse of these 1964 Topps cards have a trivia question which can be removed by rubbing on the surface. If the area has been rubbed, it can seriously downgrade the card. In addition, the reverse has a pink/orange border that can chip fairly easily. Keep this in mind if you are looking for a high-grade example.

Jim Palmer

One of the game's top right-handed hurlers, Palmer was a part of Baltimore's six championship teams of the 1960s, 1970s, and 1980s. His impressive numbers include 268 victories, a .638 winning percentage, eight 20-win seasons and a 2.86 earned run average over 19 seasons. Palmer pitched his entire career without allowing a grand slam, pretty impressive considering he pitched in 3,894 innings throughout his career. One of the game's more intensive hurlers, Palmer was the winner of three Cy Young awards throughout his distinguished career and retired in 1984 with 2,212 strikeouts.

Palmer was enshrined to the Hall of Fame in 1990.

Rookie Card-1966 Topps #126
Whether it was getting batters out, working in the broadcast booth, or posing for underwear commercials, Jim Palmer has remained in the spotlight. His rookie card is very popular and one of the keys to the 1966 Topps set. The set also includes rookie cards of other Hall of Famers like Don Sutton and Fergie Jenkins. Many of the 1966 Topps cards are found with tilts so pay close attention to the centering.

Tom Seaver

The man who changed the Mets from a National League joke into a formidable contender, Seaver's 25 wins carried the Mets to a stunning pennant in 1969 and earned him the moniker of "Tom Terrific." In his 20-year career, Seaver set a number of Met and National League pitching records. A National League Rookie of the Year in 1967 and a three-time Cy Young Award winner, Seaver won 311 games and had a 2.86 earned run average over 20 seasons. Seaver also set a National League career record for strikeouts by a right-handed pitcher with 3,272. During his career with the Mets, Cincinnati Reds, and Chicago White Sox, Seaver struck out 200 or more batters in a season more then 10 times and once had a 19-strikeout game.

In 1992, Seaver was an overwhelming Hall of Fame choice with an amazing 98.84% of the ballots cast.

Rookie Card-1967 Topps #581
This is one of the most attractive cards on the list and the key rookie card to the 1967 Topps set. The set also includes a great rookie card of Rod Carew, a fellow Hall of Famer. The beautiful design of this Seaver rookie makes it a popular choice. While it is not considered a major condition rarity, you need to pay close attention to the centering because of the narrow borders and watch for print defects in the light-colored background.

Warren Spahn

The winningest left-hander in the game's history, Spahn anchored the Boston/Milwaukee Braves' pitching staffs for almost 20 years. The lefty led the National League in wins a record eight times, complete games a record nine times, and strikeouts four years in a row. Spahn was a 20-game winner 13 times and accomplished the feat for six consecutive seasons at one point in his career.

During his career, Spahn did win a World Series in 1958 and had a few more 20-win seasons before eventually retiring in 1965. Warren finished his career ranked in the top ten in total wins, innings pitched, and shutouts.

In 1973, Spahn was elected to the Hall of Fame.

Rookie Cards-1948 Bowman #18/1948 Leaf #32
Both of these cards are tough, but the 1948 Leaf rookie card has a bit of an edge in a few areas. The 1948 Leaf set is one of the hottest on the market due to the great star selection, unique design, and exceptional difficulty. Toning, poor focus and print quality, centering problems and inconsistent cuts make this card a nightmare. When you find a nice example, it is a rare occurrence. The Bowman Spahn is also a great card, featured in a set that also includes major rookies of Yogi Berra and Stan Musial. The black and white design isn't the most attractive design, but it certainly is a tough, key card.

Nolan Ryan

A true "power pitcher" and the single season and all-time strikeout leader, Ryan was one of the hardest throwers in baseball history. In an illustrious 27-year career (the most by any player in history), Ryan holds pitching records for most strikeouts (5,714), most no-hitters (7), most games with 15 or more strikeouts (26), and most strikeouts in a single season (383). The "Ryan Express" never really got off track as Ryan continued to strike out more batters at a record pace and he even threw a couple of no-hitters while past the age of 40.

As a member of the California Angels, Ryan was the first American League pitcher to strike out 19 men in a nine-inning game (August 12, 1974). During his career, Ryan had stints with the New York Mets, Angels, Houston Astros, and finished his great career with the Texas Rangers. Ryan even threw his seventh no-hitter with the Rangers in 1991 against the Toronto Blue Jays. Ryan retired in 1993 as he finished his career with an average of 9.55 batters struck out per-nine innings, while allowing opposing batters a weak .204 batting mark.

Ryan was just recently elected to the Hall of Fame in 1999.

Rookie Card-1968 Topps #177
Everybody has seen this classic card, the image has been placed before collectors over and over again. The card even features another good pitcher in Jerry Koosman. He wasn't a Hall of Famer but a solid starter. The Ryan rookie card is a deceiving card in that it may not be overly difficult to find in NM-MT condition, but it is tough to locate in true mint condition. The colored/patterned borders make it tough to see wear with the naked eye, but, trust me, the wear is usually there under magnification. In addition, the reverse is a mustard-like color that can be easily chipped. Centering and print are also condition issues, but, regardless of difficulty, this card is a classic.

Cy Young

When you have an award named after you, you must be incredible. Young set a standard for pitching that may never be reached. In a career that lasted from the early 1890s to 1911, Young won 511 games, 100 games more than the second highest total recorded by any other pitcher in history. He was a 20-game winner 15 times during his 22-year career and he topped 30 victories on five occasions. Young hurled three no-hitters, including a perfect game against the Athletics in 1904.

Cy was inducted into the Hall of Fame in 1938. Shortly after his death in 1955, commissioner Ford Frick originated the Cy Young Award, an annual honor given to the pitcher deemed most valuable in each league.

Rookie Card-?????
Well, the truth is that Mr. Young doesn't really have a true rookie card, but he is featured on some hobby classics. His two most popular issues are probably the T206 and T205 examples. Cy Young has three variations in the T206 set (w/glove, bare hand, and portrait) and the portrait is the most desirable of the group. The T205 is an ultra-difficult issue that has picked up major steam over the last year. The gold-colored borders make chipping a virtual certainty and the centering on this issue is all over the place. By the way, the card is almost 100 years old! Whatever Young card you choose, you can't go wrong.