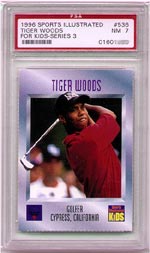 This guy, all by himself, has changed the way the average sports fan views golf. Golf was once considered a sport for old folks, a sport for those athletes who were not athletes at all. It was merely a sport of status, a sport that the average person dare not touch unless you wore a Rolex or drove a Mercedes.
Today, golf is a sport for all. Young or old, fat or skinny, rich or middle class, white or black, drunk or sober, they all take part on the course. What Woods has done for the sport is make this once boring and obscure sport a hip and mainstream one. While growing up, I never knew any young athlete who actually wanted to participate in golf unless they were:
a) Mauled by a Bear (preferably Grizzly)
b) Yoda
c) Named Happy Gilmore
Moving on. Now, I see more kids between the ages of 7-16 buying golf gear at sporting goods stores than almost any other type of sporting equipment. My, times have changed and they changed fast. I was in my teens just a decade ago, but the sport of golf has caught on with the new generation of children in an almost unreal way. Why? Tiger Woods.
There is only one thing that might be more amazing than the domination of Tiger Woods as golfer, the domination of his sportscards. Tiger Woods is at least the equivalent of Michael Jordan when it comes to mass appeal. Woods is intelligent, classy, has a nice smile, and, by the way, the most incredible golfer this sport has ever seen. Add his athletic accomplishments and his marquee value to the fact that very few Woods sportscards exist and you have the potential for frenzy.
Finally, a noteworthy manufacturer, Upper Deck, has thrown their hat into the ring. With gem mint examples of his Champions of Golf/Masters card selling for nearly $50,000 and his 1996 SI for Kids card selling in excess of six figures, the popular manufacturer has decided to give golf a try. Not a bad move if you ask me. Will these new cards ever sell for as much as the others that preceded them? It's hard to tell. The fact that the SI card had to be removed from a sheet with perforations and the Masters card was placed at the bottom of a cellophane-wrapped set, it's hard to imagine the difficulty being equal. Regardless, with so few Woods cards available, the collectors should devour this issue.
What does the future hold for Tiger Woods cards? It's hard to say. When the first SI for Kids PSA 10 Woods card (from 1996) sold for slightly over $10,000, I thought the buyer was living dangerously. Recently, a card in the same grade sold for over $100,000! At that level, I might want to buy the clubs Woods used to win one of his many tournaments, but hey, whatever floats your boat. You know what they say, "A collectible is worth whatever someone will pay for it."
You got that right.
"Pops," A Powerful Hitter and Man Passes On
I am going to be completely honest with you. I was not old enough to see Willie Stargell play in his prime, but I am certain that he was the type of player that I would gladly pay to see play. More importantly, he was a guy that I wish I would have known.
Willie Stargell played for over two decades, terrorizing pitchers at the plate. Willie would wave his bat in a windmill fashion like he was handling a toothpick except that toothpick was a 36-38-ounce piece of lethal lumber. This was a guy who had serious raw power. It's true that he did not reach the 500 home run plateau (he finished with 475 career homers), but he easily would have if it weren't for the cavernous park that he called home.
For years, there were only three balls that ever cleared the right field roof in Dodger Stadium. Willie hit two of them; both balls traveled well over 500 feet. Willie also finished with a solid .282 batting average, 1540 runs batted in and a .529 career slugging average. Perhaps his most memorable moment came in 1979 when Willie launched the game-winning homer in the 7th game of the World Series to defeat the Baltimore Orioles. Willie was named MVP of the World Series and the playoffs, and he was CO-MVP (along with Keith Hernandez) in the National League. It was first time in history that one man had won all three MVP awards. It hasn't been done since.
Despite a brilliant career, Willie was better known for his demeanor than his batting skills. His nickname "Pops"(affectionately given to him by his teammates) wasn't just in reference to his age on the Pittsburgh Pirates; it was given to Willie because he was a father figure to many of the younger players on the team. It's funny because, as a player, Willie never received the respect he deserved because he didn't play for the likes of the New York Yankees or Los Angeles Dodgers. But as a person, very few individuals were given more respect than the man they called "Pops."
Willie Stargell will be sorely missed.
It will be interesting to see how Willie's passing affects the hobby. Willie has always been underrated as a player so, in turn, his collectibles have remained very affordable in comparison to other stars of the era. His rookie card (#553) resides in a tremendous set and is very tough due to the colored border and centering problems. Mint examples have been elusive as very few appear in major auctions. Many of Willie's other cards are very reasonably priced, so keep your eyes out for quality examples.
Willie was always a willing signer at shows so his autograph is by no means rare but, at current levels, his autograph offers a great opportunity to obtain a Hall of Fame signature at a reasonable price. The item that probably gets the most respect of all Willie's collectibles are his game-used bats. Willie was known for his bat and collectors want to own them. Early game-used examples are very tough. Just check your major auction catalogues; you hardly ever see very high-end game-used bats of this powerful slugger. You can obtain game-used bats from Willie's later days for well under $1,000, a bargain for a man of his stature.
We will keep a close eye on the market to see if Willie gains respect from the collecting world.
Aikman's Retirement Raises Questions about the Future of the NFL
Here's a quick question for the readers out there. Can you name five superstars in the NFL?
I can't, not even close.
When former superstar quarterback Troy Aikman announced his retirement recently, I couldn't help but think about this topic once again. Where are the superstars in the NFL? I am not talking about the one-year star or the mediocre star; I am talking about the marquee guys, the players that can generate ticket sales with a mention of their last name.
I can't find many.
This raises interesting questions about the hobby. I hope that a few superstars arrive soon because, as a whole, the sport suffers without them. Without major interest in the sport, the football collecting community suffers. The drive or passion for that area of the hobby falls into a lull.
Just a thought, but this is something to keep an eye on in the coming year. There are a few talented youngsters who have the ability to reach that level and, hopefully, the highlight reels will be filled with their dazzling plays.
Stay tuned.