James Bell was born on May 15, 1903 in Starkville, MS, the son of a farmer. Considered by many contemporaries as the fastest man to have ever played professional ball, Bell was a selfless, even-tempered (hence the nickname "Cool Papa") switch-hitting outfielder. The slight built 5' 11", 150 lb. African American married a feisty and colorful woman by the name of Clarabelle, thus, yes, Clarabelle Bell. They had no children and resided in St. Louis on Dickson Street which was later named James Cool Papa Bell Avenue after a city ceremony honored him in 1987.
His twenty-four year career started at age 19 including the Negro League (1922-46), Cuba (1922-43), Santo Domingo (1937) and Mexican League (1938-41). A strong throwing lefty, Bell was originally a pitcher until an arm injury converted his skills to the outfield in 1924. It was that season that Bell enhanced his batting by also hitting from the left side. His lifetime batting average appears to be .341 with countless stolen bases due to poor record keeping. From 1947 to 1950, he played/managed for the equivalent of Minor League Negro League baseball despite refusing major league offers. Bell accepted an offer as a part time scout in which he was disappointed with his compensation. He then worked as a custodian and night security officer for the St. Louis City Hall until retiring in 1970.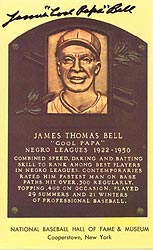 Bell was elected to the National Baseball Hall of Fame in 1974 (# 141 via the Negro League Committee), only the fifth Negro League player behind Satchel Paige (1971), Josh Gibson & Buck Leonard (1972), and Monte Irvin (1973). His election gave him immediate recognition in the hobby, however he was unable to financially capitalize on the industry's heyday due to his declining health. His eyesight became impaired in the mid-1980s and he and his wife virtually became reclusive and remained in their home.
On two invitations to their home in 1988 and 1989, they received my scheduled visits in their night cloths. Clarabelle's death was just weeks before James died on March 7, 1991 at the age of 87. His mind was sharp until the end, but his coordination and jaundiced eyes made autograph signing slow, sloppy, and he often forgot or duplicated letters. The "Papa" generally would create its own sunken, jagged baseline. He also resorted at times to dropping his first name James in autographing. During the latter years of his life, mail responses were often refused, returned with a facsimile, photocopied signature or even signed by his wife.
Bell and his wife would occasionally receive collectors/dealers into their St. Louis home. Unfortunately, in the late 1980's, a pair from western Pennsylvania ingratiated themselves to the elderly couple and rode off with a significant portion of Bell's private collection that was displayed in his living room. The authorities were able to retrieve some merchandise, however not all items were recovered.
Signatures from his playing career are rare primarily due to a lack of interest. There were very few black athlete autograph collectors during the existence of the Negro League. After his election, Bell would sign free of charge through the mail and was an invited annual attendee at the Hall of Fame ceremonies in Cooperstown. There were few private signings and only one local show appearance. He would typically sign minutely, often in green felt tipped marker. The green colored pen was a reflection of why many people considered him "The Black Ty Cobb". (Cobb in the 1940s and 50s preferred green colored ink.)
Individual characteristics of his totally legible right-handed signature include a triangular-shaped "J", little space between names, quotation marks around his nickname, and would often favor the top corner of an index card. Very common to autograph requests were complimented by "Best of luck" and the date (e.g. 8-12-75). His autograph on many items is plentiful with index cards generally selling for $30 and single signed baseballs in the $250-$300 range. Handwritten letters and cancelled checks are rare and often authored by his wife although signed by Cool Papa himself. Bell was capable of writing, although his grammar was unpolished. Gold Hall of Fame Plaque Postcards, Perez-Steele Art Cards, black and white 8" x 10" photos and commemorative baseball cards are relatively easy acquisitions. Signed bats, Perez-Steele Great Moments cards, and jerseys are considered uncommon.
First hand experience, Bell was a wonderful man. His bright smile and humor are the first things that come to mind recalling our encounters. He took the time to tell stories, often dismissing his wife's frequent interruptions, remembering with detail incidents from fifty years prior.