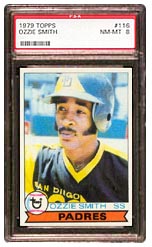 There was a time when baseball cards from the 1970s were lukewarm at best. The pre-1970 cards were very desirable and even the 1980s cards seemed to sell quicker on the market. Maybe it was the odd designs or the players of the era, but whatever the reason, the cards seemed "soft." Over the last few months, the perception has changed.
Demand for baseball cards of the 1970s are, all of a sudden, surging. I remember, not too long ago, when dealers kept telling me that they couldn't move their 1970s inventory, but now collectors seem to be moving towards that era. One reason behind the surge might be collector evolution. In other words, collectors who were buying cards from 1980 to present have started to move backwards in time. This is a natural occurrence; most collectors seem to move in this direction as they become more advanced.
It's funny because I can remember the time when 1970s cards were not really considered vintage, but now those cards are 20-30 years old! My, how time flies. In fact, the 1970s baseball cards are deceptively difficult due to very poor printing quality at the factory. The players who were dominant stars of the 1980s and early 1990s are almost all retired at this point. While there are a few guys still around who technically entered the league in the 1970s, like Rickey Henderson, their rookie cards were produced as part of 1980s sets. Even Henderson, a future Hall of Famer, does not have that much time left in his career.
The surge might also be attributed to the former stars coming back into the spotlight as Hall of Fame voting occurs each year. The players, who were at the top of their game within the last 10 years or so, are now being enshrined. With many collectors placing extreme emphasis on Hall of Fame players, you can see why demand has increased for these fairly recent additions to the Hall. Let's take a brief look at some of the key rookie cards of the 1970s.
1970 Topps Thurman Munson #189 - Not a Hall of Famer but a real fan favorite, Munson was one of he best catchers in baseball during the 1970s. A shocking and tragic death halted the great backstop's career prematurely, but Munson almost has a "cult-like" following in the hobby. You just never see this card offered in true mint condition, a deceptively difficult card.
1971 Topps Steve Garvey #341 - Again, this guy might not ever make the Hall, but he was a true fan favorite as a Dodger and a Padre. Durable and consistent, Garvey was a perennial All-Star selection for the National League at first base. His career numbers fall short of spectacular, but everybody knows who he is and this black-bordered beauty is tough.
1971 Topps Don Baylor/Dusty Baker #709 - This card offers an interesting combination. Both players had solid careers, they could hit and hit with power. Baylor even won a MVP as a member of the California Angels. They are also fine managers in today's game. In fact, Baker is widely regarded as one of the league's best as the manager of the San Francisco Giants. This is also a very tough card.
1972 Topps Carlton Fisk #79 - This Hall of Fame catcher is one of the most recognizable players of his era. Fisk had a flair for the dramatic and his workman-like attitude made him a favorite in Boston and Chicago. With well over 300 home runs, he was also one of the more powerful hitting catchers in baseball history. This is the only key rookie in perhaps the most attractive set of the decade.
1973 Topps Rich Gossage #174 - I know what you are saying, "Why include this guy on the list?" I will tell you why. There have been rumors in the baseball circuit that relievers are going to get more consideration from Hall of Fame voters in the future and nobody was as dominating as Gossage in the American League. This guy had some kind of fastball and he was a classic closer.
1973 Topps Dwight Evans #614 - Once again, here's a guy who probably won't make the Hall, but he was a fine all-around player and a fan favorite. He could hit for power and had an absolute rocket for an arm in right field. Boston Red Sox fans adore this guy.
1973 Topps Mike Schmidt #615 - The best third baseman in baseball history, need I say more? He is also part of the 500 home run club, a 3-time MVP and he won 8 Gold Glove Awards in a row. The card has been overlooked for quite some time. It's not extraordinarily difficult, but everyone should own this card.
1974 Topps Dave Parker #252 - "The Cobra" will probably never make the Hall, but he was one of the best players in the game for a time. A great throwing arm, a powerful bat and, believe this or not, good speed early in his career made Parker a force. Considering his accomplishments, his card can be acquired for a very reasonable price.
1974 Topps Dave Winfield #456 - This recent Hall of Fame inductee could do it all. An amazing athlete, Winfield was a college standout in just about every major sport. He was even a dominating pitcher! With over 3,000 hits and 465 home runs, Winfield was a dangerous man at the plate. His rookie card has received a lot of attention recently due to his induction.
1975 Topps regular and mini Robin Yount #223 - With over 3,000 hits and a couple MVPs under his belt, Yount was a first ballot Hall of Famer. Yount was also a very likable and humble man, which added to his appeal. He wasn't blessed with the talent of a Winfield or Parker but Yount squeezed every ounce of potential out of his body. This card is part of a set that features more key rookie cards than any other set of the decade.
1975 Topps regular and mini George Brett #228 - One of the finest all-around hitters of his era, Brett combined power and touch with an unrivaled intensity on the field. Most of us remember Brett and the infamous "Pine Tar" incident. Did you see the look in his eyes? I don't know if anyone was more competitive than this guy was. Being as member of the 3,000 hit club, excelling in the postseason and hitting .390 in 1980 makes this guy one of the very best players of his generation. He was an overwhelming choice for first ballot induction to the Hall along with Yount.
1975 Topps regular and mini Jim Rice #616 - I really think that this guy has a decent chance, somewhere down the line, of being inducted into the Hall. It might be a result of the Veteran's Committee, but his numbers are close. At the present time, this rookie card can be acquired for a very reasonable price. If he does get in, you will be glad that you picked one up now. He was a great slugger, has one MVP under his belt and drove in a lot of runs. The only problem is that he retired at a young age so he probably lost some homers, which would have looked good on his total.
1975 Topps regular and mini Gary Carter #620 - This guy, without question, will be inducted into the Hall within the next couple of years. His overall statistics are right there with Fisk's and, in some cases, better. Carter was the best catcher in the National League for over a decade. He hit with power and handled some very impressive pitching staffs along the way. A perennial All-Star selection and Gold Glove winner, Carter's rookie card should enjoy a nice upswing.
1976 Topps Dennis Eckersley #98 - This guy is a Hall of Famer without a shred of doubt, but the funny thing is that nobody talks about it. With almost 200 wins and 400 saves, this guy offers a unique combination of success as a starter and a closer. As a starter, he won 20 games in a season and threw a no-hitter. As a closer, he had a run with the powerful Oakland A's that was mind-boggling. In 1990, he had an ERA of 0.60, the lowest in history for a pitcher with 25 or more innings. In 1992, he won the Cy Young and MVP. The hair and the "slingshot" delivery make him an unforgettable player.
1977 Topps Andre Dawson #473 - This guy was an outstanding all-around player one of the few members of the 300-300 club (at least 300 stolen bases and 300 home runs). "The Hawk" was an imposing figure at the plate, the guy looked like he didn't have an ounce of body fat on him. His vicious swing accounted for 438 homers, including a season-high 49 in 1987 in route to winning the National League MVP. He may not make it into the Hall on the first try but, at some point, he will be a member.
1977 Topps Dale Murphy #476 - Why this guy doesn't get more Hall of Fame consideration I'll never know. He won back-to-back MVP Awards in the mid-1980s and was widely regarded as one of the best players in the game for much of the decade. Murphy was also a fine outfielder with plenty of Gold Gloves under his belt. Why is he ignored so much? Maybe it's because he faded from stardom in such an ungraceful fashion. It was like one day he woke up and just couldn't hit anymore. He also fell just short of 400 homers. A very good career and a wonderful personality might get him more consideration down the line.
1978 Topps Eddie Murray #36 - Very few players have reached both the 500 home run club and the 3,000 hit club but Murray is one of them. His fellow members are Hank Aaron and Willie Mays, wow! Murray was so consistent that his year-to-year accomplishments almost went unnoticed. A .290 average, 25-30 homers, and 90-110 RBI was just another Murray-like year. His rookie card can be found sharp, but centering and print are two entirely different subjects. All in all, a very undervalued card and overlooked player.
1978 Topps Paul Molitor/Allan Trammell #707 - Both players were stars, but it was Molitor that went on to a Hall of Famer career. With well over 3,000 hits, Molitor has basically ensured induction as a member of this exclusive and popular club. By the way, Molitor also stole over 500 bases, scored over 1,700 runs and had a 39-game hitting streak, the fourth longest in history. Trammell had a solid career with a good bat and he also won four Gold Gloves as a shortstop. His accomplishments, however, are "icing on the cake" because most collectors want this card because of Mr. Molitor.
1979 Topps Ozzie Smith #116 - He wasn't much of a hitter, but "The Wizard of Oz" could make unreal defensive plays from shortstop. Smith redefined the position by bringing a level of athleticism never seen before. He also helped lead his team, the St. Louis Cardinals, to the World Series on three separate occasions. With the new breed of power shortstops dominating the game, it will be interesting how the Hall of Fame voters treat Mr. Smith. Regardless, his rookie card is one of the most popular cards on the list and it might be the most difficult example to find centered.
There are other interesting rookie cards like that of Lou Whitaker, Fred Lynn, and Keith Hernandez, but these are considered the keys of the era. The 1970s baseball cards can offer an affordable alternative to the super high-priced examples from the pre-1970 era and also a level of difficulty not seen in the post-1980 market.