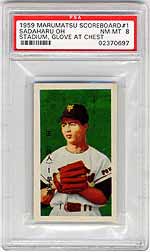 In part three of a three-part series on Japanese baseball, we take an in-depth look at the ever-popular sport. The first installment of the series can be found here.
Foreigners in Japan
Foreign players or "gaijin" have been a part of Japanese baseball since its inception. The Japanese public has always had a love/hate relationship with these foreigners who at times show little respect for Japanese customs, but often excel at the sport. In Japan, no foreign player has ever been nearly as popular as the great Japanese players. Japanese teams traditionally were allowed two "gaijin" on the active major league roster. Over the past several years, this rule has been relaxed somewhat. At times there has been serious debate on the question of eliminating all "gaijin" from the Japanese game. Occasionally, teams have played without "gaijin" possibly, in part, to increase their popularity. In fact, Seibu played most of 1993 with no U.S. imports.
Among the first foreigners to have an impact on the Japanese game was Victor Starffin, a pitcher from White Russia in the 1930's and '40's who was Japan's first 300 game winner. Bozo Wakabayashi, a Hawaiian native, pitched during the same era winning 240 games with a lifetime ERA of 1.99.
Wally Yonamine was another Hawaiian who made a sizable impact. This Giants star of the 1950's was a great leadoff man, but was not so popular at the time, since postwar tensions were still high. However, amends were made in 1994 when Yonamine was elected to the Japanese Baseball Hall of Fame.
In the early 1960's, many Americans began coming to Japan to extend their playing careers. While some produced decent statistics, most fared no better than many Japanese players. This trend changed in the late 1970's and 1980's as younger "fringe" major leaguers came to Japan.
Leron Lee and his brother Leon were the first of the modern "gaijin" in Japanese baseball. Leron left the U.S. when he was still under 30 years old. He played 11 seasons in Japan and had a lifetime average of .320. Leon never played in the American majors, but still hit .309 lifetime. The Lees tried to assimilate in Japan. They learned Japanese and tried to follow as many customs as possible.
Boomer Wells, a former Toronto washout and Randy Bass, a former Padre and Ranger who had an undistinguished U.S. career, had a big impact in Japan. Bass won two triple crowns and Wells one. Bass nearly eclipsed Oh's single season home run record. Wells played eleven seasons in Japan and had a lifetime average of over .320. Bass played six years in Japan (1983-1988) and hit .337 with over 200 home runs.
Warren Cromartie (1984-1990) was the first established U.S. major leaguer to venture to Japan during the prime of his career (age 30). Cromartie tried hard to assimilate. He learned Japanese, but was never particularly popular despite playing for the Giants, winning an MVP award and hitting .321 lifetime including an average of .378 in 1989. Bob Horner was the first American baseball superstar to play in Japan. He was very popular at first while hitting many early season home runs. He even did numerous TV commercials. His popularity eroded during his only Japanese season as he succumbed to various injuries. Recently, several "fringe" major leaguers have been quite successful in Japan, including Tom O'Malley, Ralph Bryant, Troy Neel, and especially Bobby Rose. In 1999, Rose had a spectacular season in which he hit .369 with 153 RBI. Many others have not been as fortunate.
Sawamura
No history of Japanese baseball and its stars would be complete without a discussion of Eiji Sawamura, the Japanese Cy Young. Sawamura pitched against the U.S. team that traveled to Japan in 1934. His performance was so impressive that Connie Mack offered him a contract to play in the USA He stayed in Japan, however, and became the greatest pitcher in the new Japanese league. Sawamura was killed fighting in World War II. He is regarded as a true national hero. The annual award presented to the most outstanding pitcher each season bears his name.
Some other brief facts about Japanese baseball The season is only 135 games long. Each team, in addition to hosting regularly scheduled games at its home ballpark, plays games at neutral sites. For example, in 1995, 56 different stadiums were used by the 12 teams. There are occasional tie games in both leagues. Until 1994, starting pitchers were not announced prior to game time. Pitchers bat in the Central League. The Pacific League employs the designated hitter. Players are not expected to try to break up double plays by sliding hard into second base. Hitters rarely charge the mound after being hit by a pitch. Many major league parks have "skin" infields rather than grass.
Japan Hall of Fame and Meikyukai
There are two Hall of Fame equivalents in Japanese baseball. One is the Japanese Baseball Hall of Fame. The other is the Meikyukai. Hall of Fame members are elected. Membership in the Meikyukai is automatic after a player reaches 2,000 career hits or a pitcher reaches 200 career victories. These totals are roughly the equivalent of 3,000 hits or 300 wins in the U.S., because the Japanese season is shorter. The complete list of HOF and Meikyukai members follows:
| | |
| --- | --- |
| _ BE, ISAO | H |
| AKUTA, TAKEO | H |
| AMACHI, SHUNICHI | H |
| AMANO, TEIYU | H |
| AOI, JYUTSUO | H |
| ARAI, HIROMASA | M |
| ARAMAKI, JUN | H |
| ARIMA, YORIYASU | H |
| ARITO, MICHIO | M |
| BESSHO, TAKEHIKO | H,M |
| BETTO, KAORU | H |
| CHIBA, SHIGERU | H |
| CHUMON, KANAE | H |
| DATE, MASAO | H |
| DOI, MASAHIRO | M |
| ENATSU, YUTAKA | M |
| ENOMOTO, KIHACHI | M |
| ETO, SHINICHI | M |
| FUJIMOTO, HIDEO | M |
| FUJIMOTO, SATAYOSHI | H |
| FUJIMURA, FUMIO | H |
| FUJITA, MOTOSHI | H |
| FUJITA, NOBUO | H |
| FUJITA, TAIRA | M |
| FUKUMOTO, YUTAKA | M |
| FUKUSHIMA, SHINTARO | H |
| GO, SHOSEI | H |
| HAMAZAKI, SHINJI | H |
| HARIMOTO, ISAO | H,M |
| HASHIDO, MAKOTO | H |
| HIGASHIO, OSAMU | M |
| HIRAMATSU, MASAJI | M |
| HIRANUMA, RYOZO | H |
| HIRAOKA, HIROSHI | H |
| HIROOKA, TOMOO | H |
| HIROOKA, TATSURO | H |
| HIROSE, KENZO | H |
| HIROSE, YOSHINORI | H,M |
| HORIUCHI, TSUNEO | M |
| HOSAKA, MAKOTO | H |
| ICHII, TOKICHIRO | H |
| ICHIOKA, TADAO | H |
| ICHIRO, YOSHIKUNI | H |
| IGUCHI, SHINJIRO | H |
| IIDA, TOKUJI | H |
| IKEDA, TSUNEO | H |
| IKEDA, YUTAKA | H |
| INAO, KAZUHISA | H,M |
| INOUE, NOBURO | H |
| ISHIMOTO, SHUICHI | H |
| ITAMI, YASUHIRO | H |
| IWAMOTO, YOSHIYUKI | H |
| KADOTA, HIROMITSU | M |
| KAGEURA, MASARU | H |
| KAJIMOTO, TAKAO | M |
| KANEDA, MASAICHI | H,M |
| KARITA, HISANORI | H |
| KATO, HIDEJI | M |
| KAWAKAMI, TETSUHARU | H,M |
| KINUGASA, SACHIO | H,M |
| KIRIHARA, SHINJI | H |
| KITABEPPU, MANABU | M |
| KOBA, TAKESHI | H |
| KOBAYASHI, ICHIZO | H |
| KOIZUMI, SHINZO | H |
| KONDO, SADAO | H |
| KONISHI, TOKURU | H |
| KONO, ATSUSHI | H |
| KOSHIMOTO, HISHASHI | H |
| KOYAMA, MASAAKI | M |
| KOZURU, MAKOTO | H |
| KUJI, JIRO | H |
| MAKINO, NAOTAKA | H |
| MAKINO, SHIGERU | H |
| MATSUBARA, MAKOTO | M |
| MATSUKATA, MASAO | H |
| MATSUKI, KENJIRO | H |
| MIHARA, OSAMU | H |
| MINAGAWA, MUTSUO | M |
| MIYAHARA, KIYOSHI | H |
| MIYAKE, DAISUKE | H |
| MIYATAKE, SABURO | H |
| MIZUHARA, SHIGERU | H |
| MIZUNO, RIHACHI | H |
| MORI, SHIGEO | H |
| MORIOKA, JIRO | H |
| MORIYAMA, KOTARO | H |
| MURAKAMI, MINORU | H |
| MURATA, CHOJI | M |
| MURAYAMA, MINORU | H,M |
| NAGASHIMA, SHIGEO | H,M |
| NAGATA, MASAICHI | H |
| NAKAGAMI, HIDEO | H |
| NAKAGAWA, MIYOSHI | H |
| NAKAJIMA, HARUYASU | H |
| NAKANISHI, FUTOSHI | H |
| NAKANO, TAKEJI | H |
| NAKAO, HIROSHI | H,M |
| NAKAZAWA, YOSHIO | H |
| NAOKI, MATSUTARO | H |
| NIDEGAWA, NOBUAKI | H |
| NISHIMOTO, YUKIO | H |
| NISHIMURA, YUKIO | H |
| NISHIZAWA, MICHIO | H |
| NODA, SEIZO | H |
| NOGUCHI, JIRO | H,M |
| NOMURA, KATSUYA | H,M |
| OCHIAI, HIROMITSU | M |
| OGAWA, SHOTARO | H |
| OH, SADAHARU | H,M |
JAPANESE HALL OF FAME AND MEIKYUKAI PLAYERS
OKADA, GENZABURO
H
ONO, MICHIMARO
H
OSHIKAWA, KIYOSHI
H
OSHIMA, YASUNORI
M
OSHITA, HIROSHI
H
OSUGI, KATSUO
H,M
OTA, SHIGERU
H
SAEKI, ISAMU
H
SAEKI, TATSUO
H
SAKURAI, YAICHIRO
H
SANADA, JUZO
H
SAWAMURA, EIJI
H
SHIBATA, ISAO
M
SHIMA, HIDENOSUKE
H
SHIMADA, ZENSUKE
H
SHIMAOKA, KICHIRO
H
SHIRAISHI, KATSUMI
H
SHORIKI, MATSUTARO
H
STARFFIN, VICTOR
H,M
SUGISHITA, SHIGERU
H,M
SUGIURA, TADASHI
M
SUZUKI, KEISHI
M
SUZUKI, RYUJI
H
SUZUKI, SOTARO
H
TABE, TAKEO
H
TAKAGI, MORIMICHI
M
TAMURA, KOMAJIRO
H
TANABE, MUNEHIDE
H
TANAKA, KATSUO
H
TANIGUCHI, GORO
H
TOBITA, TADAYORI
H
TONOOKA, MOJURO
H
TSUBOUCHI, MICHINORI
H
TSURUOKA, KAZUTO
H
TSUTSUI, OSAMU
H
UCHIMURA, YUSHI
H
UTSUMI, KOZO
H
WAKABAYASHI, TADASHI
H,M
WAKAMATSU, TSUTOMU
M
YAMADA, HISASHI
M
YAMAMOTO, EIICHIRO
H
YAMAMOTO, KOJI
M
YAMASHITA, MINORU
H
YAMAUCHI, IKUSHI
H
YAMAUCHI, KAZUHIRO
M
YAMAZAKI, HIROYUKI
M
YAZAWA, KENICHI
M
YOKOZAWA, SABURO
H
YONAMINE, WALLY
H
YONEDA, TETSUYA
H,M
YOSHIDA, MASAO
H
YOSHIDA, YOSHIO
H
YOSHIWARA, MASAYOSHI
H