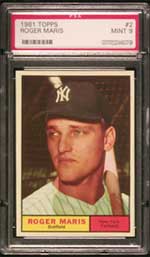 Name: Roger Eugene Maris
Date of Birth: September 10, 1934
Position: Right Field
Teams: Cleveland A's (1957-1958), Kansas City A's (1958-1959), New York Yankees (1960-1966) and St. Louis Cardinals (1967-1968)
Years Played: 12
The Player
Roger Maris has a name that will never be forgotten by the baseball fan or the collector. Is he in the Hall of Fame? No. Will he ever be voted into the Hall? Probably not. Should he be? I don't think so. More importantly, does it really matter at this point? No.
Roger Maris does not need the Hall of Fame for validation. There are some players who do, the marginal Hall of Famers who were never really superstars and never shared much time in the limelight. These guys are the Don Sutton and Phil Niekro types, very good players but never really true superstars. Roger Maris did not have a Hall of Fame career, but unlike several players in the Hall today, he was a superstar for a few years.
While his time at the top didn't last long, he was a fine all-around player when healthy. Maris was a very strong hitter, a solid defensive outfielder with a strong throwing arm, and he had a workmanlike attitude on the field. He was considered a very genial man, but he was also a bit shy and he avoided the media at times. He was, in some ways, the exact opposite of his powerful teammate Mickey Mantle. Mantle was an outgoing guy who liked to party while Maris was the guy who would rather spend time quietly on the golf course and avoid the crowds. Maris played Lou Gehrig and Mantle played Babe Ruth, all good guys with a different way of expressing themselves.
Long before Maris would strike the legendary number 61 in 1961, he would become a true star. In 1960, Maris put together a tremendous season by hitting .283 with 39 home runs and driving in 112 runs. He would also lead the league with a .581 slugging average that year and, for all his offensive production, he was named the American League's Most Valuable Player. It was the very next year that Maris would become a permanent part of baseball lore. There have been many MVP's that have virtually disappeared from the face of the earth like Jeff Burroughs and Terry Pendleton, but Maris was different.
As the 1961 baseball season progressed, both Mantle and Maris were crushing home runs at a record clip and it was Mantle for whom everyone was rooting. Mantle was the perennial star who became the hero for just about every young boy in the nation. Maris, on the other hand, had only one great season under his belt so the fans and media were skeptical. It wasn't that Maris was hated by any means; it was just that Babe Ruth was such a worshipped legend in New York and, if someone was going to break his single season home run mark, they wanted Mantle to do it. Mantle had already proven himself. Maris, in some people's eyes, was a "flash in the pan."
Towards the end of the season, Mantle suffered an injury that caused his record pace to slow dramatically. Maris, on the other hand, kept right on going towards history. The media pressure began to build and it is well documented that Maris struggled to handle the attention. In fact, small clumps of his hair started to fall out as number 61 got closer. There are many famous photographs and video clips depicting the anguish that haunted Maris during his record chase. It was as if Maris didn't want the attention, but when you are chasing a record associated with Babe Ruth, you have no choice.
It came down to the very end of the season. Maris stepped to the plate, tied with Babe Ruth at 60, and proceeded to belt a fastball over the wall in right-center in front of his hometown fans, in the "House that Ruth built." After he touched home and made it to the dugout, his teammates almost had to force Maris back out on the field to acknowledge the standing ovation given by the Yankee fans. Maris was just a shy person, a humble guy who must have been relieved that it was finally over.
Maris was named the American League's MVP for the second consecutive season after hitting .269 with a 61 homers, driving in 142 runs, scoring 132 runs and slugging .620. Besides his amazing home run total, his RBI and runs scored numbers led the league. Despite such a phenomenal year, there was a downside. In addition to the pressure of the chase and the fact that many fans were actually rooting against him, there was the bizarre lack of fan interest. Did you know that there were plenty of seats of available on the day he broke Ruth's home run record? Did you know that the stadium in which Maris tied Ruth's record was half-empty?
When Mark McGwire was chasing down the single season home run record in 1998, the atmosphere couldn't have been more positive. Everyone seemed to be rooting for McGwire, even those weren't baseball fans at all. Stadiums were selling out before McGwire hit number 30 let alone 50 or 60. Obviously there was a great deal of pressure from the media. We live in an age where everything a player says or does is captured on video, but the situation was completely different. McGwire is just an awesome power hitter and I am not taking anything away from what he did, but Maris had to endure a lot more.
In 1962, Maris would put up his last banner season by blasting 33 homers and driving in exactly 100 runs. He was still a major force in that potent New York Yankee lineup. Even in 1963, he smacked 23 homers in only 90 games. Injuries were the only obstacle stopping Maris now, but it would be a combination of injuries and unreasonable expectations that would cause this slugger's production to eventually decline. He would only hit 20 or more homers once more in his career (26 in 1964) and he never drove in more than 71 RBI's in a season.
After being the regular right fielder for five straight Yankee pennant winners, a few seasons later, Maris would finish up with the St. Louis Cardinals who won two pennants of their own. Before Maris passed away, he said that his last two years with St. Louis may have been the most enjoyable seasons of his career. The pressure was off by that point and the fans accepted Maris for whom he was, it was an entirely different experience from his Yankee days.
Regardless of his fall from grace and the undeserved bashing he received at times, Maris will always be a significant figure in baseball history. The Hall may not have a spot for poor Roger and an asterisk placed by his number 61 in the record books may have been a slap in the face, but he left a permanent mark on the game. He held one of baseball's most exciting records for almost four decades, won back to back MVP's, started in right field for several pennant winners and, perhaps most importantly, remained grounded and humble through it all. Maris doesn't need the Hall; he did it all.
The Cards and Memorabilia
Roger Maris was a star, played for the New York Yankees during their dominant run, and held baseball's sexiest record for a long time. Guess what? Roger Maris sportscards and memorabilia have always been popular. He has a very nice selection of important sportscards, his autograph is very desirable, and his game-used equipment is tough. First, let's take a look at some of his more popular cards.
1958 Topps #47
1959 Topps #202
1960 Topps #377
1960 Topps All-Star #565
1961 Topps #2
1961 Topps MVP #478
1961 Topps All-Star #576
1962 Topps #1
1962 Topps #313 (Maris Blasts)
1963 Topps #120
1964 Topps #225
1964 Topps AL Bombers #331
1965 Topps #155
1966 Topps #365
1967 Topps #45 (Cards)
1968 Topps #330
Remember that this is merely an abbreviated list of Roger's more popular cards. The legendary slugger is featured on several league leader and World Series cards in a few of the early 1960's sets, but the cards included on this list are considered his most popular. Let's begin.
The very first card featured on the list is the popular Maris rookie. This popular image is familiar to most collectors; a young Maris placed against a strong orange-colored background. In addition to being popular, it is also pair of a very tough 1950's set. There are many inherent condition problems with this issue. The color, cut, and paper quality are all very inconsistent. Some 1958 Topps examples are found with bright colors and others have very bland colors with the latter being the rule.
In addition, toning along the edges and print defects are common. The orange background does not help conceal the defects at all; they are very easily detected. This issue also suffers from "blunt" corners due to the cutting process. You can find sharp examples, but for some reason, they are not found sharp as often as many other Topps issues. As one of the most valuable cards in the set, this Maris rookie is at the top of many collector lists.
In 1959, Topps produced another Maris card that is rarely seen in true mint condition. While the 1959 Topps cards are somewhat easier to locate in high-grade, in general, when compared to the 1958 issue, they are by no means easy. In fact, this Maris card, according to the latest PSA Population Report, is even scarcer in Mint 9 than his rookie card! The 1959 Topps issue is susceptible to many of the same condition obstacles that the 1958's are, but tilts (causing the centering to poor) might be the toughest one. When this card is found in high-grade, it can really jump out at you. The beautiful red background and image of Maris finishing his swing combine for a classic image. Keep your eyes on this one; it's deceptively tough.
In 1960, Topps pictured Maris as a New York Yankee for the first time. This popular horizontal set has its share of condition problems. The two major problems with this issue are centering and the presence of black print defects. The image of Maris, as well as most other players, is surrounded by a combination of light and dark colors. This type of extreme contrast usually results in problems. The yellow portion of the card can pick up dark print defects with ease, causing eye-appeal problems along the way. Add to that the fact that the centering is horribly inconsistent and you have a tough card to find in high-grade.
At the end of the set, a run of All-Star cards is featured and Maris is included. These cards share the same problems as the regular issue card except that these cards are more deceptive. The lack of truly defined borders can deceive the collector into thinking he or she is looking at a centered card. Make sure you take a close look at the centering; otherwise, you might purchase a card that is technically off-center. The card is almost prophetic in a way; notice the number 60 behind Maris. We would only have to wait one more year before Maris would chase that number to the very last day of the season, finally hitting number 61. The number 60 appears on all the All-Star cards but it is still interesting, who knew?
Over the next two years, Maris cards would be considered amongst the most valuable in their respective sets. The 1961 Topps set has a few Maris cards to choose from including a MVP and All-Star card. The regular issue card is the number two card in the set and is considered a fairly tough condition rarity in top grades. The sincere look on Roger's face makes for a memorable image. His MVP and All-Star cards are deceptively tough for different reasons. The MVP card is notorious for having print defects in the red background and the All-Star card, even more so than the 1960 version, is deceiving when it comes to centering. The All-Star card has virtually no defined border at all. Keep an eye on the MVP card; those are very attractive and deceptively tough.
In 1962, Maris was once again a part of the annual Topps set, but this card is extra special. This set helps commemorate Roger's home run record. You can find those legendary statistics on the back of his regular card and the set even includes a card that highlights his special moment (#313) as well as the AL and NL Home Run Kings card with Orlando Cepeda. His regular card was selected as the first card in the set so you can imagine how many rubber bands put this one out of commission. To make things tougher, brown borders that are easily chipped surround this Topps issue. Severe chipping can really be an eyesore. When this card is found in high-grade, it has tremendous appeal. In fact, although it is not his rookie card, I would argue that this might be Roger's most attractive card. His record-breaking swing is on full display.
The 1963 Topps set is one of the most attractive sets from the 1960's and this Maris card is a collector favorite as a result. The beautiful green border, which is also unfortunately susceptible to chipping, provides a nice frame for the colorful image of Maris. This card, in PSA Gem Mint 10, has sold in excess of $12,000 at auction. Considering that this card is not his rookie card or the number one card from the 1962 Topps set, that says a lot about its popularity.
Over the next few years, Maris was featured on some very attractive cards. One thing to keep in mind about the 1964 Topps Maris is that you need to pay close attention to the orange border on the reverse. The back included a "scratch-off" trivia section and the orange portion is easily chipped. The existence of chipping might cause an otherwise mint card to fall a grade or two depending on severity. The AL Bombers card has Maris pictured with Mickey Mantle, Al Kaline and Norm Cash. It remains a collector favorite. The 1965 Topps Maris, as well as his 1966 Topps example, are both very bright with attractive designs. Keep your eye on the 1966 Topps Maris; it is one of his toughest cards to find in Mint condition. In fact, according to the latest numbers, there are over twice as many PSA 9 Maris rookies in the PSA Population Report than there are on this one.
As his career came to a close, Maris was featured on two more major cards. His 1967 Topps card was the first one to picture Maris as a Cardinal and, while it is certainly not the most attractive Maris card on the list, it is significant for that reason. Print defects and reverse chipping on the green border can be condition obstacles. His last card, in 1968, shows Maris in his famous batting stance that once terrorized major league pitching. Edge and corner wear is hard to detect with the naked eye due to the color and design of the borders, so make sure you take a close look before you buy.
When it comes to Maris autographs, the demand is strong, but so are the amount of forgeries in the marketplace. Make sure you are buying from a reputable source and that the autograph has been properly authenticated, otherwise, you might regret it down the road. Many Maris autographs were obtained on Maris/Mantle items because they will be remembered as one of the most powerful duos in Yankee and baseball history. For a few years, they were a great 1-2 threat.
One of the controversies surrounds the timing of Bobby Brown American League baseballs and Roger's death. Maris was only alive for a few months when Bobby Brown (commissioner) baseballs were introduced. Was it possible that he signed some of these? Yes. Was it probable? Not really, because his health was poor during those months. It is very possible that authentic examples exist, but collectors should be aware of the low probability.
When it comes to game-used equipment, namely bats, Maris is a popular choice. He may not be in the Hall of Fame, but his significance as an easily recognizable baseball figure and as a two-time Yankee MVP makes Maris game-used items very collectible. His bats will often sell for more than Hall of Famers who played during the same era; his popularity is still very strong. His bat of choice was H&B and autographed gamers sell for a significant premium.
It remains to be seen how future generations will treat the former Yankee slugger. Will he be remembered as a guy who hit about 100 fewer home runs than Gary Gaetti or will he be remembered as a star that shined bright for the perennial Yankee winners? The reality is that Maris will never be admitted to the Hall, but as I said a few times earlier, he has left a permanent mark on the game. Maris accomplished everything for which a Hall of Famer should stand; he was a true star and a winner. His stay at the top just didn't last quite long enough. Hall or no Hall, Maris remains a legendary figure of the game.