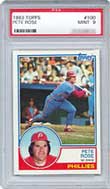 Sports hobbyists have many different ways of assembling their collections. Some people focus on teams and others focus on individuals. Wherever your interests may lie, there are some very popular themes on which collectors seem to focus. Here are a few popular themes that hobbyists seem to really enjoy and why.
Exclusive Clubs
Collecting members of exclusive clubs has always been amongst the most popular ways to assemble a collection. The three most popular are the 500 home run club, the 3000 hit club, and the 300 win club.
The most popular of the three is definitely the 500 home run club. The home run has always captivated baseball fans. It is the spectacle that people want to see when they come to the ballpark. Some collectors try to get one card, a game-used bat or a single signed baseball of each member.
There are a few key reasons why this theme is so popular. First, as stated earlier, home runs are very popular. Second, the club is one of the most exclusive in baseball (currently 17 players have made it) so the number of players is feasible. Finally, most of the 500 home run club members have great followings on an individual basis so the group remains very popular.
Collecting items from any of the exclusive clubs is fun because it is feasible to complete and the clubs will grow slowly but surely over time. Most of the members in each club are still living today, so obtaining many of the autographs shouldn't be too difficult. The challenge is obtaining those who are deceased.
Teams
The next most popular theme in sports collecting is probably assembling items by team. Some hobbyists stay loyal to one team their whole collecting lives while others focus on championship teams.
Collecting team items can much more challenging than collecting items from exclusive club members. For instance, if you think finding an authentic single signed baseball of Mark McGwire for your 1989 A's team collection is tough, try finding a single signed ball of Gene "Full" Nelson. I am sure you see my point.
Most team collections focus on cards because that is the easiest way to get all the players on the roster together. Finding autographs, like the example above, would be almost impossible in some cases unless you find a complete team signed item. If you are a Chicago Bulls fan of the mid-to-late 1990's, try finding a Dave Corzine autograph. Good luck!
Due to the difficulty in obtaining team items, the reality is collectors will limit their goals. For instance, instead of trying to get autographs or bats from every member of the 1987 Minnesota Twins, maybe a collector will focus on the stars or the starting lineup. Most people can find a Kirby Puckett bat if they had to, but what about Randy Bush? It can be a real chore.
All in all, collecting team-related items can be fun. If you want a real challenge, this is for you.
Award Winners
Many collectors also enjoy obtaining items from award winners. Collecting MVP's, Cy Young, Rookie of the Year, Gold Glove or Triple Crown winners are some examples. Assembling a collection in this fashion is not quite as difficult as the team-oriented theme, but the potential for more players is involved.
Obviously, if you are collecting Triple Crown winners, the number will be very small. On the other hand, if you are collecting MVP's, the number could be fairly large. A new MVP is named every year in the respective sport. In baseball, they name a MVP for each league so the number is doubled.
The interesting aspect to collecting award winners is that the group consists of perennial stars and "flash in the pan" type players. Mark McGwire was a Rookie of the Year, but so was Ron Kittle. It can be fun looking back at some of the great single season performers.
Hall of Famers
Technically, this is also an exclusive club but this club is not as defined as the statistic-based clubs are. If a player makes it to the Hall, the player is enshrined forever as one of the game's best. As soon as the player is voted in, the demand immediately increases for that player's items.
As time goes on, this becomes an important factor to the valuation of an item. For instance, if the player is not a lock for the Hall and time passes without induction, that player's accomplishments begin to fade in the eyes of hobbyists. While the player's statistics never change, the perception changes over time unless the Hall recognizes the player's accomplishments.
What if Don Sutton never made it or how about Tony Perez? Now that both are in the Hall, the collecting community needs to fill a spot in their Hall of Fame collection. The list constantly grows so that collecting with this theme in mind is fun and ever changing. This is also one of the most popular ways to assemble a collection, because it is based on the best of the best and demand is always there for those players.
Individual Players
Many collectors choose to focus on one player and one player only. These collectors usually collect everything from cards to 7-11 cups with the player's image on them. From a pure collector's perspective, this can be a lot of fun because you need to get creative at times. It is always fun to find an oddball piece with your favorite player's mug on it.
From an "investment" point of view, this can be very dangerous. By "putting all your eggs in one basket" so to speak, you end up limiting your resale audience. For most people who collect in this way, their inability to find a buyer later on doesn't matter to them because that is not their intent at the start.
If you were spending lots of hard-earned money, I would suggest not going overboard with this idea. It is one thing to buy one of every card, but some collectors find it necessary to buy 50 of everything. There are so many great options in the sports memorabilia hobby today, especially for the modern player. Michael Jordan has more cards in some individual sets than Wilt Chamberlain had made in his entire career. It's probably best to diversify your collecting portfolio.
There you have it. This was a brief look at some of the more popular ways to assemble a collection. There are so many options out there it is sometimes hard to focus as a collector, but if you have a gameplan from the start, you can enhance your focus and work towards a hobby goal. Remember to have fun no matter what road you take.