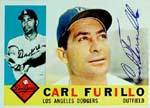 Determining Values for Your Signed Cards...

To autograph collectors, the condition of the signature matters more than the condition of the card smudged autograph.
Determining the value of signed baseball cards can be complicated. If a card is very valuable, an autograph can actually decrease its value. A 1951 Bowman Mickey Mantle rookie card is worth $8,000 in near mint condition. The same card, when autographed, is worth less than that, perhaps even thousands less. Baseball card collectors looking for big-ticket items like a near mint Mantle rookie card don't necessarily collect autographs, and see the card as less desirable when it is signed. Of course, this is good news if you happen to want a signed example of an expensive card because it will likely cost you less than if it were not autographed.
On the other hand, if a card is worth very little, its value when signed is based primarily on the value of the player's autograph. For example, a signed 1989 Fleer Nolan Ryan card sells for about $30, while the same card unsigned is worth 75 cents. On a plain index card, Ryan's autograph is worth about $25. Therefore it is the value of Ryan's autograph that drives the price for the signed '89 card.
As a general rule, any autographed baseball card is worth at least slightly more than a signed index card. This assumes, of course, that the card is in decent (very good or better) condition. It is also generally true that, as the value of the card increases, so does its value when it is autographed. The only exception is when the card is very valuable (i.e. there is no set price, presumably several hundred dollars on up), in which case it may be worth less money autographed than when it is not.
One benefit of collecting autographs on valuable baseball cards is that the risk of forgery is greatly reduced. Imagine a forger sitting down with a 1964 Topps Sandy Koufax card, which is worth about $75, and signing Sandy's name. He or she had better get it right the first time - one slip of the pen and the card is worthless. It is much easier for the forger to sit with a stack of 8x10 photos or index cards. A valuable card does not, however, guarantee that the autograph is authentic. It may have been signed years ago by a batboy or secretary, or forged before it became valuable. Imagine owning a signed Nolan Ryan rookie card supposedly worth $800, only to discover that it's worthless because a batboy - not Ryan - signed it!
Before most players stopped signing through the mail for free, some players were known to have secretaries sign for them. During the 1970s and '80s Pete Rose and Willie Mays had secretaries sign mail requests for them, while Joe DiMaggio's sister often signed for the Yankee Clipper when he was too busy.
Condition matters a great deal more to baseball card collectors than to autograph collectors. In baseball card collecting, condition is king. A tiny flaw can easily cut the value of a card in half. With the rising popularity of services that grade cards and seal them in holders, condition is becoming more important every day.
The condition of the card is not nearly as crucial for autograph collectors, as long as it is generally pleasing to the eye. To an autograph collector, the condition of the signature is what is important. A slight smudge or a fading signature reduces the desirability of a signed card far more than a bent corner or an off-center image.