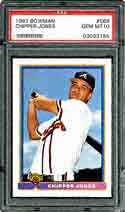 On a cold, breezy day at Cashman Field in Las Vegas, the game's top home run hitters swung for the fences all in the name of charity (Players Trust for Children) at the Big League Challenge.
Each contest will be televised on ESPN2 starting March 20 as part of a series leading up to the 2000 baseball season. In case you miss any of the televised contests, no need to worry because the home run derby will be shown several times over the course of the season. The contest was hosted by Harold Reynolds, a former Seattle Mariner and current ESPN baseball analyst, and Gary Thorne who is known for his exciting brand of play-by-play for ESPN hockey broadcasts.

The Contenders
With the exception of a few late scratches, most of baseball's top sluggers were present. A total of 12 big leaguers showed for the present day home run derby that helped benefit the Players Trust for Children. The contest included Nomar Garciaparra (the local favorite), Jason Giambi, Manny Ramirez, Chipper Jones, Mike Piazza, Shawn Green, Barry Bonds, Jose Canseco, Andruw Jones, Rafael Palmiero, Alex Rodriguez and Mark McGwire.
Ken Griffey Jr. and Sammy Sosa were late scratches. Griffey Jr. was rumored to have received death threats during the trade talks with Cincinnati. After a trip to the local hospital, Sosa was diagnosed with the flu on the day of the contest. Despite the loss of two superstars, the show went on as the fans were treated to a modified version of the old television show "Home Run Derby."

The Rules
Each contestant was given 3 outs per inning with a total of 5 innings per contest. Any swing that resulted in less than a home run was considered an out. If there was a tie at the end of 5 innings, one more full inning was given to each player to break the tie. If the contest remained deadlocked, the players were given one swing each until a winner was crowned. The final contest featured a full 9 innings to determine the Big League Challenge champion.
There were three sessions with each contestant ranked by their 1999 home run total. Two sessions took place on Saturday and one on Sunday. The outfield dimensions were 328 ft. down the lines, 364 ft. in the gaps and 433 ft. to center field. The outfield wall measured approximately 20 feet high and it stretched from foul pole to foul pole.
Despite chilly conditions, the fans had a great time. "This contest was sick," explained one tired and weary fan. "I've been screaming all day, so I can barely speak now. These guys were hitting absolute bombs, it was insane! I was glad I went to all three events and I felt good about spending the money because it was all for a good cause."
Now to the contests. I suggest you don't read the next few paragraphs, if you want to watch the television broadcast and be surprised.
Round One: Canseco vs. Piazza
The first contest featured Jose Canseco verses Mike Piazza. Piazza has twice been shut out at home run contest during the All-Star festivities but he definitely put on a good show on Saturday. Piazza crushed 9 home runs in the contest but it wasn't enough as Canseco belted 11 to win round 1. The most memorable blast coming on a Canseco shot that struck a light tower approximately 200 feet above the left field wall. After the contest, Piazza joined the broadcast as an analyst and seemed to really enjoy the show.
Round Two: Garciaparra vs. Ramirez
The crowd favorite, Nomar Garciaparra, took on Manny Ramirez in the next round. Garciaparra, not known for his power, surprised everyone with a 13-homer output to crush Ramirez 13-3. In fact, Ramirez received a standing ovation when he finally connected for his first home run after being shut out for nearly 4 innings. Manny staged a late-inning rally but it wasn't enough.
Round Three: Green vs. Bonds
Shawn Green took on Barry Bonds in round 3 and this one looked exciting from the start. This was the first time a left-handed hitter stepped into the batter's box and the wind was blowing hard out to right field. Both men hit some tremendous drives but Green emerged victorious in the end as he beat Bonds 12-9. Alex Rodriguez took on Jason Giambi (Ken Griffey Jr.'s replacement) in round 4 by beating him 3-2 in extra innings.
Quarterfinals
In Saturday's quarterfinals, Chipper Jones then beat Nomar Garciaparra in round 5 by slugging six homers to Nomar's four. Nomar broke his bat during the round and couldn't seem to get comfortable after that.
The highlight of the quarterfinal session on Saturday came when Mark McGwire took on former "Bash Brother" Jose Canseco. The crowd really came alive for this contest and both men came through. After each contestant slugged 8 tape measure drives apiece, the contest went into extra innings. Canseco hit another one in the sixth inning and that left it up to McGwire in the bottom half of the inning. After two quick outs, McGwire had one chance left. He connected for a deep drive to left field but it struck the top of the wall leaving Canseco the winner of the much-anticipated contest.
Alex Rodriguez then took on Rafael Palmiero and Palmiero slipped past the talented shortstop 3-2. The final quarterfinal contest has Shawn Green taking on Andruw Jones (Sammy Sosa's replacement). In an upset, Jones outslugged Green 11-7. It was tied after five innings and then Jones exploded for five homers in the top of the sixth to vault him into the semifinals. Green made one last effort, but it wasn't enough to overcome Jones.
The Semi-finals
The semifinals pitted Chipper Jones, the reigning National League MVP, verses Jose Canseco, the 1988 MVP. In the opener, Canseco and Jones remained tied at six after five innings. Then, after each slugger connected on one homer in the sixth, they went into the first "one-pitch, sudden-death" match. Canseco led off the inning with a blast on the first pitch. This put the pressure on Jones and Jones subsequently popped out to right field.
After the contest, Canseco had this to say. "I'm too old for this," said a relieved Canseco. "I about to have a heart attack with all these extra inning games."
Rafael Palmiero then defeated Andruw Jones 8-5 in the other semifinal contest. Jones put up a good fight but Palmiero was more consistent throughout the 5-inning contest. Regardless, Jones surprised many with his power and Atlanta fans should be excited about the potential season Jones could have in 2000.
The Championship Round
Finally, the championship round was here and it featured a couple of guys who played against each other in their youth. Canseco and Palmiero both grew up in South Florida and these former little league opponents had to battle it out for the Big League Challenge title.
Canseco led off the first inning with five home runs causing Palmiero to bow in honor of Jose and make several gestures hinting that he better pack his bags now. Amazingly, Palmiero battled back in the middle innings to take an 11-7 lead after five innings.
A few innings later, with Palmiero leading 12-11, Canseco took a commanding lead and brought the crowd to their feet. Canseco hit one home run after another, most of them sailing well over 500 feet. One cleared the lights, a few hit the scoreboard and then the crowd began chanting "Jose, Jose... "
Canseco obliged the crowd with another blast that flew completely out of the stadium and landed on Washington Avenue some 550-600 feet away. The crowd went into frenzy and finally the seventh inning ended after Canseco crushed 8 home runs to take a commanding lead.
Palmiero made a valiant effort by eventually hitting a total of 15 home runs but most of the suspense was over. After hitting an unreal total of 28 home runs, Canseco was named Big League Challenge champion for 2000.
"If you would have told me Raffy was going to hit 15 home runs, I would have expected him to win," said an exhausted Canseco. "I was just able to get into a groove and get the ball into the air."
Major League Baseball plans on making this an annual event so look for more exciting match-ups next year. For now, enjoy the regular season.
Related Stories...