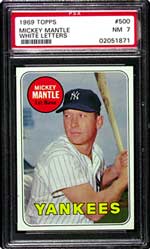 The 1969 White Letters are some of the toughest variations in the hobby and a real challenge for collectors. Some of the baseball players of the 1960s are a part of this unique group. There is Hall of Fame pitcher Gaylord Perry, slugging legend and Hall of Famer Willie McCovey and the extremely popular Mickey Mantle. The Mickey Mantle White Letter variation is one of Mantle's most challenging cards and some high-grade examples have brought tremendous prices at auction.
In general, the 1969 Topps baseball cards are tough to find in high grade because of the horrible centering, tilt, reverse chipping and print defects associated with the issue. Since these cards have very narrow borders, many of the 1969 Topps cards are found with bad centering. Another problem, which relates to the centering, is the commonly found picture tilts found on the 1969 cards. The tilts compound the centering problems by increasing the chance that the picture will be closer to a border. As you might imagine, this is the reason why many of these cards are designated "OC."
The reverse chipping problem is not as significant as the centering, but it does affect some of the cards. The backs of the cards are pink in color and the edges will reveal any wear whatsoever. Add to that the final hurdle of print defects. The fronts of the 1969 Topps cards have white borders and light-colored, bright backgrounds. Any black print defect will be very obvious to anyone examining the card because the light backgrounds. This makes for an eye appeal dilemma; some print defects can really range in severity.
You may be wondering why the White Letter variations are rare or why some cards were printed with this lettering. Rumor has it that these cards were simply and unintentionally misprinted in limited quantities. Somehow, very few of these escaped from the factory and collectors took notice. Sorry, no logical explanation here. Topps simply goofed and the limited quantities of white letter variations created a rarity for hobbyists around the globe.