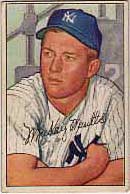 The Bowman Gum Company began issuing baseball cards in 1948, with 48 black-and-white cards offered in a 2 1/16" by 2 ½" size. The following year the numbers swelled to 240 cards of the same dimensions, with team colors overprinted on the black-and-white snapshots. By 1952 the Bowman cards were 2 1/16" by 3 1/8" and featured color reproductions of photographs along with facsimile autographs.
Although not as well known today as the 1952 Topps set, the '52 Bowman issue contains some significant condition rarities and is a virtual highlight reel of mid-century stars. Here's a brief glance at some of the biggest names from this important set.
Yogi Berra — Berra is perhaps more famous for what he said off the field than for what he did on it. This is understandable. Anyone who comes up with the following gems is going to be oft quoted: "Nobody goes there anymore, it's too crowded." Or, "He's so popular no one can stand him." Or, "Slump? What slump? I just ain't hitting." Or, "That game was exciting. It was a real cliff dweller." Sometimes lost in this mangled logic are such feats as Berra's three MVP awards, his election the Hall of Fame, and his many World Series records. A great player and the #1 card in the '52 Bowman set.
Bobby Thomson — He's remembered for the "Shot heard 'round the world" that won the pennant for the 1951 New York Giants, and there are few home runs in the history of baseball that can equal that one for drama. He was a lifetime .270 hitter with power, cracking out 264 homers in his 15-year career. He's the #2 card in the set, and it's one of the most popular and expensive.
Robin Roberts — In the 1950s people loved to speculate about what kind of a record Roberts would have if he pitched for the Yankees. "He'd go 35-2 every year," they used to say, and they might have been right. This Hall of Fame star posted a 28-7 record in 1952 with the fourth-place Phillies, and won the MVP award. Even Rupert Murdoch might have to take out a loan to pay Roberts what he'd be worth in today's market.
Pee Wee Reese -- Reese or Rizzuto? Who was the best shortstop in New York in the 1940s and '50s? It was fun to debate the virtues of these two greats, and impossible to decide the winner. Pee Wee Reese played for the Brooklyn Dodgers, and was elected to the Hall of Fame in 1984 even though he hit .300 in only one season of his career. In his 16 seasons in the majors he finished in the top ten in the MVP voting eight times. Why? He was a leader, a superb fielder, an excellent baserunner, and could get on base and score runs... in other words, he was a winner.
Ralph Kiner -- Is there a power hitter in the house? This Hall of Fame superstar could hit them out like Mark McGwire -- sometimes a towering drive and sometimes a laser beam to left. Kiner led the league in homers in his first seven seasons. He cut his career short, retiring after only ten years, or his career numbers might rank with the all-time greats.
Nellie Fox — The first time you saw Fox play you might think there was something wrong with his face, but it was just a gigantic plug of chewing tobacco. He hit over .300 six times in his career, and almost never struck out. As was true with Pee Wee Reese, Fox was noted for hustling on every play.
Alvin Dark — "Take a hike, kid." For all that Alvin Dark accomplished as a football star in college, a top-notch ballplayer and a fine manager, he's best remembered today for those four words he said to a young Jim Bouton when Bouton asked Dark for an autograph. The words were immortalized decades later in Bouton's monumental bestseller, "Ball Four."
Roy Campanella — A tragic auto accident in 1958 left this great Dodger catcher paralyzed for the rest of his life, but his fans never forgot his three MVP years, his superb defensive abilities, his power, or his courage. Campy was the second black player to play for the Dodgers, joining the club in early 1948.
George Kell —This Hall of Fame player is best remembered for barely winning the 1949 batting title by .0002 over Ted Williams. He starred for several teams, including Philadelphia, Detroit, Boston Chicago, and Baltimore, all in the American League.
Stan Musial —I can still hear Harry Caray's voice over the radio as Stan "The Man" stepped to the plate. "Here's Musial," Harry would growl, followed a few moments later with, "There's a drive in the right field corner and Musial's in with a stand-up double." Carl Erskine knew how to pitch to Musial. "I just throw him my very best stuff and then run and back up third," Erskine quipped. Seven batting titles, a lifetime average of .331, 475 homers, nearly 2,000 RBI—what a player!
The 1952 Bowman set is packed with great players, nice cards, and wonderful memories.