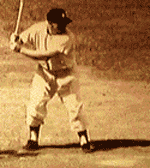 NEWPORT BEACH, CALIF. - After reviewing extensive evidence, the sports authentication experts at PSA/DNA Authentication Services announced the company will authenticate the controversial Mickey Mantle 500th home run ball owned by Dale Cicero using their unique DNA technology. The historic ball will be displayed at the Collectors Universe booth during Atlanta National Sports Collectors Convention July 22-25.
Mantle's 500th home run ball ignited a firestorm of debate at the Guernsey Auction January 12 at Madison Square Gardens. Mark McGwire's 70th home run ball was the first lot up for auction that day, and brought an astonishing $3,005,000. Mantle's 500th home run ball was the other high-profile lot that many buyers were eagerly awaiting.
Minutes before Cicero's Mantle ball was due on the auction block, a friend of the Mantle family approached Guernsey President Arlan Ettinger. He claimed that Merlyn Mantle, Mickey Mantle's wife, possessed the real 500th home run ball.
When Ettinger informed the attendees that it was in his best interest not to auction the Mantle 500th ball, boos and hisses ensued. Stunned, confused, and angered, the auction attendees watched as the Mantle ball on which they had planned to bid was withdrawn from the block.
"It was a battleground," said auction attendee and Collectors Universe expert Miles Standish, "People were furious. At least 50 people wanted to bid on that ball. It was a consignor's nightmare - to have your item pulled from the bidding auction of the century."
Which was the authentic ball - Dale Cicero's or Merlyn Mantle's? PSA/DNA, the authenticator of the McGwire 70th home run ball, was enlisted to investigate and solve the Mantle 500th home run ball mystery.
PSA/DNA analyzed exhaustive documentary evidence, reviewed additional relevant non-documentary evidence, applied the vast experience of their own team of experts, and consulted with other renowned experts in the sports collectibles field before making their decision.
Dale Cicero's ball was deemed authentic.
Their decision arose after careful consideration of important facts and observations. Upon examining the Cicero ball, experts agreed that it was undisputedly a vintage, game-used Joe Cronin official American League baseball. Also, the ball is signed on the side panel in faded ink by Mickey Mantle. The signature, verified as an authentic vintage 1960s Mantle autograph, reads, "My 500th - Home Run - Mickey Mantle -5/14/67."
Moreover, the Cicero ball has a well-documented lineage that dates back to that historic spring day that Mantle hit his 500th home run. Louis Defillippo of New York originally caught the milestone homer, took it to the locker room and gave it to Mantle, who signed a different ball in exchange.
Mantle then presented his 500th ball to H.D. Youngman in 1967. Mr. Youngman kept the ball in a secure vault until 1985, when it was placed, along with other significant baseballs, in the Baxter Springs, Kan., Little League Museum.
"It's a well-known fact that Mantle's 500th home run ball has resided in the Baxter Museum for many years. That has never been questioned until recently," said leading industry expert Bill Mastro, of Mastro Fine Sports Auctions.
Mickey Mantle Jr. retrieved some of his father's signed baseballs from the Baxter museum in 1990, but not the historic 500th ball. The transfer of the memorabilia was well documented.
In 1995, dealer Scott Goodman bought the entire Mantle collection from the Baxter Museum. On February 6, 1996, Cicero bought Goodman's 500th Mantle ball in an auction, and it has remained in Cicero's possession since.
"Evidence relating to the provenance of the Mickey Mantle 500th home run ball owned by Mr. Cicero is overwhelming. PSA/DNA is honored to be able to authenticate such a valuable and significant piece of baseball history," said Jason Meyerson, PSA/DNA President.
PSA/DNA will tag Cicero's authenticated Mantle 500th ball using the same exciting DNA technology employed to authenticate McGwire's 70th home run ball. An invisible, yet permanent and non-transferable, trace liquid containing a synthetic strand of DNA will be applied to the ball. This DNA tag is nearly impossible to replicate (the chances are 1 in 33 trillion) and will ensure the authenticity of Mantle's 500th home run ball for the remainder of its life.