PSA APR Update
Ten Notable Prices for PSA-Certified Items Sold During the Spring/Summer of 2020
By Terry Melia
Legendary, game-used lumber belonging to a pair of celebrated New York Yankee greats represented two of the top sports collectibles sold at auction during the second quarter of 2020. Leading the way was the fabled "Iron Horse" himself, Lou Gehrig, whose 1922-23 game-used, 40-ounce sidewritten Hillerich & Bradsby bat sold for $1,025,000 via Heritage Auctions in April. The bat received a grade of PSA/DNA GU 10. The second highest-selling bat belonged to none other than Babe Ruth, a nearly 36-inch, 43-ounce H&B "R2" war club that he used to hit his 52nd home run of the 1921 season. It sold a month after Gehrig's, also through Heritage, for a whopping $930,000. It, too, received a grade of PSA/DNA GU 10.
During the past few months, despite the pandemic and its economic fallout, thousands of trading cards, autographs and other pieces of sports memorabilia have been sold through auction houses. Including the above-mentioned sales, PSA is pleased to report that 10 of the top-selling items sold during the spring and start of summer were all authenticated and/or graded by PSA. With a combined value of $5.1 million, the sought-after lineup of PSA-certified collectibles is comprised largely of game-used memorabilia as well as select trading cards, both vintage and modern issues, and rare Type 1 photos.
In May, Sotheby's posted a record sale of $560,000 when it sold a pair of Michael Jordan's game-worn and signed Air Jordan 1's from his rookie season (1984-85). In an April REA sale, a 1907 W600 Sporting Life Ty Cobb cabinet card, graded PSA Good 2, went for $300,000 to set a new mark for any Cobb rookie or W600 ever sold. Three top card APRs this past quarter included a 2015-16 Upper Deck The Cup #197 Connor McDavid rookie card ($135,811, PSA Mint 9, Lelands); a 1941 Play Ball #14 Ted Williams ($120,000, PSA Mint 9, Heritage); and a 1986 Fleer #57 Michael Jordan rookie card ($96,000, PSA Gem Mint 10, Heritage).
10 Standout Prices from Spring/Summer of 2020
Here is the impressive lineup, in descending order, of notable auction prices realized during the spring/summer of 2020:

1922-23 Lou Gehrig Game-Used Sidewritten Bat
PSA/DNA GU 10
$1,025,000
Heritage Auctions (April 2020)
---

1921 Babe Ruth Game-Used Bat
PSA/DNA GU 10
$930,000
Heritage Auctions (May 2020)
---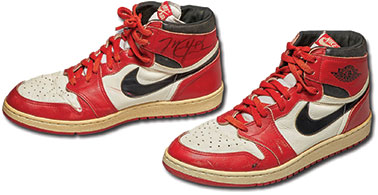 1985 Michael Jordan Signed Game-Worn Nike Shoes
PSA/DNA Certified
$560,000
Sotheby's (May 2020)
---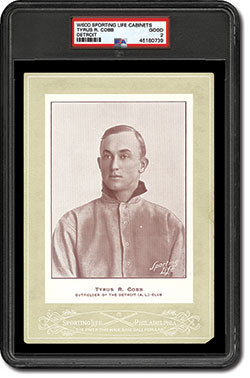 1907 Ty Cobb W600 Sporting Life Cabinets
PSA/DNA Good 2
$300,000
REA (April 2020)
---
1915 Babe Ruth Original Photo
PSA/DNA Certified Type 1
$174,000
REA (April 2020)
---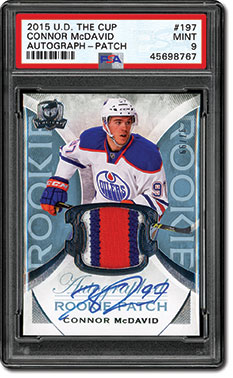 2015-16 Upper Deck The Cup #197 Connor McDavid Auto-Patch
PSA Mint 9
$135,811
Lelands (June 2020)
---
1927 Exhibits Lou Gehrig Signed Card
PSA/DNA Certified Auto Grade 10
$124,230
Goldin Auctions (May 2020)
---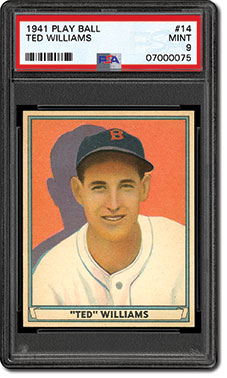 1941 Play Ball #14 Ted Williams
PSA Mint 9
$120,000
Heritage Auctions (May 2020)
---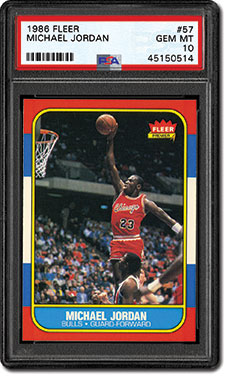 1986 Fleer #57 Michael Jordan
PSA Gem Mint 10
$96,000
Heritage Auctions (May 2020)
---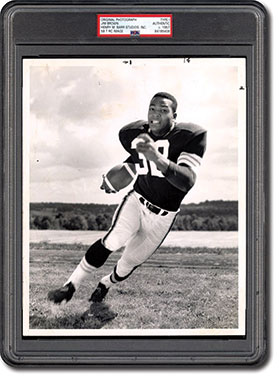 Circa 1957 Jim Brown Original Photo
PSA/DNA Certified Type 1
$68,125
Heritage Auctions (May 2020)