Dealer Profile
Brian Dent's Mile High Card Company
Collectors Seeking High-End Cards Should Look No Further than Denver
By Terry Melia
Brian Drent is no stranger to sports auctions. His business, Mile High Card Company, conducts quarterly online auctions and spearheads as many as five additional "Extra Innings" auctions every year on a slightly smaller scale. Drent hustles every day, every week and every month to make sure his Denver-based operation is catering not only to his hundreds of consignors in each auction but to the thousands of bidders who peruse his assortment of high-end sports cards and memorabilia searching for just the right collectible. It's a service and occupation that Drent has worked hard to cultivate for more than 20 years.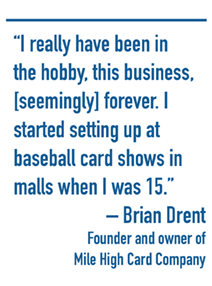 "In the very beginning, I used to advertise in hobby publications as well as set up at large, regional [hobby] shows," he said. "I'm fairly confident that Mile High is now the longest-tenured advertiser in SMR [Sports Market Report] since we've been running at least two pages in every issue since advertisers were first allowed."
The Beginning
Established in 1996, Mile High Card Company specializes in high-grade cards dating from 1888 to the 1970s. Its reputation and proven track record has been built on its ability to secure first-rate consignments and post record sales along the way. In fact, on June 16, 2017, Mile High recorded its highest auction price ever realized: $514,746. The jaw-dropping sale was for a near complete (19 of 24) box of unopened 1948 Bowman Baseball wax packs. The allure of possibly pulling pristine singles of Hall of Famers including Stan Musial, Yogi Berra and Warren Spahn only fueled the bidding war, which ended after 74 bids.
"We are absolutely the leader when it comes to graded, unopened material," said Drent, who noted that nearly 75% of the lots in his auctions consist of high-end sports cards, which means 25% are comprised of autographed and/or game-used memorabilia items as well as Type 1 photographs.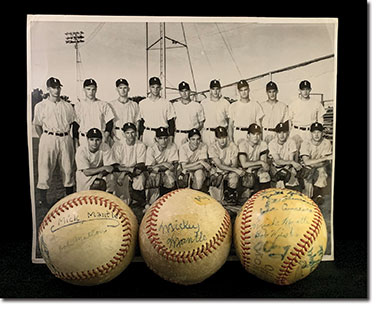 Three Mickey Mantle-signed baseballs from his minor league playing days with the Independence (KS) Yankees.
A lifelong sports fan, Drent - who grew up just outside Grand Rapids, Michigan - was also a high school and college basketball player who competed at guard for both the Grand Haven High School Buccaneers as well as the Grand Valley State University Lakers in nearby Allendale. His hoops prowess helped cement his appreciation of sports, but his love for the industry and his fascination with sports collectibles was planted much earlier.
"I really have been in the hobby, this business, [seemingly] forever," he said. "I started setting up at baseball card shows in malls when I was 15."
When Drent decided to move forward with his business venture more than two decades ago, he encountered growing pains just like every other start-up operation.
"The most difficult aspect of starting your own business is also the most exciting, and that would be the uncertainty," he said. "The absolute uncertainty of not knowing what the next day holds and therefore not being able to pinpoint where your next business opportunity is coming from."
Business as Usual
A Denver resident for the past 25 years, Drent has turned his sports watching toward football and the Broncos as he is now a proud season-ticket holder at Empower Field at Mile High Stadium. But when it comes to his business, Drent is laser-focused on providing top-notch sports collectibles for his growing customer base.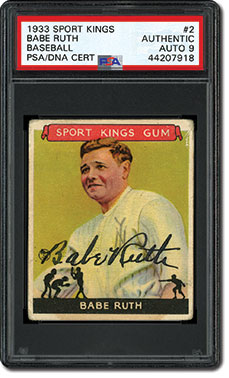 At this year's National Sports Collectors Convention in Chicago, Mile High's company booth was one of the most frequented at the show because Drent brought along some recently secured, eye-popping acquisitions. These included four Babe Ruth autographed cards from the 1930s as well as three Mickey Mantle-signed baseballs dating to 1949 during the late Hall of Famer's minor league playing days with the Independence (KS) Yankees. Each of the autographed items were authenticated by PSA and three of the four Ruth-signed cards (all originating from the 1933 Goudey Baseball set) sold separately on the convention floor for a combined $415,000.
Currently, Mile High is hosting its 2019 Fall Premium Catalog Auction. The two-and-a-half week online auction, which it has dubbed "The Event," concludes on Thursday, October 10, and features not only some of the aforementioned items, but also a host of sought-after cards including a 1909-11 T206 Sweet Caporal (150/25) Honus Wagner that's been graded a PSA Good 2. The Wagner example sold privately within the past year via another auction house for $1.2 million, so Drent is confident it will sell for even more this time around.
In addition, the auction boasts two more sought-after 1909-11 T206 singles: a Ty Cobb with "Ty Cobb - King of the Smoking Tobacco World" back (graded PSA VG/EX+ 4.5), considered the highest graded example from the "Lucky 7 Find" of 2016; and a Sweet Caporal (350/30) Eddie Plank that's graded PSA VG/EX 4. Both cards are expected to reach six figures.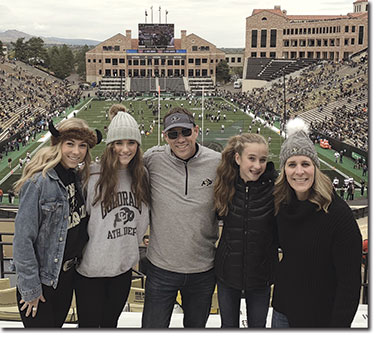 The Drent family attending a University of Colorado Buffaloes home football game in Boulder. Daughter Emersyn, far left, attends the university.
"Each of these cards on their own is deserving of headlines, but to offer them all in one auction is the finest moment in the history of our company," said Drent.
Other top lots include: a 1933 Goudey #106 Nap Lajoie (PSA VG/EX 4); a 1933 Sport Kings Gum #2 Babe Ruth autographed card (PSA/DNA Auto MINT 9); a spectacular 1933 World Wide Gum (Canadian Goudey, V353) uncut sheet featuring three Babe Ruth cards and one Lou Gehrig; and a completely PSA-graded 1909-11 T206 set that currently ranks No. 9 on the Set Registry with a 4.43 GPA.
Mile High Card Company's next quarterly auction will take place from Tuesday, Nov. 19, through Friday, December 6. Company officials are presently securing consignments for the upcoming event.
Personal Pursuits
Drent, a purveyor of high-end sports memorabilia, is also a collector. He counts game-used bats from 500 Home Run Club members Ted Williams and Mel Ott amongst his most prized possessions, along with "several" Babe Ruth single-signed baseballs and game-used jerseys from Pete Rose (1976), Rod Carew (1970) and Michael Jordan (1989). The latter jersey has even been photo-matched to a Chicago Bulls game from the 1988-89 season in which MJ averaged a league-leading 32.5 points per game.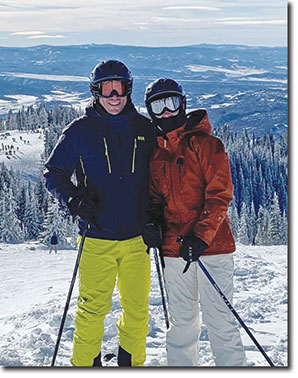 Brian Drent and wife, Michelle.
When he's not buying or selling high-end cards, Drent enjoys spending quality time with his family - wife Michelle, and their three daughters: Emersyn (20), Taytam (18) and Meryn (14). "I really enjoy going to Denver Broncos games as well as going skiing with my family," he said. "We love to take vacations together."
---
For more information about Mile High Card Company, visit www.milehighcardco.com. They can also be reached by phone at (303) 840-2784 or email at [email protected].