PSA News Update
PSA and KCBS-2 News Team Examine Influx of Kobe Bryant Autographs
By Terry Melia
The tragic death of L.A. Lakers legend Kobe Bryant on January 26, 2020, shocked and saddened the nation as well as countless sports fans around the world. The 41-year-old star's unexpected passing also set off a wave of fraudulent Kobe-signed memorabilia that surfaced almost immediately in the marketplace, especially on eBay. Through its online QuickOpinion™ service, PSA and its seasoned autograph authenticators were inundated with a slew of listings for review that revealed more than 90% of the items up for sale were "likely not genuine."
"In the first month following his death, we noticed an incredible spike in the number of QuickOpinion™ submissions for Kobe signatures," said Tom Poon, one of PSA's top autograph authenticators. "We determined, very quickly, that the majority of those were fake."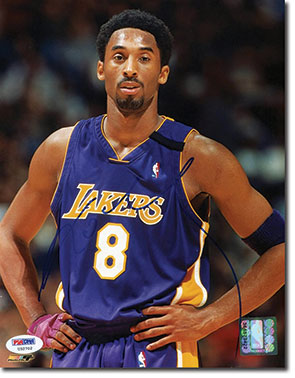 Authentic Kobe Bryant Signed Photograph
PSA's QuickOpinion™ service allows collectors to submit an online inquiry regarding the legitimacy of an autograph up for sale, either on eBay or through one of the industry's many auction houses. For just $10, potential bidders can ask for a professional opinion from PSA on whether a signature is "likely genuine" or "likely not genuine" before they place a bid. When it came to recent listings for Bryant's signature, nearly all of them were bogus.
"It's sad, really, because now you have people coming out of the woodwork [trying to sell fake Kobe signatures]," said Poon.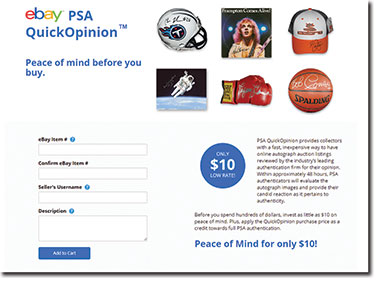 PSA's QuickOpinion™ service allows collectors to submit an online inquiry regarding the legitimacy of an autograph up for sale.
When inspecting a signature, Poon and his fellow PSA authenticators consider many factors: autograph structure, including the arc and slant of each letter; the spontaneity and conviction of the signature; even the pen pressure that's applied. They also conduct side-by-side comparisons with existing exemplars - authentic signatures - that are archived within PSA's extensive database.
"Kobe's signature is very distinctive because he had a particular flair in how he signed, especially later in his career," added Poon.
KCBS-2 News Crew Pays PSA a Visit
Because of the influx of suspect Kobe signatures up for sale, a television news crew from KCBS-2 in Los Angeles paid a visit to PSA's Santa Ana, California, headquarters in late February. Investigative reporter David Goldstein wanted to learn more about the surge and what steps collectors can take to avoid buying fraudulent Kobe-signed memorabilia. In the first 10 days following Bryant's passing, Goldstein and his team submitted a half dozen eBay listings for QuickOpinion™ review. All six came back as "likely not genuine."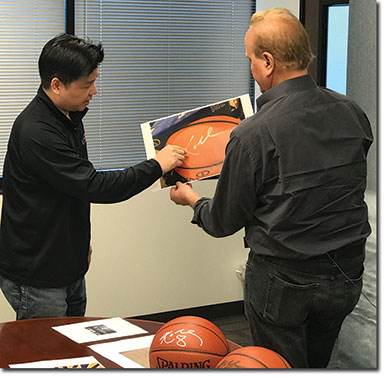 Tom Poon points out Kobe's signature traits for reporter David Goldstein.
"We need to educate our viewers on how not to get ripped off," said Goldstein on the day of the interview. "It's a sad state of affairs when this kind of situation takes place."
Poon provided him with telltale signs that PSA's experienced autograph authenticators look for when examining signed memorabilia. Poon even reviewed a dated copy of an OC Weekly newspaper that featured Bryant on its cover and was supposedly signed by the late hoops star. Poon quickly determined the signature was a counterfeit.
"The formation of the 'K' does not look right," said Poon. "[Even] the transition from the 'o' to the 'b' to the 'e.' The baseline is wrong. It does not match the exemplars we have. It is, in my opinion, a forgery attempting to copy Kobe's traits."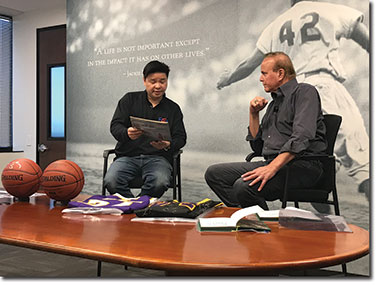 Poon examines the suspect Kobe-signed newspaper cover for Goldstein at PSA headquarters.
Through a properly trained eye, these are some of the characteristics that assist a skilled autograph authenticator detect a forgery.
"If we see any of those, it's an easy fail," said Poon.
They also reviewed several good and bad Kobe signatures - on basketballs, jerseys and even books - that were recently submitted to PSA. Many of those sported bogus signatures as well.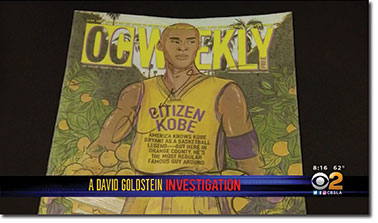 This OC Weekly newspaper allegedly signed by Kobe Bryant was examined by PSA and determined to be a forgery.
Buying signed memorabilia from a reputable dealer is always recommended, one that has been in business for at least
five years and offers a money-back guarantee pending independent, third-party review. Still, the challenge in finding an authentic Kobe Bryant signature remains real. Just ask Poon.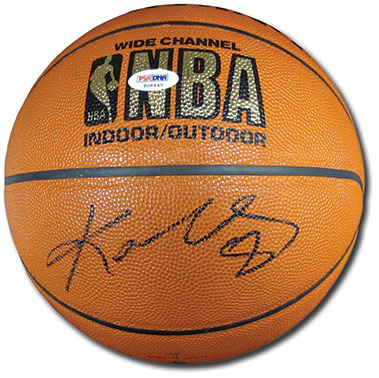 Authentic Kobe Bryant Signed Basketball
"I believe the number of fake Kobe signatures will continue to be very high for a long time because the value of his authentic signature will stay strong," he said. "We'll never see certified Kobe-signed basketballs or jerseys selling in the $250-to-$300 range again. And because he passed away at such an early age and did not sign all that much relative to his immense popularity, the demand for his authentic signatures will always outweigh the supply in the marketplace."
For more information on Kobe Bryant's autograph, please visit PSA AutographFacts.
---
To learn more about PSA's Autograph Authentication service and/or how to submit, please visit www.PSAcard.com/services/autographauthentication/ or contact Customer Service at [email protected] or (800) 325-1121. To utilize PSA's QuickOpinion™ service, please visit www.PSAcard.com/quickopinion.