Collectors Will Never Forget Kobe
By Kevin Glew
Jon Darby says that outside of the times he has lost a family member, it was the worst day of his life.
And millions of basketball fans around the world felt the same way on January 26, 2020, when they learned that former Los Angeles Lakers superstar Kobe Bryant and his 13-year-old daughter, Gianna, were among nine people killed in a helicopter crash in Calabasas, California.
"This is a very, very tough one to swallow," said Darby, a longtime Lakers fan and card collector who has an 18-year-old son named Kobe. "It's just heart-wrenching."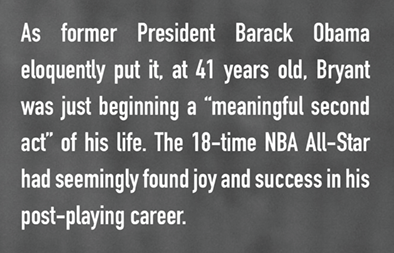 Darby was at his restaurant, Darby's American Cantina in Redlands, California, when he officially heard the news.
About 2,400 miles east of there, Pierre Noboa, a Bryant card enthusiast, was visiting the Lightner Museum in St. Augustine, Florida, when a friend texted him.
"I was in shock for most of the day yesterday," said Noboa in a phone interview a little more than 24 hours after Bryant's death. "It's just starting to sink in today. Honestly I can't compare it to anything because I don't recall an athlete of this magnitude who died so tragically in my generation."
And back on the West Coast in his home in Palm Springs, California, veteran basketball card hobbyist John Woody received the news from his wife Jackie.
"I'm an artist and I was in my studio when I heard my wife sort of scream or yell. I thought for sure something had happened to one of our kids or one of our dogs," said Woody. "Then she said that Kobe Bryant had just been killed."
As it was for Darby, Noboa and Woody, it was one of those moments that we'll all remember - where we were when we found out Kobe had died.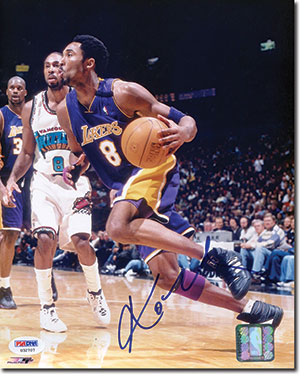 It was so hard to believe because as former President Barack Obama eloquently put it, at 41 years old, Bryant was just beginning a "meaningful second act" of his life. The 18-time NBA All-Star had seemingly found joy and success in his post-playing career. He had won an Oscar for his short film Dear Basketball, his business ventures were thriving, he had opened his Mamba Sports Academy for kids, and he was savoring fatherhood - especially coaching his daughter.
"I wasn't around when Roberto Clemente died, I wasn't even born, but I imagine this must be similar to when Clemente died," said PSA/DNA autograph authenticator George Renaud. "Basketball is such an international thing now. People all around the world are in shock."
That was clear on the day of Bryant's death. On that day, Brazilian soccer star Neymar da Silva Santos Junior paid tribute to the Lakers legend in a goal celebration, and on the day after Bryant's death, tennis star Nick Kyrgios wore a Bryant jersey to his fourth-round Australian Open match. In Canada, Sportsnet, one of the country's two all-sports networks devoted their entire, one-hour highlight show to Bryant.
"When you think about Kobe, he was probably one of the top five most famous athletes on the planet," said Darby. "He could even be the most famous."
Bryant's road to NBA greatness was aided by genetics; his father Joe "Jelly Bean" Bryant played parts of eight seasons in the NBA from 1975 to 1983. But Kobe's superstardom was achieved through hard work, his unparalleled competitive fire and his "Mamba mentality."
Bryant's family eventually settled in Philadelphia where he became a hoops prodigy at Lower Merion High School. By the end of his senior year, he was the top high school basketball player in the country.
But rather than go to college, he opted to turn pro and was selected 13th overall in the 1996 NBA Draft by the Charlotte Hornets who dealt him to the Los Angeles Lakers for veteran Vlade Divac.
In his first year with the Lakers, the 18-year-old was behind guards Eddie Jones and Nick Van Exel on the team's depth chart, but his popularity grew when he won the NBA's Slam Dunk Contest on All-Star weekend.
In the ensuing season, he was employed largely as the Lakers' sixth man before he enjoyed a breakout campaign in 1998-99. He started all 50 contests in that strike-shortened season and averaged 19.9 points per game. By the 1999-00 season, Bryant had emerged as the best young shooting guard in the league, teaming with Shaquille O'Neal to form the most potent one-two punch in the NBA. With Phil Jackson as their coach, the duo, despite their tumultuous relationship, propelled the Lakers to three consecutive championships from 2000 through 2002.
After O'Neal was traded following the 2003-04 season, the Lakers became Bryant's team and he didn't disappoint. In 2005-06, he topped the NBA in scoring for the first time, averaging 35.4 points per game. His season was highlighted on January 22, with an 81-point outburst against the Toronto Raptors that remains the second-most points ever scored in a game by an NBA player. For an encore, Bryant averaged 31.6 points per game in the 2006-07 season to secure a second scoring crown.
But Bryant burned for another championship, and in the 2007-08 campaign he grinded through a finger injury to lead the Lakers to a Western Conference best 57-25 record and was named the league MVP. Behind Bryant, the Lakers returned to the NBA Finals where they were defeated by the Boston Celtics in six games.
But Bryant wouldn't be denied the following season when he led the Lakers to the Finals again, where they beat the Orlando Magic in five games and the superstar point guard earned his first Finals MVP Award. He duplicated the feat the following year when he guided the Lakers to another championship, this time over the rival Celtics.
With that title, Bryant tied a Lakers' franchise record by securing his fifth championship ring. The 6-foot-6 Pennsylvania native continued to be a scoring machine for the next three seasons, until he tore his Achilles tendon on April 12, 2013, just nine days before the playoffs were to begin.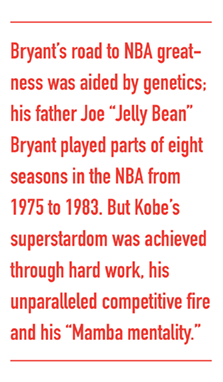 Bryant was never quite the same after the injury. Over his final three seasons, he had stretches of dominance - including scoring 60 in his last NBA game - but was hampered by a variety of ailments and retired following the 2015-16 campaign.
Over the course of his 20-season NBA career, Bryant was an 18-time All-Star, a four-time All-Star Game MVP, a two-time Finals MVP and the 2008 regular season MVP. One of the most complete players in NBA history, the intense shooting guard was also named to the league's All-Defensive First Team nine times and sits fourth on the NBA's all-time scoring list.
For his efforts, the Lakers retired both jersey numbers (8 and 24) that he wore for them and he will undoubtedly be inducted into the Naismith Memorial Basketball Hall of Fame posthumously this year.
"Kobe was something special," said Woody. "I don't know if it was because he came up when he was so young and he was still like a little kid to everybody, even though he was in his late 30s [at the end of his career]."
But with his resume, you can understand why Bryant's rookie cards and autographs are so highly desired and why the demand for them has spiked so significantly since his death.
"The prices of his rookie cards have gone through the roof," said Noboa. "It's unfortunate, but it's amazing to me that some cards you could probably buy for $100 are now selling for more than $1,000."
Here's a rundown of some of Bryant's top rookie cards, as well as information about his autographs:
Rookie Cards
1996 Topps Chrome #138
This is Bryant's most coveted mainstream rookie. This card offers an action shot of Bryant competing against the Minnesota Timberwolves. Its chromium surface makes it susceptible to scratches.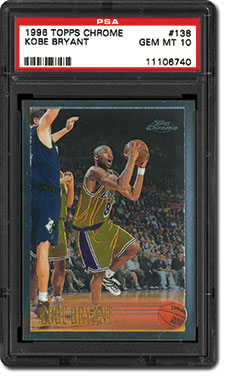 Of the 5,315 submitted, there have been 814 PSA GEM-MT 10s. To illustrate how much the value of Bryant's rookie cards has climbed since his death: one PSA 10 sold for $2,325 on eBay in December 2019. The day after Bryant's death, a PSA 10 commanded $6,800 on eBay.
There's also a limited refractor version of this card that sells for a significant premium. Refractors were made of each of the 220 cards in the Topps Chrome base set; those 220 refractors were inserted at a rate of 1:12 Topps Chrome pack.
One of the 68 PSA 10 Bryant refractors fetched $23,900 on the day Bryant died.
1996 SkyBox E-X2000 #30
This is one of the most colorful and condition sensitive Bryant rookies. It showcases an action shot of the Lakers star against a sky background and bright green border.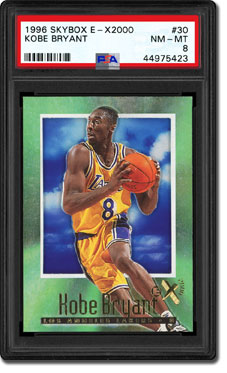 There are just 22 PSA 10s and they rarely surface for sale. A PSA NM-MT 8 sold for $106 on eBay in December 2019, but the day after Bryant's death, one eBay buyer had paid $190 for an example in the same grade.
Noboa says the "Credentials" parallel of this single, which is numbered out of 499, is also highly sought after.
"It's very difficult to find," said Noboa. "I love the color on it. I love the vibrant yellow. It's one of those cards that, to me, is like a work of art."
Just four "Credentials" Bryant singles have been deemed PSA 10s. One PSA 10 sold for $22,199 back in August 2018.
1996 Finest #74
Bryant's 1996 Finest rookie comes from one of Topps' staple brands. This card flaunts a great action shot of a young Bryant about to dunk.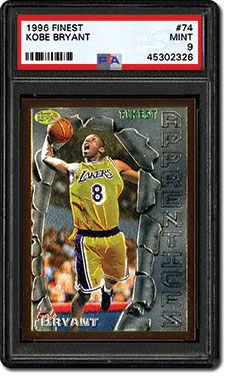 Of 2,733 evaluated, there have been 873 PSA 10s. One PSA 10 garnered $244 on eBay in December 2019. Two days after Bryant's death, another PSA 10 fetched $500 on eBay.
1996 Ultra #52
This card features an action shot of a young Bryant in the process of completing an underhand layup. The full bleed photo makes it tough to find without edge wear.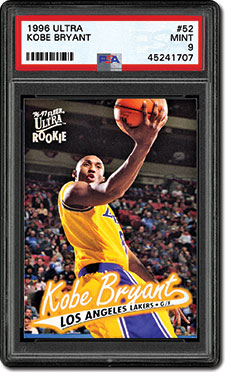 Of the 3,452 submitted, there have been 275 PSA 10s. A PSA 10 sold for $277 on eBay in November 2019. One example in the same grade garnered $1,501 on eBay the day after Bryant's death.
1996 Topps #138
This is Topps' most basic offering and it features the same photo of Bryant that's on his Topps Chrome rookie, though the card is produced on standard stock.
Noboa notes that this card shot up considerably in value after Bryant's death.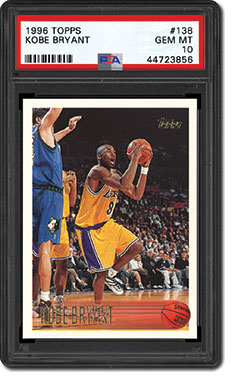 "It's catapulted into one of his premier cards overnight," said Noboa.
Of the 7,428 submitted, there have been 1,807 PSA 10s. A PSA 10 went for $192 on eBay in December. A card in the same grade sold for $1,175 two days after Bryant's death.
Autographs
PSA/DNA autograph authenticator George Renaud probably had more interaction with Kobe Bryant than any other autograph collector between 1996 and 2009.
"I started getting him when I was a kid and right when he got drafted," said Renaud, who was a hardcore autograph collector prior to his current position with PSA/DNA. "I'm from Long Beach, California, and Kobe's first stop when he came to the Lakers was the Southern California Summer Pro League in Long Beach. The first time I got Kobe was literally after his first practice ever with the Lakers in the Summer League."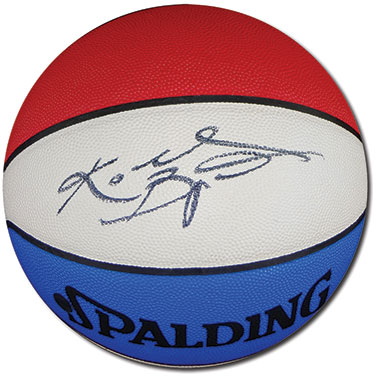 Just 10 at the time, Renaud can recall pooling his money with his best friend to buy a stack of Bryant rookies for $2 each that they then got Bryant to sign.
"He signed every day, anything you had," said Renaud. "And all the way up to 2002, he would still sign regularly at the practice facility and on the road at hotels."
Bryant's autograph evolved over the years. Renaud says Bryant's autograph in high school was "Kobe," which later changed to "Byt #33," and then transitioned to "Kobe" with an "8" underneath his name when he was an NBA rookie. He signed that way fairly consistently until he switched his jersey number to 24 prior to the 2006-07 season.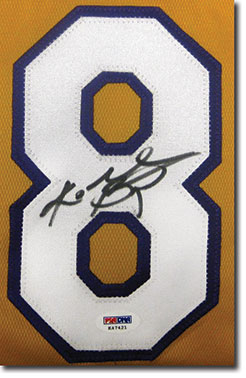 Towards the end of his career, however, Bryant's signature changed again.
"When you would get him in person over the last five years, you would just get a 'KB,'" said Renaud.
Early in his career, Bryant signed an exclusive autograph deal with Upper Deck before he moved on to Panini with a similar agreement in January 2009.
In Renaud's experience, Bryant's signature has been widely forged on premium items and this problem is likely to worsen now that the Lakers superstar has passed away.
"I believe many forgeries of his autograph will begin to surface on the marketplace due to the number of people trying to capitalize on the opportunity," said Renaud.
Prices for PSA/DNA signed items jumped dramatically after Bryant's death. For example, a basketball with a PSA/DNA authenticated signature sold for $271 on eBay in December 2019, while a similar signed ball fetched $1,500 on eBay two days after Bryant's death.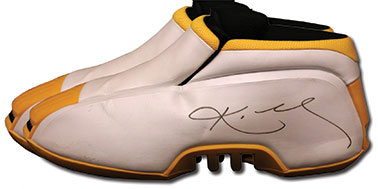 A signed 1996 Score Board rookie card with a PSA/DNA authenticated signature, with an autograph graded PSA/DNA MINT 9, went for $570 on eBay in December 2019. Just over a month later, on the day following Bryant's death, a 1996 Collector's Choice rookie with a PSA/DNA authenticated signature (no grade on the signature) commanded $1,250.
For more information on Kobe Bryant trading cards and autographs, please visit PSA CollectibleFacts.
---
Please feel free to contact Kevin Glew at [email protected] if you have any additional information or comments. Please note the PSA Population Report statistics are as of January 2020.