September 27, 2016 | Vol. 17 Issue 19
In this issue:
---

---
The Super Bowl of Football Card Collections – A Look at the Hunt/Casterline Pro Football Hall of Fame Collection
People often talk about the rich history of baseball, but football has quite a rich history of its own. What better way to view that history than through the trading cards that chronicle the game for over 100 years? The incredible Hunt/Casterline collection, currently on display at the Pro Football Hall of Fame in Canton, Ohio, does just that. In the following feature, we learn more about this remarkable amassment of gridiron cardboard.
READ MORE
---
Rough Around the Edges – Tackling the 1974 Topps Deckle Edge Baseball Card Set
The 1974 Topps Deckle Edge baseball card set is one where nearly a third of the cards in the set feature a Hall of Famer. Years ago, this unique set seemed to get more attention from the collecting community, but it hasn't been in the limelight in recent times. Is it due for a comeback? We dig into this 72-card issue in the next article.
READ MORE
---

---
The 1961 Topps Sports Cars Card Set – Sleek, Stylish, Fast and Hard to Find
There are cards and there are cars, and then there are cards about cars. In 1961, Topps issued a 66-card set that featured nothing but sports cars from all over the world. This colorful set captures so many of the classics that, today, break the bank at auction. If you can't afford an all-original, vintage Porsche or Jaguar, you can still appreciate their beauty in this interesting set.
READ MORE
---
HUNT/CASTERLINE PRO FOOTBALL HALL OF FAME CARD COLLECTION EXHIBIT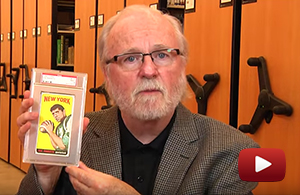 Which of the following is your "Super Bowl" of football cards?

1935 National Chicle Bronko Nagurski
1957 Topps Johnny Unitas
1958 Topps Jim Brown
1965 Topps Joe Namath
PSA Fights the Empire with Star Wars Giveaways at 2016 New York Comic-Con READ MORE
The Goldin Auctions Great American Trading Card Auction Offers 50 Lots of Rare High-Grade Trading Cards Through October 1 READ MORE
Major Clean Sweep Auction Closes Wednesday October 5 – Featuring T210 Shoeless Joe Jackson READ MORE
Muhammad Ali's Passport, a 1996 Olympics Torch Signed by Ali, and the Largest Collection of Photos and Negatives of Ali Ever to be Offered Publicly Highlight Lelands.com "The Greatest Auction" – Now Open and Closes Oct. 28 READ MORE
1967 Topps Baseball Near Complete Mostly PSA 9 Set Break (8.75 GPA) – Ending Wednesday, Sept. 28th and Thursday, Sept. 29th READ MORE
Comprehensive collection of Muhammad Ali's 50-year career at Heritage Auctions. Closes September 30 READ MORE
© 2016 PSA, Inc. A Division of Collectors Universe. NASDAQ: CLCT. All Rights Reserved
PSA, Professional Sports Authentication, P.O. Box 6180, Newport Beach, CA 92658
For more information about PSA, visit www.psacard.com.

We offer a wealth of advertising opportunities both online and print.
Please contact Rebecca Tran, Director of Advertising at

[email protected]

,
(800) 325-1121 ext. 356 or directly at (949)567-1356.