September 13, 2016 | Vol. 17 Issue 18
In this issue:
---

---
Collecting the 1966 Topps Football Card Set – Still Nifty at 50, This Mid-1960s Gridiron Offering Keeps It Interesting
The 1966 Topps football set turned 50 this year. This brown-bordered classic requires a modest 132 total cards, but don't let that fool you. The set is still very challenging due to those pesky, colored borders that can reveal the slightest touch of wear. From Namath to the tough Funny Ring Checklist, we break down this terrific set in the following piece.
READ MORE
---
Collecting the 1979 Topps Football Card Set – Out with the Old, In with the New
By the 1970s, mainstream Topps football sets started to dramatically increase in size. This was partly due to the earlier league merger and the increasing interest in the sport. In 1979, Topps released a 528-card set, one built upon the shoulders of key rookie cards like those of Earl Campbell, Ozzie Newsome and James Lofton. In the next article, we break down this interesting gridiron issue.
READ MORE
---
---
Mastering Barry Sanders Football Cards – Rick Kielbasa's Collection Includes Every One Ever Issued, No Matter How Rare or Obscure
Barry Sanders is one of those players who suddenly walked away from the game even though it appeared that the Hall of Fame running back could still perform at a high level. Unfortunately, for most athletes, the opposite is true. Most hang on too long, ultimately becoming a shell of their former selves. PSA decided to interview a hobbyist whose collecting focus is centered on a man who seemingly went out on top, a rarity indeed.
READ MORE
---
BUILDING THE MOUNT RUSHMORE OF FOOTBALL CARDS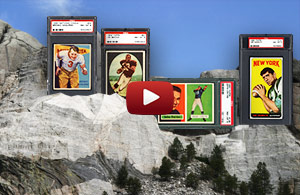 Which of the following NFL players will have the biggest impact in the hobby this season?

Ezekiel Elliot
Tom Brady
Cam Newton
Todd Gurley
The finest 1951 Bowman Jets, Rockets, and Spacemen collection ever assembled hits the auction block READ MORE
The Goldin Auctions Great American Trading Card Auction Offers 50 Lots of Rare High-Grade Trading Cards Through October 1 READ MORE
Major Clean Sweep Action Closes Wednesday October 5 – Featuring T210 Shoeless Joe Jackson READ MORE
Sirius Sports Auction #168 is Open for Bidding. Closes Thursday, September 15 READ MORE
1962 Topps Baseball Near Complete PSA 8 or Better Set Break – Ending Wed., Sept 14th and Thurs., Sept. 15th READ MORE
PSA Fights the Empire with Star Wars Giveaways at 2016 New York Comic-Con READ MORE
© 2016 PSA, Inc. A Division of Collectors Universe. NASDAQ: CLCT. All Rights Reserved
PSA, Professional Sports Authentication, P.O. Box 6180, Newport Beach, CA 92658
For more information about PSA, visit www.psacard.com.

We offer a wealth of advertising opportunities both online and print.
Please contact Rebecca Tran, Director of Advertising at

[email protected]

,
(800) 325-1121 ext. 356 or directly at (949)567-1356.