August 30, 2016 | Vol. 17 Issue 17
In this issue:
---

---
Collecting Bryce Harper Cards – Making Baseball (and the Hobby) Fun Again
Barring injury, Bryce Harper should have many productive years ahead of him. We have seen his ups and downs early in his career, but this is expected from such a young athlete. In the following article, we take a look at the player and some of his early cards as collectors size up Harper's potential in the long run.
READ MORE
---
Collecting the 1985 Topps Garbage Pail Kids Series 1 Sticker Set – Definitely Not '80s "Garbage"
For those of us who grew up in the hobby during the 1980s, there were few non-sports sets that could rival the popularity of the inaugural Garbage Pail Kids set in 1985. After the ultra-popular Cabbage Patch Kids hit their stride in the doll market, the hobby had some fun with these off-the-wall collectibles.
READ MORE
---

---
1952 Topps Wings – A Vintage Set Starting to Take Flight?
The 1952 Topps Wings trading card set was one of many great non-sports issues produced during the 1950s. At 200 total cards, completing this set is no tiny task. The set, which features colorful artwork, captures aircraft from various nations and it remains one of the more eye-appealing releases of the decade.
READ MORE
---
THE HOBBY CONNECTION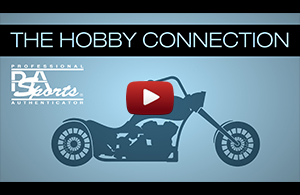 In 20 years, whose collectibles do you think will be the most desirable of these current, young MLB sluggers?

Bryce Harper
Mike Trout
Manny Machado
Kris Bryant
1909 Joe Jackson American Caramel Baseball Card Sells for $667,189 in SCP Auctions' Mid-Summer Classic READ MORE
Sterling Sports Auctions #55 Is Open for Bidding! Auction Ends September 8th READ MORE
Topps Gretzky Rookie Card Sets Record Pace in Memory Lane Summer Auction READ MORE
1959 Topps Baseball Near Complete PSA 8 or Better Set Break READ MORE
Goldin Auctions Summer Auction Nets $5.8 Million on 1,500 Lots of Memorabilia READ MORE
1952 Topps Set #10 on PSA Set Registry Breaks $382,000 in Loaded Mile High Card Company August 2016 Auction READ MORE
Sirius Sports Auction #167 is Open for Bidding. Closes Thursday, September 1 READ MORE
© 2016 PSA, Inc. A Division of Collectors Universe. NASDAQ: CLCT. All Rights Reserved
PSA, Professional Sports Authentication, P.O. Box 6180, Newport Beach, CA 92658
For more information about PSA, visit www.psacard.com.

We offer a wealth of advertising opportunities both online and print.
Please contact Rebecca Tran, Director of Advertising at

[email protected]

,
(800) 325-1121 ext. 356 or directly at (949)567-1356.