August 2, 2016 | Vol. 17 Issue 15
In this issue:
---

---
Muhammad Ali – Collecting Cards and Autographs of "The Greatest"
We all know that Muhammad Ali is one of the top sports figures of all time and a cultural icon. As a result, Ali is one of the most desirable names in the entire hobby. "The Greatest's" autograph has always been at the top of the signature food chain, but what many collectors may not know is that there are also some very interesting trading cards that feature the iconic man. We take an in-depth look at collecting both in the next piece.
READ MORE
---
Time in a Bottle – Reflections from a Fellow Collector
Just in the last few months, huge names like Muhammad Ali and Gordie Howe have passed away. In times like these we tend to reflect on the lives of these legends, but we also reflect on our own lives. In the following editorial, PSA's Joe Orlando shares his thoughts about this subject and explains how the endeavor of collecting plays into our attempt to preserve the memories of the past.
READ MORE
---

---
The 100 Greatest Baseball Autographs – Touching Treasures Created by the Hands of Legends
Tom and Ellen Zappala have provided the hobby with two beautiful books during the past several years. Each one covered a different baseball card set: 1909-11 T206 and 1914/1915 Cracker Jacks. This year, they have switched gears to baseball autographs. Along with Joe Orlando, Steve Grad and John Molori, their next book is finally here – The 100 Greatest Baseball Autographs. In the following interview, we find out more about this latest release.
READ MORE
---
Hunt/Casterline Pro Football Hall of Fame Card Collection Exhibit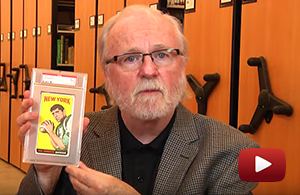 In your opinion, which of the following is the greatest baseball autograph of all time?

Roberto Clemente
Mickey Mantle
Jackie Robinson
Babe Ruth
Clean Sweep Auctions Two Day Affordable Autograph and Memorabilia-Only Auction, Ends August 10th and August 11th READ MORE
Significant Sports, Rock & Historical Relics Headline Iconic's National 2016 Auction Bidding Closes Friday, August 5th READ MORE
Goldin Auctions Premium Live Summer Auction Scheduled for Thursday in Atlantic City READ MORE
PSA to Give Away Legendary Yankee Autographs, Books & 777 Cards at 2016 National READ MORE
Hunt/Casterline Pro Football Hall of Fame Card Collection Exhibit Open READ MORE
Near Mint 1952 Topps Mantle, Other High Grade Icons Highlight Memory Lane Auction. Now Live. READ MORE
Robert Edward Auctions Accepting Consignments and Displaying Items at the National in Booths 661/760 READ MORE
© 2016 PSA, Inc. A Division of Collectors Universe. NASDAQ: CLCT. All Rights Reserved
PSA, Professional Sports Authentication, P.O. Box 6180, Newport Beach, CA 92658
For more information about PSA, visit www.psacard.com.

We offer a wealth of advertising opportunities both online and print.
Please contact Rebecca Tran, Director of Advertising at

[email protected]

,
(800) 325-1121 ext. 356 or directly at (949)567-1356.