August 16, 2016 | Vol. 17 Issue 16
In this issue:
---

---
The 1966 Topps Baseball Card Set Turns 50 – Don't Judge a Set by Its Cover
It's hard to believe, but the 1966 Topps baseball card set turned 50 this year. From the first card in the set (#1 Willie Mays) to the final card in the set (#598 Gaylord Perry), this colorful production remains popular with collectors. In the following article, we break down the set, from Mickey to Palmer to Koufax.
READ MORE
---
The Lore of Lasorda – SMR Interviews the Legendary Former Skipper
Beyond being a Hall of Fame manager and one of the greatest ambassadors the game has ever seen, Tommy Lasorda has always been one of the best interviews in the sport. The following interview is no exception. Lasorda talks with PSA about his incredible life and the strangest thing he was ever asked to sign.
READ MORE
---

---
Collecting Mike Trout – Reeling in the Best Cards of the Angels Superstar
There are several players in baseball that have made a big impact in recent years, from Bryce Harper to Buster Posey. While there are many talented young players in the game, perhaps no other player has been quite as good as Mike Trout. In the next article, we look at some of Trout's best cards.
READ MORE
---
10 Tips for Building a Better Collection: PSA10 Webcast Series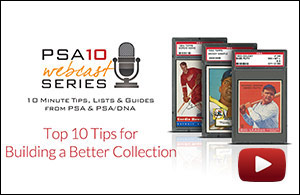 Which of the following 1966 Topps baseball cards do you like best?

#1 Willie Mays
#30 Pete Rose
#50 Mickey Mantle
#126 Jim Palmer
Closes This Saturday, August 20: Rare Circa 1968-71 Gordie Howe Red Wings Game Worn & Signed Home Jersey Approaching $70,000 at SCP Auctions READ MORE
Heritage Auctions' Platinum Night sparkles with over $10M of elite trading cards and sports memorabilia READ MORE
Sirius Sports Cards Auction #166 – Ends This Thursday, August 18 READ MORE
Ends Saturday: Near Mint 1952 Topps Mantle and other High Grade Icons Highlight Memory Lane Auction READ MORE
Small Traditions Celebrates "3-Chiro" In 4th Annual Summer Premium Auction, Now Open for Bidding READ MORE
Upcoming High-Grade PSA Baseball Set Breaks READ MORE
Mile High Card Company August 2016 Auction, Closes Thursday, August 18 READ MORE
© 2016 PSA, Inc. A Division of Collectors Universe. NASDAQ: CLCT. All Rights Reserved
PSA, Professional Sports Authentication, P.O. Box 6180, Newport Beach, CA 92658
For more information about PSA, visit www.psacard.com.

We offer a wealth of advertising opportunities both online and print.
Please contact Rebecca Tran, Director of Advertising at

[email protected]

,
(800) 325-1121 ext. 356 or directly at (949)567-1356.