July 5, 2016 | Vol. 17 Issue 14
In this issue:
---

---
Collecting Panini Boxing Stickers:
1960

s

– 1980

s

With the recent passing of "The Greatest" — Muhammad Ali — the sport of boxing has received special attention. The same can be said of boxing collectibles in our hobby. In the following piece, we take an in-depth look at the terrific Panini boxing card issues from the 1960s through the 1980s, from Ali to Mike Tyson.
READ MORE
---
Collecting the 1955 Topps All-American Football Card Set
There are many eye-catching sports card sets that were produced during the 1950s. Some of the standouts are 1952 Bowman Large football, 1954 Topps hockey and 1955 Topps baseball. Another issue that rises to the top of the visual appeal list is the 1955 Topps All-American football set. In the next article, we break down this intriguing and beautiful release.
READ MORE
---

---
1963 Rosan Famous Monsters Trading Cards – A Cult Classic
Everyone loves a good monster. Well... maybe not everyone, but there is something about monsters that has captivated our imaginations for decades. In 1963, Rosan produced their Famous Monsters set, a set that many collectors today consider a cult classic. With the help of some collectors, we take a closer look at this strange and entertaining issue.
READ MORE
---
T206 Faceoff: Honus Wagner vs. Ty Cobb with Ty Cobb Back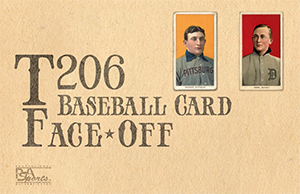 Which of the following boxing cards do you feel has the most potential?

1911 T9 Turkey Red Jack Johnson
1948 Leaf Joe Louis
1951 Topps Ringside Rocky Marciano
1986 Panini Supersport Italian Mike Tyson
SigAuctions.com Debuts One-Week of Daily Auctions July 4th, 2016 — Featuring a Stellar Babe Ruth Signed GPC Starting at $1 READ MORE
Greg Bussineau Sports Rarities Announces Its Summer 2016 Vintage Trading Cards Auction July 7-28, 2016 READ MORE
Mike Piazza 9/11 NYPD Catchers Helmet Being Offered in the Goldin Auctions Premium Live Auction at the National Sports Collector's Convention in Atlantic City on August 4th READ MORE
Hunt/Casterline Pro Football Hall of Fame Card Collection Exhibit to Open READ MORE
PSA to Give Away Signed Stars Wars Photo at 2016 Comic-Con READ MORE
Baseball Card Exchange Finds the "Other" Holy Grail of Jordan Precious Metal Gems; Discovers Red "#23/100" Example a Year after Bringing the Green "#1/10" to Market READ MORE
© 2016 PSA, Inc. A Division of Collectors Universe. NASDAQ: CLCT. All Rights Reserved
PSA, Professional Sports Authentication, P.O. Box 6180, Newport Beach, CA 92658
For more information about PSA, visit www.psacard.com.

We offer a wealth of advertising opportunities both online and print.
Please contact Rebecca Tran, Director of Advertising at

[email protected]

,
(800) 325-1121 ext. 356 or directly at (949)567-1356.