June 21, 2016 | Vol. 17 Issue 13
In this issue:
---

---
T206 Baseball Card Face-Off: Honus Wagner vs. Ty Cobb with Cobb Back
Unless you have been living under a rock somewhere, you have probably heard all about the miraculous Lucky 7 Find of T206 Ty Cobb cards in 2016. As a result of that find, PSA's Joe Orlando thought it would be fun to pit this great rarity against the T206 Honus Wagner in a baseball card face-off.
READ MORE
---
Building the Ultimate Dale Murphy Card Collection — An Interview with Michael and David Parnes
Dale Murphy is one of the most underrated stars of the 1980s. This two-time MVP (1982/1983) and five-time Gold Glove winner was one of the most well-rounded players in the game. While he fell short of Hall of Fame induction, Murphy remains a popular choice with collectors. In the following piece, we take a closer look at his career in cardboard.
READ MORE
---

---
Collecting the 1966 Philadelphia Gum Tarzan Trading Card Set
In 1966, Philadelphia Gum produced one of the most popular football card sets ever made. What many collectors don't realize is that the manufacturer also produced non-sports sets during the period. This included one dedicated to the story of Tarzan, which was released that same year. With a new Tarzan movie hitting theaters, we thought it would be a good time to revisit this colorful, 66-card set.
READ MORE
---
T206 Faceoff: Honus Wagner vs. Ty Cobb with Ty Cobb Back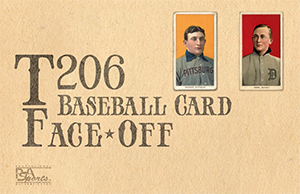 In 10 years, how do you think the T206 Cobb's value will compare to the T206 Wagner?

The Cobb will continue to be worth much less.
The Cobb will be worth less, but close the gap.
The Cobb will be worth about the same as the Wagner.
The Cobb will surpass the Wagner.
Ends this Sunday! Steiner Sports Auction Offers Babe Ruth Signed Photo, Derek Jeter Game-used Glove, Mark Messier's 911 Game-worn Jersey, Victor Espinoza's Triple Crown Race-worn items and More READ MORE
Historic Document Linking Muhammad Ali and Kobe Bryant Offered in 2016 Goldin Auctions Live Summer Auction on August 4th READ MORE
Invest in Baseball Announces the Sale of the Finest Signed 1952 Topps #311 Mickey Mantle Rookie Card in Existence READ MORE
PSA to Give Away Signed Stars Wars Photo at 2016 Comic-Con READ MORE
Hunt/Casterline Pro Football Hall of Fame Card Collection Exhibit to Open READ MORE
Sirius Sports Auction #162 Is Open for Bidding: Ends Thursday, June 23, 2016 READ MORE
Sterling Sports Auction #53 Is Now Live; Auction Ends June 30th READ MORE
© 2016 PSA, Inc. A Division of Collectors Universe. NASDAQ: CLCT. All Rights Reserved
PSA, Professional Sports Authentication, P.O. Box 6180, Newport Beach, CA 92658
For more information about PSA, visit www.psacard.com.

We offer a wealth of advertising opportunities both online and print.
Please contact Rebecca Tran, Director of Advertising at

[email protected]

,
(800) 325-1121 ext. 356 or directly at (949)567-1356.