May 24, 2016 | Vol. 17 Issue 11
In this issue:
---

---
Collecting Baseball Cards & Autographs of Joe DiMaggio
This year marks the 75th anniversary for Joe DiMaggio's remarkable 56-game hitting streak in 1941. While this was just one of many "Yankee Clipper" feats, it is perhaps the most memorable of them all. In honor of his streak, we take a look at DiMaggio's most prized cards. READ MORE
---
The 1958 Topps Zorro Trading Card Set
The 1958 Topps Zorro set is one that might not get the same kind of attention as other classic non-sports issues do, such as 1959 Fleer Three Stooges or 1962 Topps Mars Attacks, but it centers on an iconic character: Disney's memorable hero, Zorro. In the next piece, we talk to the collectors who pursue this set and find out just how difficult the #1 card in the set is.
READ MORE
---

---
Collecting the 1978 OPC Hockey Card Set
The 1978 O-Pee-Chee hockey card set is one that sometimes gets overlooked since it was issued right before "The Great One" – Wayne Gretzky – made his debut just one year later. Some collectors forget that this was the final O-Pee-Chee issue to feature Bobby Orr as a player and the first to include one of the league's most prolific scorers in Mike Bossy. In the article that follows, we explore the appeal of a set that witnesses the end of an era and the beginning of a star's career. READ MORE
---
10 Tips for Building a
Better Collection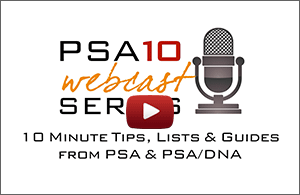 Which of the following Joe DiMaggio cards is the most undervalued in today's market?

1938 Goudey #250 or #274
1939 Play Ball #26
1941 Play Ball #72
1948 Leaf #1
Clean Sweep's Major Auction: Open for Bidding. Ends June 1, 2016. READ MORE
Jim Craig's "Miracle on Ice" Collection Featuring His 1980 Olympic Hockey Gold Medal and Game-Used Jerseys from the Historic Soviet and Finland Wins Headlines Lelands.com Miracle Auction, Which Closes June 17, 2016. READ MORE
Closes Today! Worthridge's 2016 Spring Auction Featuring the Jim Fregosi Collection and the Dick Wiliams Collection and More! READ MORE
Sirius Sports Auction #160 Is Open for Bidding: Ends Thursday, May 26, 2016 READ MORE
Goldin Auctions Spring Auction Tallies $4.6 Million in Sales READ MORE
© 2016 PSA, Inc. A Division of Collectors Universe. NASDAQ: CLCT. All Rights Reserved
PSA, Professional Sports Authentication, P.O. Box 6180, Newport Beach, CA 92658
For more information about PSA, visit www.psacard.com.

We offer a wealth of advertising opportunities both online and print.
Please contact Rebecca Tran, Director of Advertising at

[email protected]

,
(800) 325-1121 ext. 356 or directly at (949)567-1356.