May 10, 2016 | Vol. 17 Issue 10
In this issue:
---

---
The Next Generation of Collectors
Owen Randell isn't your typical 14-year old collector. While most collectors his age are out chasing Mike Trout and Stephen Curry cards, Owen is drawn to the cards of the past. In the following piece, Owen shares his thoughts about the hobby he loves and what the future might hold if we all do our part. READ MORE
---
The Emergence of Ticket Collecting
Ticket collecting has been emerging in recent years as more and more information has been brought to light about their historical importance and, in many cases, their scarcity relative to other collectibles. In the next article, we explore some of these factors and talk to those who enjoy creating ticket themes for their collections. READ MORE
---

---
Bill Bengen: A Rocket Scientist's Approach to Non-Sports Collecting
One of the great pleasures about working in this hobby is the opportunity to learn about and meet so many interesting collectors. One of those collectors is Bill Bengen. In the following piece, we learn more about Bengen and his amassment of terrific non-sports cards, a segment of the hobby that seems to be gaining momentum with each passing year. READ MORE
---
Remembering the Top 10 World Series Tickets of All Time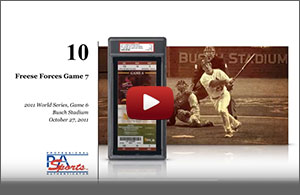 Which of the following tickets is the most desirable?

1932 World Series Game 3 – Babe Ruth's "Called Shot"
1969 Super Bowl II – Namath's Guarantee
1971 Ali vs. Frazier – The Fight of the Century
1982 NCAA Finals – Jordan Takes NC to Title
Dick Williams Collection and Jim Fregosi Collection Highlight Worthridge 2016 Spring Auction, Now Open for Bidding. Closes May 24th. READ MORE
Clean Sweep's Major Auction Now Open for Bidding READ MORE
Cards, Autographs and Game-used Gear Reign in 4,000+ Lot Heritage Sports Collectibles Auction READ MORE
Sirius Sports Auction #159 Is Open for Bidding: Ends Thursday READ MORE
Sterling Sports Auction #52 Is Now Live; Auction Ends May 19th READ MORE
Giovanni Sports Auctions' Vintage Cards and Certified Signatures XXIV Auction Now Open – Closes Friday 13th READ MORE
Mile High Card Company May Auction Obliterates Previous Record Prices; 1952 Topps #311 Mickey Mantle PSA 6.5 sells for over $188,000 READ MORE

trptjoe — Ernie Banks Master Set
In January of 2015, we lost one of the great players of baseball. Ernie Banks had a powerful bat as one of the premier home run hitters from the 1950s to the 1970s, but he will be remembered even more for his enthusiasm. The Ernie Banks master set requires 168 different items. Complete, and with images included for all items, it's no wonder this set won the 2015 award for Best Vintage Player Set of the Year.
View this Set
2016 PSA Set Registry Awards
The 2016 PSA Set Registry award deadline is Tuesday, May 31. Cards requested by April 30, if approved, were added to the set composites. Requests made after 4/30 are being added to the composites as optional and will be required after the awards deadline.
View Set Registry Awards®
EMAIL:

[email protected]

Sell Your Unwanted or
Duplicate Cards
Did you know that PSA Set Registry members can sell on both CollectorsCorner.com and Collectors.com? Learn how to begin selling directly out of My Set Registry.
2,857 Cards for Sale Today valued at $426,697 — SEE MORE

Most Recent Listing:
1952 Topps 37 Duke Snider PSA NM+ 7.5...$719.99

Most Valuable Listing:
1915 Cracker Jack 68 Honus Wagner PSA NM-MT 8...$18,995.00
© 2016 PSA, Inc. A Division of Collectors Universe. NASDAQ: CLCT. All Rights Reserved
PSA, Professional Sports Authentication, P.O. Box 6180, Newport Beach, CA 92658
For more information about PSA, visit www.psacard.com.

We offer a wealth of advertising opportunities both online and print.
Please contact Rebecca Tran, Director of Advertising at

[email protected]

,
(800) 325-1121 ext. 356 or directly at (949)567-1356.