December 6, 2016 | Vol. 17 Issue 24
In this issue:
---

---
The Watercooler Effect
There's something about this particular hobby that separates it from so many other collectible fields. It has an appeal that can reach the masses, especially since sports, entertainment, and music touches the average person each day. In the following editorial, PSA's Joe Orlando explains how this bodes well for the future of our hobby in another installment of Taking My Hacks.
READ MORE
---
Meet Bill Corcoran – A Man with a Reputation
Bill Corcoran has been a part of the hobby for decades, and during that time, he has built a reputation. That reputation not only relates to his vast autograph knowledge, but it also has to do with the way he treats his fellow collector. In the next article, we take an in-depth look at one of the latest experts to join the staff at PSA/DNA Authentication Services.
READ MORE
---

---
Collecting the 1950 Bowman Football Card Set – A Trailblazing Vintage Football Issue
In the 1950s, Bowman dominated the football card scene, producing some of the most visually-appealing trading card sets in hobby history. The 1950 Bowman set was the first of several classic issues. In the next piece, we revisit this inaugural issue and hear from collectors who pursue this beautiful set that is nearing 70 years old.
READ MORE
---
The Hobby Connection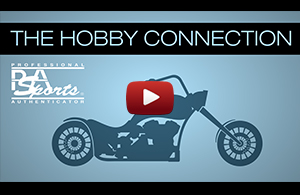 Which of the following 1950s Bowman football sets is your favorite?

1950
1951
1952 (Large)
1953
Last Chance: Grey Flannel Presents Top-Quality Game-Used Memorabilia from Titans of Major Sports in an Exciting Holiday Auction Closing Wednesday, Dec. 7 READ MORE
Final Days to Bid: Clean Sweep's Fun Two-Day All Sports Autograph and Memorabilia Auction. Ends This Wednesday and Thursday, December 7 and 8 READ MORE
Million-dollar Mickey Mantle Rookie Card and The Gary Carter Collection Propel Heritage Auctions November Sports Auction Past $14 Million READ MORE
1957 and 1958 Topps Football #2 Current Finest Complete Set Break Offered by MINT State Inc. READ MORE
Sirius Sports Cards Auction #174 Is Live and Ends December 8. Bid Today! READ MORE
PSA-graded Baseball and Football Sets for Direct Sale READ MORE

Set Request Updates
The company, key-card and team set requests are down to a 2-4 week wait time. And, while we will continue to maintain this timeframe, our focus will be to get the player sets on, or about, the same timeframe. To view the list of recently added set composites, please visit the PSA Set Registry News page. As always, your patience and continued support is greatly appreciated. Should you have any questions, please feel free to contact us at

[email protected]

.
PSA CardSlugger
Know your cardboard? Prove it! Play PSA CardSlugger.
Sell Your Unwanted or
Duplicate Cards
Did you know that PSA Set Registry members can sell on both CollectorsCorner.com and Collectors.com? Learn how to begin selling directly out of My Set Registry.
Questions? Email:

[email protected]

3,138 Cards for Sale Today valued at $435,314 — SEE MORE

Most Recent Listing:
1951 Parkhurst 61 Terry Sawchuk PSA NM 7...$1,325.00

Most Valuable Listing:
1955 Topps 164 Roberto Clemente PSA NM 7...$18,000.00
Join & Get Free Grading Vouchers
Don't miss future emails from us; add

[email protected]

to your address book!

© 2016 PSA, Inc. A Division of Collectors Universe. NASDAQ: CLCT. All Rights Reserved
PSA, Professional Sports Authentication, P.O. Box 6180, Newport Beach, CA 92658
For more information about PSA, visit www.psacard.com.

We offer a wealth of advertising opportunities both online and print.
Please contact Rebecca Tran, Director of Advertising at

[email protected]

,
(800) 325-1121 ext. 356 or directly at (949)567-1356.