October 25, 2016 | Vol. 17 Issue 21
In this issue:
---

---
Collecting the 1952 Bowman Large Football Card Set – One of the Classics from the Gridiron World
One could make the argument that the 1952 Bowman Large football card set is the most iconic gridiron issue of all. This 144-card set seemingly has it all, from serious difficulty to absolutely outstanding artwork. The eye-appeal of this Bowman production rivals any set ever made, regardless of sport. We celebrate this popular set by talking to the people who collect it and finding out why it has a special place in the hobby.
READ MORE
---
Collecting the 1962 Venezuelan Topps Baseball Card Set – Tarjetas Imposibles? Claro Que Si!
As collectors become more advanced in their pursuits, they often seek items that offer true scarcity. Sometimes, the most attractive collectible is one that blends hobby-wide appeal with rarity. That is the case with the 1962 Venezuelan Topps set. The cards look familiar, but they are anything but common. In the next article, we take an in-depth look at this seldom-seen set.
READ MORE
---

---
Collecting the 1982 Wrestling All Stars Trading Card Set – Series A & B: The First Mainstream American Wrestling Card Issue
During the 1980s, not only was the hobby in full bloom, but the world of wrestling became extremely popular with mainstream fans. The names were unforgettable, from Hulk Hogan to Ric Flair to Junkyard Dog. It became so popular that products featuring the characters seemed to be everywhere, from t-shirts to trading cards. In the following piece, we revisit the 1982 Wrestling All Stars Series A and B set, the first mainstream issue in the U.S.
READ MORE
---
COLLECTING GEORGE S. PATTON AUTOGRAPHS & LETTERS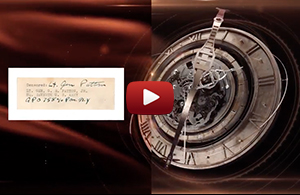 Which of the following football card sets do you feel is the most iconic?

1935 National Chicle
1952 Bowman Large
1957 Topps
1965 Topps
1952 Topps Mickey Mantle Rookie PSA 7 Leads the SportsCardLink Auction. Auction Now Underway READ MORE
Original Olympic Document from 1894 Offered for Sale in Goldin Auctions October Legends Auction. Ends Sat Oct 29 READ MORE
Sirius Sports Auction #171 Is Open for Bidding: Ends This Thursday, October 27 READ MORE
Muhammad Ali's Passport, a 1996 Olympics Torch Signed by Ali, and the Largest Collection of Photos and Negatives of Ali Ever to Be Offered Publicly from Lelands.com "The Greatest Auction" – Closes this Friday, Oct. 28 READ MORE
Robert Edward Auctions' Fall Auction Closes This Sunday, October 30th READ MORE
1948 Bowman Musial RC PSA 9 MINT Headlines Expansive Mile High Card Company November Auction, Opens Oct 24th and ends Nov 10th READ MORE
Join & Get Free Grading Vouchers
Don't miss future emails from us; add

[email protected]

to your address book!

© 2016 PSA, Inc. A Division of Collectors Universe. NASDAQ: CLCT. All Rights Reserved
PSA, Professional Sports Authentication, P.O. Box 6180, Newport Beach, CA 92658
For more information about PSA, visit www.psacard.com.

We offer a wealth of advertising opportunities both online and print.
Please contact Rebecca Tran, Director of Advertising at

[email protected]

,
(800) 325-1121 ext. 356 or directly at (949)567-1356.