Lelands.com: Final Days of Bidding; Ends January 10.
Lelands' current auction is online, with bidding in progress and concluding on January 10, 2014. This auction features the Red Schoendienst Collection, amazing sports cards, memorabilia and autographs, boxing memorabilia & more, as well as Americana Memorabilia.

Mile High Card Company Culminates 2013 With Many Record Setting Prices In its Winter Premium Auction
Mile High Card Company put the finishing touches on a successful and event filled 2013 with a resounding bang, MHCC concluded its Premium Holiday auction on December 19, 2013, and saw tremendous results across the board.

Sirius Sports Cards Auction # 98 Now Open for Bidding; Ends January 9
There are 917 lots for auction that will end on Thursday January 9, 2014 at 11 PM EST using the 15 minute rule. This auction features many high grade and low pop cards for collectors to complete their sets from the 1950's through the 1970's. There are nice groups of PSA 8 graded vintage cards and a very nice run of modern PSA 10 graded rookie cards.

More Than a Dozen NFL Championship Rings up for bid in Goldin Auctions Winter Auction from Jan. 13-Feb. 7, 2014
The first 2012 Baltimore Ravens Super Bowl XLVII player ring to hit the market is up for bids along with 1958 Colts NFL Championship Ring, 2000 Ravens Super Bowl Ring and more.

Upcoming PSA Shows
View Full Calendar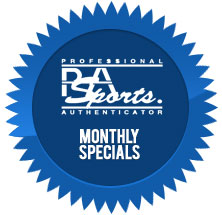 Survey Question

Which of the following quarterbacks will gain the most hobby momentum as a result of Wild Card weekend in the NFL?

Andrew Luck
Drew Brees
Colin Kaepernick
Phillip Rivers

Click here to answer; and to view the latest issue's survey results.