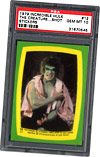 The 1979 Topps Incredible Hulk Set

If you were alive during the late-1970s or early-1980s, then there's a good chance you watched an episode or two of the hit series "The Incredible Hulk", starring Bill Bixby and Lou Ferrigno - the man behind the big, green comic book figure. In 1979, Topps produced an 88-card set, along with a 22-piece sticker set which commemorated the popular television series. Each card and sticker contained images from the show. In the following article, we revisit this classic 1970s series, viewed through the cards and stickers made for collectors of the misunderstood green giant. More...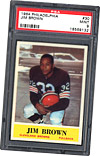 The 1964 Philadelphia Football Set
The 1964 Philadelphia football set doesn't quite get the fanfare of some of its later issues, like the rookie-rich 1966 series. This 198-card set does contain a nice selection of Hall of Fame players, including several HOF rookie cards in #3 John Mackey, #71 Herb Adderley, #72 Willie Davis, #91 Merlin Olsen and #161 Jimmy Johnson. Perhaps the most appealing aspect to collecting this often overlooked set is its relative affordability. In the following piece, we explore the appeal of a set that seems to live under the radar of most collectors.
More...
Set Registry Spotlight

Paul's 1952 Parkies - The Number One Current Finest 1952-53 Parkhurst Hockey Set
Parkhurst hockey sets from the 1950s all seem to be on fire as of late. These sets are what Topps was, and is, to baseball during the same period. This 105-card issue, which closely resembles the 1951 Parkhurst design, is colorful and difficult just like its predecessor. The three keys to the set are the #1 Maurice Richard, #58 Tim Horton rookie and the 2nd-year Gordie Howe card. With a GPA of 7.75, this year's winner is the finest complete set in registry history and, shockingly, the only complete set in any grade on the Current Finest list. Click here to view.

Want List & Collectors Corner If you are using the Want List feature in My Set Registry, you'll find an enhancement which we rolled out last week. From the items in your want list there are now links to items which are available in Collectors Corner. Collectors Corner, a division of the Certified Coin Exchange, is one of the Collectors Universe (NASDAQ:CLCT) divisions along with PSA and PSA/DNA. Today, Collectors Corner is listing over 21,000 sports and non-sports cards and tickets by qualified dealers. We hope you'll find this new feature a useful way to fill your want lists.

Set Registry Special!
All Sports and Non-Sports - $8 Per Card/10-card minimum - cards valued under $100 each. Click here for details.