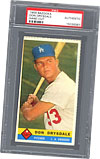 The 1959 Bazooka Baseball Set, A Cut Above...

The 1959 Bazooka baseball card set is the most popular of all Bazooka trading card issues. It is also the most valuable. These oversized cards were issued on Bazooka boxes, needing to be removed by hand if a collector wanted to keep just the card and dispose of the box. Due to their size and positioning on the box, it was difficult to remove the cards without damaging them. As a result, high-quality examples have become hard to come by for the collector today. In the following article, we take an in-depth look at this classic baseball card issue. Click here for more.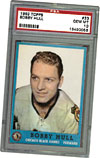 Bobby Hull - Collecting "The Golden Jet"
Bobby Hull, "The Golden Jet," remains one of the biggest names in hockey and the hobby. Owning one of the most powerful slap shots in the sport's history, Hull became a prolific scorer, racking up more than 600 goals in his career. Hull's history on cardboard began in the 1958 Topps set. On the issue's last card - #66. This card, due to its placement on the sheet, was often produced with marginal-to-poor centering, making it a condition rarity. In the following piece, we take a look at Hull's career through the cards collectors desire most.
Click here
for more.
Set Registry Spotlight

RAS - The Number One Current Finest 1910 Mecca Champions Boxing (T220) Set
Vintage boxing card sets, including many of the tobacco issues from the early part of the 20th century, are extremely collectible and tough. This 50-card set is modest in size but the classic pugilist issue contains several Hall of Famers and a very attractive design. Some of those names include Jim Corbett, James Jeffries and - of course - the key to the set in John Sullivan. There are even several combo cards that showcase two boxers during noteworthy fights including one of Sullivan, along with Jake Kilrain. This year's winner carries a GPA of 7.04, which makes it the finest complete T220 set ever assembled on the PSA Set Registry. Click here for a look.

Set Registry Special!
All Sports and Non-Sports - $8 Per Card/10-card minimum - cards valued under $100 each. Click here for details.


Fun, informative, and sometimes controversial, the PSA Set Registry Messageboard is the place to get involved with other collectors who are currently participating in the Set Registry program or are just beginning. Click here to chat on the Set Registry Messageboard.

The PSA Set Registry is a work in progress and we invite your comments and ideas. Send your suggestions to

[email protected]

.