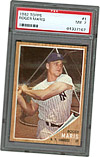 The Chase that Never Ends: Collecting the 1962 Topps Baseball Set

Fifty years ago, a monster known as the 1962 Topps Baseball set was created. Packed with stars, rookies, and Babe Ruth tribute cards, the set has a lot to offer. But it's also packed with poor quality control, printing errors, bizarre green-tinted cards and proofreading failures. Obtaining every variation of every card, particularly in high grade, could make finding the needle in the proverbial haystack seem easy by comparison! In this article, we take you on a tour of this monstrous set.
More...




Taking My Hacks: The Next Level Is Here
Collectors often speculate about the potential of the high-end sports card and memorabilia market, wondering when it will reach the "next level" of value and higher prices realized. After witnessing the results of many recent public and private sales, Joe Orlando believes that the next level is now here. In this article, Joe shares thoughts about the increased strength of the high-end memorabilia market and what it may mean for collectors.
More...
Set Registry Spotlight

Elitecards 1971 Football - The Number One Current Finest 1971 Topps Football Set
The 1971 Topps football set has received a lot of attention in recent years as more and more collectors have become interested in the colorful, yet challenging, issue. This 263-card set includes several Hall of Fame rookie cards, including those of Joe Greene and Terry Bradshaw but many of them are tough in PSA Mint 9 or better condition due to those fragile, colored borders. The set also starts off with an extra condition-sensitive #1 card of Johnny Unitas. This set is 100% complete and has a GPA of 8.80, making this particular set the finest of its kind on the All-Time Finest list. We are not surprised that this set won the Set Registry award for Best Modern Football Set of the Year for 2012. Click here for a glimpse.

New Set Registry Special!
All Sports and Non-Sports - $8 Per Card/10-card minimum - cards valued under $100 each. Click here for details.