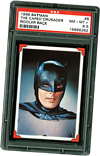 Blockbuster Superhero Flicks Spark Increased Demand for Comic-Related Cards and Autographs

The year 2012 is going to be dominated by the blockbuster superhero movie... at least at the box office. In fact, many of the top grossing films of the last decade or so have been based on superheroes such as The Dark Knight, Spider-Man and The Avengers. How has this impacted the world of collectibles? By bringing these classic stories to life, thus introducing the superheroes to new generations of potential fans, new legions of collectors are created as well. In the following article, we explore the resurgence of the superhero in the hobby. More...




Taking My Hacks: "Super" Memories
Most of us can recall moments during our childhood when we pretended to be our favorite baseball, basketball or football players. Emulating our sports heroes was a common practice when we were kids, as it is today. The same thing can be said of fantasizing about becoming our favorite superheroes. Kids would piece together homemade costumes and let their imaginations run wild. That is part of what being a kid is all about. In the following article, Joe Orlando shares his superhero memories and asks the readers to see if they can remember their own.
More...
Set Registry Spotlight

Ice King 99 - The Number One Current Finest Wayne Gretzky Basic Set
Every sport has an icon, an athlete that was able to rise above everyone else in the sport and establish a standard that may never be approached. In hockey, there have been several legends of the ice but there's only one player that fans call The Great One. Gretzky was able to put up numbers that seem utterly impossible and he set a standard of excellence that may never be matched despite not being the most physically-gifted man in the sport. This multi award-winning set is a tribute to Gretzky and, fittingly, the level of excellence is unsurpassed in the category. Even though many of Gretzky's cards are of the tough OPC variety, it carries an almost perfect GPA of 9.81. Click here for a look.

PSA Set Registry Awards 2012
The winners for the 2012 installment of the Set Registry Awards have been announced. To view the list of winners please visit the awards page.

PSA Set Registry Luncheon
Email invitations have been sent for the luncheon to be held in Baltimore on August 3rd. Reservations are required. If you plan to attend, please submit your RSVP to

[email protected]

no later than July 18th.

Set Registry Special
All Sports and Non-Sports - $10 Per Card/10-card minimum - cards valued under $250 each. Click here for details.