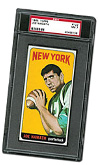 The 1965 Topps Football Set, Standing "Tall" Amongst Gridiron Issues

The 1965 Topps football set is one of the true classics in the trading card world. Anchored by, perhaps, the most recognizable football card on the planet in Joe Namath's rookie, the issue contains 176 total cards. The colorful production, which contains short prints sprinkled throughout, is challenging in high-grade due to the larger format and inherent centering issues, which plague the cards. In the following article, we explore this popular football issue and find out why so many collectors gravitate towards this Tall Boy production from Topps. More...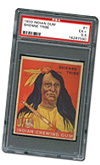 1933 Goudey Indian Gum - A Coveted, Controversial and Complicated Non-Sports Issue
The 1933 Goudey Indian Gum set is one of the most visually-appealing issues in the hobby but the release does generate its share of controversy. The set, which contains 216 different-numbered cards, exhibits colorful artwork throughout and is very condition sensitive but it is the content of some of the cards which causes the controversy. In addition to figures like Billy the Kid, General Custer and Daniel Boone, the set portrays some of the Native American figures in a less than complimentary way, often describing them as savage-like characters. In the following article, we explore this interesting set in more depth by interviewing the collectors who are assembling it.
More...
Set Registry Spotlight

Recball's All-Time Giants - The Number One Current Finest All-Time Giants Set
The New York Giants have made it to the Super Bowl 5 times, 4 of which they have won. A fan-favorite team throughout the years, this set consists of what many feel are some of the finest players to have played for the Giants: Ken Strong, Lawrence Taylor, Emlen Tunnell, just to name a few. Although there is room for improvement in this 100% complete set, this set is nicely showcased with images for each card. Click here for a glimpse.

PSA Set Registry Awards 2012
Judging is underway and winners will be announced by the end of June. Good luck to all who are in contention and thank you for your participation in the PSA Set Registry! To review the list of award categories, please click here.

We are looking forward to another exciting awards season! Should you have any questions, please email

[email protected]

.

Set Registry Special
All Sports and Non-Sports - $10 Per Card/10-card minimum - cards valued under $250 each. Click here for details.