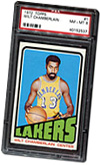 PSA Set Registry: The 1972-73 Topps Basketball Set, An Affordable Set Anchored by ABA Stars Dr. J. and the A-Train

The 1972 Topps Basketball set was a giant issue in more than one respect. Containing 264 total cards, an enormous quantity by basketball set standards, this issue included players from both the ABA and NBA. In addition, the set contains key rookie cards of Phil Jackson, Artis Gilmore and one of the most exciting players of all-time - Dr. J, which remains of the most important basketball cards in hobby history. In the following article, we find out why this colorful 1970s basketball issue continues to be one of the most coveted productions from the collectors who pursue it on the PSA Set Registry. More...


Collecting Al Kaline Cards
Al Kaline was often overshadowed by the likes of Hank Aaron, Willie Mays and Frank Robinson during his career but, in the American League, he remained one of the most dominant outfielders and players from the 1950s to the 1970s. Kaline, a powerful hitter and one of the most popular players in Detroit Tigers history, started his career in cardboard in the 1954 Topps set - a hobby classic. Kaline's rookie card is one of three major keys residing in the Topps issue, along with rookies of fellow stars Ernie Banks and Hank Aaron. In the article that follows, the Hall of Famer is profiled through the cards collectors find most desirable.
More...
Set Registry Spotlight

seinbigd - The Number One Current Finest Post Cereal (1961-1963) Baseball Mega Set
This was one of the more impressive sets to be recognized repeatedly in the annual PSA Set Registry Awards. First of all, the Mega Set category is not for the faint of heart since it takes a combination of sets, usually several in number, to complete the entire run. In this case, some of the Post Cereal baseball cards can be tough because a good portion of them were cut too small by collectors. This limits the cards to receiving a designation of "authentic" based on the PSA grading standards. These cards were distributed in different ways. Some, for example, were included on cereal boxes and had to be removed while others could be obtained via a mail-in offer. In any event, the excellent GPA of 8.47 on this 777-card run makes this set clearly worthy of the recognition. Click here for a look.

PSA Set Registry Awards 2012 - Deadline May 31st!
The deadline for this year's PSA Set Registry Awards is Thursday, May 31st. Any new sets or edits to existing sets must be published before 5:00 pm EST (2:00 pm PST). To review the list of award categories, please click here.

We are looking forward to another exciting awards season! Should you have any questions, please email

[email protected]

. Set Registry Special
All Sports and Non-Sports - $10 Per Card/10-card minimum - cards valued under $250 each. Click here for details.