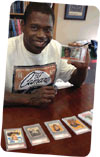 The Release of the Rarest Rookies: SCP Auctions to Offer Dmitri Young's Collection of PSA 10 Rookie Cards

Dmitri Young, a former MLB All Star, has been a collector of high-grade baseball cards for years. His collection, which focuses on rookie cards of the post-war era, is considered the finest run of its kind, containing many 1-of-1s in the PSA Gem Mint 10 grade. Recently, and after much thought, Young decided to put this incredible collection up for sale. In fact, the bidding started this week. In the following article, Young discusses his collecting passion and why he decided to finally let his prized cards go. More...



It Takes More than Money
This spring, more sports collectibles will sell for $100,000 or more than during any other auction season since 1999, when Barry Halper sold his $20 million-plus auction through Sotheby's. In fact, there is a good chance that the number of $100,000 items sold this spring will surpass the Halper figure. As a result, many hobbyists think that money is the only requirement to building a great collection. While money is certainly a requirement, Joe Orlando disagrees with the notion. In the following piece, Orlando discusses why he thinks it takes more than money to build a truly fine collection.
More...
Set Registry Spotlight

Bill M. Baran - The Number One Current Finest 1972-73 O-Pee-Chee - Basic Hockey Set
The 1970s really belonged to O-Pee-Chee when it came to hockey cards. Topps was also putting out some terrific sets but the Canadian versions were simply more popular due to the powerful fan base up north. The cards are also tougher due to the rough-cuts and other condition obstacles associated with O-Pee-Chee manufacturing. This set is one of the larger productions of the era, with 340 cards needed to complete it. While not loaded with HOF rookies, the set does include All-Star, In-Action and League Leader cards throughout. Card #129, Bobby Orr, is the most valuable card in the set. With a very impressive GPA of 8.71, it's no wonder this set has won multiple awards. Click here for a look.

Set Registry Special
All Sports and Non-Sports - $10 Per Card/10-card minimum - cards valued under $250 each. Click here for details.