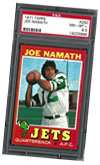 1971 Topps Football: The Most Challenging Set of the 1970s and 1980s

The 1971 Topps football set has quickly become one of the most popular vintage football card issues in the hobby. The set appears to have all of the key elements collectors look for. The 263-card set has a very colorful, eye-appealing design. The cards are relatively tough in high-grade due to the colored borders. There is a great selection of star cards in the set, including some key HOF rookies like Ken Houston, Willie Lanier, Charlie Sanders, Joe Greene and, of course, Terry Bradshaw. In the following article, we ask the collectors why they find this classic trading card issue so appealing. More...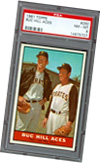 Special of the Day: Collecting Popular Multiplayer Cards
Well, I am sure you have heard the old saying that "Two is better than One." If you believe that line of thinking, then you probably would agree that three and four and five are also better than one... and so on. Enter the era of combo cards. While some baseball card issues depicted more than one player on a card prior to the 1950s, such as T202 Hassan Triple Folders and the like, it was that decade when the idea of the multi-player card (or combo cards) became popular. It started with 1953 Bowman and, by the 1960s, combo cards were seemingly everywhere. In the following piece, we look at the evolution of this popular card type.
More...
Set Registry Spotlight

Nearmint's Collection - The Number One Current Finest 1963 Topps Football Set
This 170-card set is considered a collector favorite by many. A colorful set, the colored borders make this set condition sensitive and hard to come by in high grade. There are several HOF rookies throughout the set: Deacon Jones, Bob Lilly and Ray Nitschke just to name a few. This collector's set has a set rating of 8.12 and is filled with several 'Top Pop' cards. Click here to view this set.

PSA Set Registry Awards
It's getting to be that time of year again. As usual, the awards deadline is scheduled for the end of May. Any card request you send in to update a player set (assuming that the card qualifies) will be added to the set by May 31st; however, you must submit your request no later than April 30th. Requests received after April will be added beginning in June. Click here for more information on the PSA Set Registry awards.

Set Registry Special
All Sports and Non-Sports - $10 Per Card/10-card minimum - cards valued under $250 each. Click here for details.