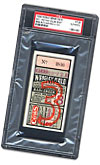 Collecting a Connection to the Past, That's the Ticket!

There are a lot of different things to collect in the sports memorabilia hobby but one area that seems to be generating more and more interest as time passes is ticket collecting. There are lots of different tickets a person can collect such as Super Bowl tickets in football or even concert tickets for fans of music. Robert Levine, a longtime collector, has decided to make his move into this evolving area. Levine's focus is on important baseball tickets, especially vintage examples. In the following interview, Levine shares his desire to pursue what so many baseball fans simply threw away after the games were over years ago. More...



A Penny for Your Thoughts
The sports memorabilia hobby has come a long way since the hobby boom of the 1980s. What was once considered the wild west has now changed as credible third party authentication and grading services have helped stabilize a once completely unstable market. While positive changes like this have helped the industry mature, the hobby still has a long way to go. Is there something our hobby can learn from more mature collectible fields such as coins? In the following article, Joe Orlando talks about his experience at a major coin show and how we, as an industry, might be able to learn a thing or two from a much older hobby.
More...
Set Registry Spotlight

More Stars Than in the Heavens - The Number One Current Finest 1961-62 Fleer Basketball Set
With a set consisting of Hall of Famers and some of the greatest names in the sport of basketball, this set is aptly named. This 66-card set is home to rookie cards of Elgin Baylor, Wilt Chamberlain, Oscar Robertson, and Jerry West, just to name a few. This collector has not only completed this set, he has done so with a 9.34 set rating which is not far from the all-time finest possible of 9.61. One can truly say this is a near perfect set and it's no surprise that this is a multi-award winning set. What an amazing collection of stars! Click here for a look.

PSA Set Registry Awards
It's getting to be that time of year again. As usual, the awards deadline is scheduled for the end of May. Any card request you send in to update a player set (assuming that the card qualifies) will be added to the set by May 31st, however, you must submit your request no later than April 30th. Requests received after April will be added beginning in June. Click here for more information on the PSA Set Registry awards.

Set Registry Special
All Sports and Non-Sports - $10 Per Card/10-card minimum - cards valued under $250 each. Click here for details.