Goodwin and Company's Masterpieces and Uncommon Commons XXXIX: Now Open for Bidding! Closes March 15, 2012

Click here to read more.


Sirius Sports Cards Auctions #50 is Now Open for Bidding and Ends Thursday, March 8

There are 675 lots for auction that will end on Thursday, March 8, 2012, at 11 PM EST using the 15 minute rule. This auction features many high grade and low pop cards for collectors to complete their sets from the 1950s through the 1970s. Click here for more.

SportsCardLink announces the Start of Bidding for their March, 2012 Winter Auction: Begins March 9

Bidding goes live in SportsCardLink's Featured Auction of Sports Cards at 8:00 PM EST on Friday, March 9th, 2012. If you are not already a registered SportsCardLink member, it is easy to register to bid. This auction features important sports cards from the late 1880s to the mid 1990s, with a tremendous range of low, middle and high grade cards that will be sure to excite any sports card collector. Click here for more!

Wagner, Plank, Ruth, Mathewson Highlight Memory Lane Inc's "I Own It Now" Catalog: Final Days

There are sports cards and sets ranging from less than $1,000 to $750,000 in Memory Lane Inc.'s upcoming I Own it Now catalog, many of them rarely offered. All lots listed in the I Own it Now event will be for sale at the listed price until 1 p.m. March 6. That's when all unsold Lots will be open to offers that can be placed through Memory Lane. I Own it Now will close on Friday, March 9, at 6 p.m. EST. Click here to find out more!

New York Yankees Legend Babe Ruth's Earliest Known Jersey to Be Featured in SCP Auctions Spring Internet Auction, April 30-May 19

Read more here.

PSA/DNA's John Taube Uncovers 1950 Hillerich & Bradsby Bat Center Brand Variation - C15C

Find out more here.

Rich Altman's Boston Show, March 30 - April 1, 2012 with Mark Herzlich, Aust Added!

Come out to Rich Altman's Boston Sports Memorabilia and Card show at the Shriner's Auditorium on Friday, March 30, until April 1. Fans will have the rare opportunity to meet some of sports' greatest athletes. Click here for more.


---
Upcoming PSA Shows
View Full Calendar »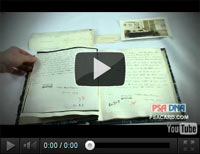 PSA/DNA's John Reznikoff Discusses Charles Lindbergh and Document Examination