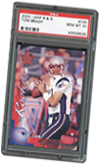 Tom Brady vs. Aaron Rodgers

The 2012 NFL season has come to a close, with Eli Manning and the New York Giants crowned champions this past weekend. The entire season belonged to the quarterback as some of the NFL's elite put up offensive numbers, as a group and individually, never seen before. Two quarterbacks near the top were Aaron Rodgers and Tom Brady. Both had terrific seasons, eclipsing the 5,000 yards passing mark and dethroning Dan Marino as the single-season record holder. In the following piece, we take a look at some of their best trading cards and talk to the hobbyists who collect them. More...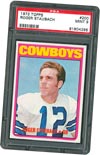 The Dodger, The Bomber and The Thinking Man
The 1970s was a great decade for football. Some of the NFL's greatest names played during that time period, including some stellar quarterbacks who have been permanently recognized in Canton, Ohio, for their efforts. Terry Bradshaw, Roger Staubach and Bob Griese were three of those men, dominating the era at the position. In the following article, we take a look at all three 1970's icons and what they did for the game. We also take a look at their rookie cards, which are amongst the most popular with football collectors.
More...
Set Registry Spotlight

frcarvell - The Number One Current Finest All-Time Patriots Football Set
While they did not win the 2012 Super Bowl, the New England Patriots are still held in high regard by football fans. This set consists of what many consider some of the greatest, past and present, New England Patriots players. This collector's set is 100% complete and contains some of the highest graded examples. Click here to view this 2011 Best of the Registry award-winning set.

Set Registry Special
All Sports and Non-Sports - $10 Per Card/10 Card Minimum - Cards Valued Under $250 Each. Click here for details.


Fun, informative, and sometimes controversial, the PSA Set Registry Messageboard is the place to get involved with other collectors who are currently participating in the Set Registry program or are just beginning. Click here to chat on the Set Registry Messageboard.

The PSA Set Registry is a work in progress and we invite your comments and ideas. Send your suggestions to

[email protected]

.