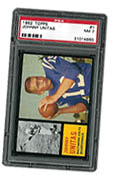 The 1962 Topps Football Set, Collecting the Gridiron "Men in Black"

The 1962 Topps football set is one of the top gridiron issues of the decade. Some collectors prefer the 1965 Topps Tall Boys and others may find the 1966 Topps (brown border) unique but it's hard to argue with the importance of the 1962 Topps set. Surrounded by extremely condition-sensitive black borders, the set is absolutely one of the toughest - ever - to complete in PSA NM-MT 8 or better condition. The 176-card issue contains tough short prints and a handful of ultra-popular keys, which include #1 Johnny Unitas, #28 Jim Brown, and rookie cards of #17 Mike Ditka and #90 Fran Tarkenton. In the following article, we talk to the collectors who pursue this incredibly-tough 1960s staple. More...



Giving Thanks to the Hobby
The hobby, just like most other endeavors, has its share of pitfalls and frustrating elements. A few months ago, Joe Orlando wrote an editorial about some of those things that hobbyists struggle with from time to time. If you have been in the hobby long enough, there is no doubt that you have been through a trying experience or two. This is especially true for those hobbyists who have been able to witness the evolution of the industry during the past three decades. In the following article, however, Orlando wanted to discuss some of the great things the hobby has to offer and how it has impacted him personally. It may not be perfect but, as Orlando points out, it is a hobby that he feels fortunate to be a part of.
More...
Set Registry Spotlight

Showtime and More - The Number One Current Finest All-Time Lakers Basketball Set
This set has won Best of the Registry multiple times and it's no wonder why. The set is 100% complete and is populated with some of the highest graded examples of what many consider to be basketball's finest players. This collector's set has a rating of 9.13 which is not too far away from finest possible of 9.71. Out of the 20 members currently participating in this set only 3 are 100% complete. Click here to view this multi-award winning set.

Match Your Inventory for Sale to Want List Connection Items!
PSA Set Registry members are now listing 8,350 items in the Want List Connection. These are collectors looking for specific items to fill their sets. If you have inventory to sell or trade, move your items in your inventory to "My Inventory for Sale," go to the WLC (linked from your "My Inventory for Sale" page) and click "Match Items from My Inventory for Sale." Any want list items that match your inventory for sale will display giving you the option to contact the want list lister.

Set Registry Special
All Sports and Non-Sports - $10 Per Card/10 Card Minimum - Cards Valued Under $250 Each. Click here for details.