The 1975 Hostess Baseball Set: A Challenging but Affordable 1970s Issue

As a kid, who can forget the excitement of opening a Hostess treat? There were so many different snacks to choose from and all of them were filled with incredible nutritional value. Well, OK, maybe that part is not exactly true. They did help drive parents a bit crazy as their children bounced off the walls for hours after ingesting unconscionable amounts of Twinkies, Ding Dongs and Chocodiles. During the 1970s, Hostess produced some baseball cards, which could be found on the boxes these snacks were packed in. With a steady hand, collectors could remove the cards from the box. Today, there are more and more collectors who are trying to find complete panels, which can be tough to locate. In the following article, we take a look at the 1975 Hostess issue in full panel form. More...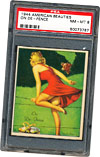 One of Each Kind: A Look into the Type-Set Collection of Alan Moon
Non-Sports cards keep gaining in popularity. Like their sports counterparts, most issues are collected in their traditional set form. Collectors simply work on building their sets against the checklist of the particular issue. Over time, there seems to be a growing number of collectors who enjoy set building but in a slightly different form. Enter Alan Moon, one of the collectors who is leading the charge in type-set collecting. Instead of completing individual sets, which usually carry the same general design or look, Moon is attracted to the diversity type-set collecting has to offer. In the following piece, Moon explains the fascination with obtaining one of every kind.
More...
Set Registry Spotlight

Decobill's 1960-1969 Topps Baseball Cello Packs - The Number One Current Finest 1960-1969 Topps Cello Packs - Any Series Set
As collectors know, the PSA Set Registry is not limited to traditional trading card sets, there are also other categories like this one. If you think finding some low population cards is tough, try finding some vintage unopened packs. Even if you can find them, now you have to resist the temptation of opening them, especially in this case since cello packs often produce higher grades than traditional wax packs! While it is not advisable to open vintage packs in most cases, over the years, more and more vintage packs continue to be opened. As a result, the supply of original packs continues to dry up. This wonderful pack run carries a GPA of 9.14, a stellar level of quality across the board. Click here to view this award winning set complete with images.

Set Registry Special!
All Sports and Non-Sports - $10 Per Card/10 Card Minimum - Cards Valued Under $250 Each. Click here for details.


Fun, informative, and sometimes controversial, the PSA Set Registry Messageboard is the place to get involved with other collectors who are currently participating in the Set Registry program or are just beginning. Click here to chat on the Set Registry Messageboard.

The PSA Set Registry is a work in progress and we invite your comments and ideas. Send your suggestions to

[email protected]

.