Derek Jeter – A Modern-Era Hobby Icon

Derek Jeter has long been one of the most popular players in baseball and in the hobby. This year, Jeter reached a magical milestone – recording his 3,000th career hit. In a career defined more by winning than monster statistics, Jeter was able to do something that no Yankee had done before him... not Ruth, not Gehrig, not DiMaggio and not Mantle. In the following piece, Joe Orlando takes a look back at the modern hobby icon and how his personal opinion of Jeter has changed, for the better, over the years. More...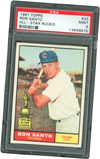 Ron Santo – Gone but Never Forgotten

Ron Santo, the longtime Chicago Cubs third baseman, has always enjoyed a strong following from collectors. This 9-time All-Star and 5-time Gold Glove winner put up some big numbers during his career, including socking 342 home runs. Last year, this fan-favorite passed away, leaving an entire generation of Cubs fans with tears in their eyes. While Santo fell short of Hall of Fame status, his likable nature endeared him to many and his performance on the field certainly places him as one of the best of his generation. In the following article, we look at Santo's career through his cards. More...

Set Registry Spotlight

Logan R. Ward (The Stock Car Museum) - The Number One Current Finest 1988 Maxx Charlotte Racing Master Set

This 104-card set is one of the most popular issues in all of racing. Many of the sport's big names are found within, including the likes of Richard Petty, Rusty Wallace and Cale Yarborough. The set includes images of not only the drivers themselves but, in some cases, the cars they drive and the venues where they race. The key card to the set is the Dale Earnhardt promo, card #99, the most valuable card in the issue by far. Awarded the Best Miscellaneous Sport Set for 2011, this set is the first set, and currently the only one in the category, to reach a perfect GPA of PSA Gem Mint 10 across the board on the All-Time Finest list. Click here to view this award winning set.

Want List Feature Launched in the PSA Set Registry
Now you can create a list and keep track of items that you are looking to purchase. You can add items one at a time, in large groups, or add missing items from your set in "My Set Registry." We look forward to any feedback you may have about "My Want List" and any other function you would like to see added to the Registry.

Set Registry Special Ends 9/30!
All Sports and Non-Sports - $14 Per Card/No Minimum - Cards Valued Under $500 Each. Click here for details.